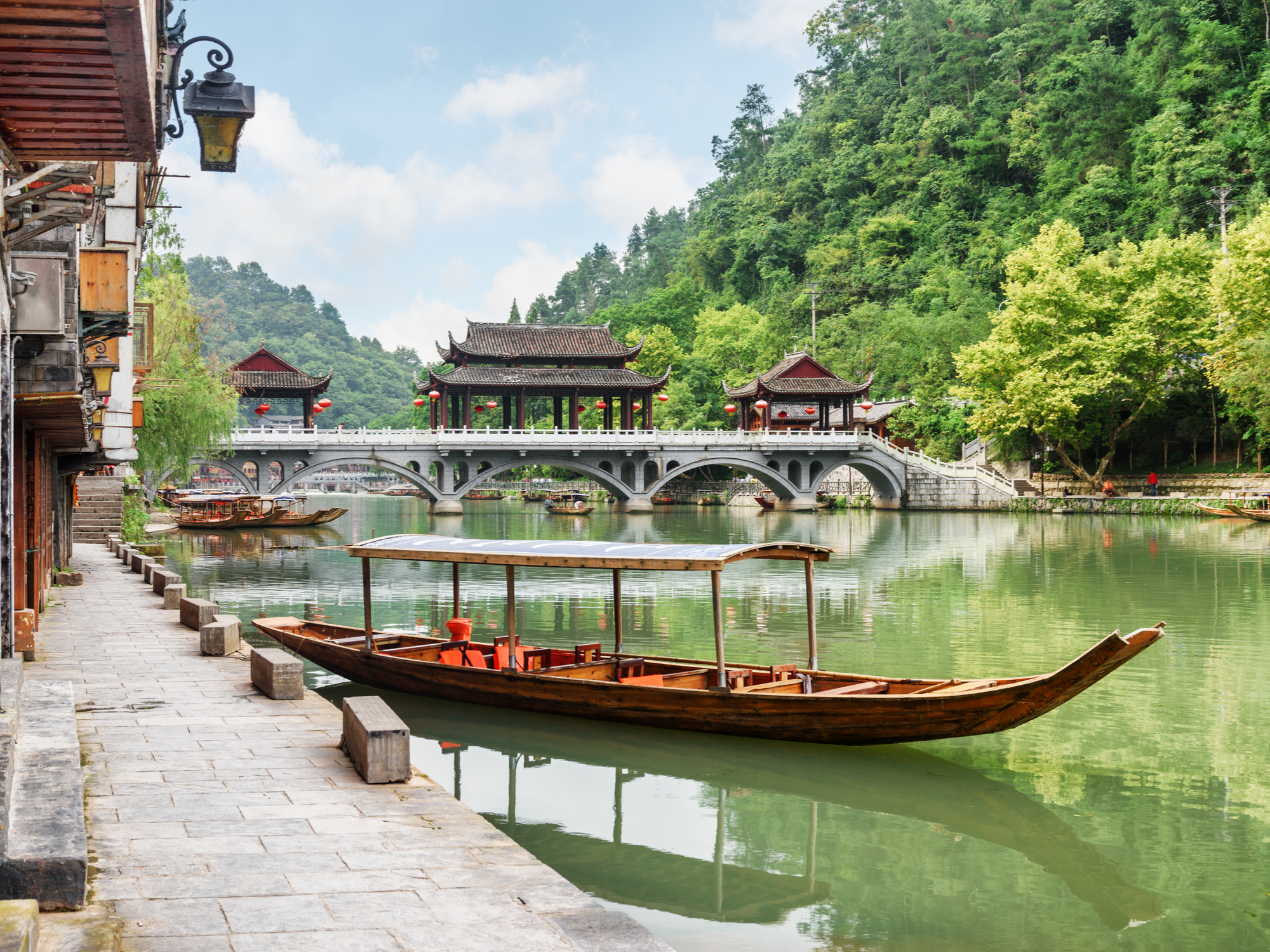 2022 China Travel Calendar for you!
Are you looking for a new adventure in China for a fresh start to your 2022? According to our travel consultants and client feedback, we have organized a travel calendar for you to better arrange your trip in China.
In order to provide you with a smooth journey at a better price, we would recommend starting to customize the itinerary one to two months before your departure date.
Chinese New Year 
Chinese New Year is the most important festival in China, when normally everyone will have one week holidays to enjoy. On this holiday, many people return to their family homes for a big reunion that include a huge meal to celebrate the coming of the New Year.
Our ski holiday packages are the winter's best seller trip for this year. Yabuli Ski Resort in Heilongjiang province and Wanda Changbaishan International Resort in Jilin province are two popular destinations among expats. They own great facilities, different activities, and more ski trails.
If you are looking for a warm place to escape the cold weather, we would recommend Sanya. It is famous for its ocean views and a big variety of fabulous resorts. As for hiking lovers, winter in Zhangjiajie and Yellow mountain is a must. Although you may visit it all year round, snow views can only be seen in winter, besides you can have a higher chance to view the sea of clouds.
Itineraries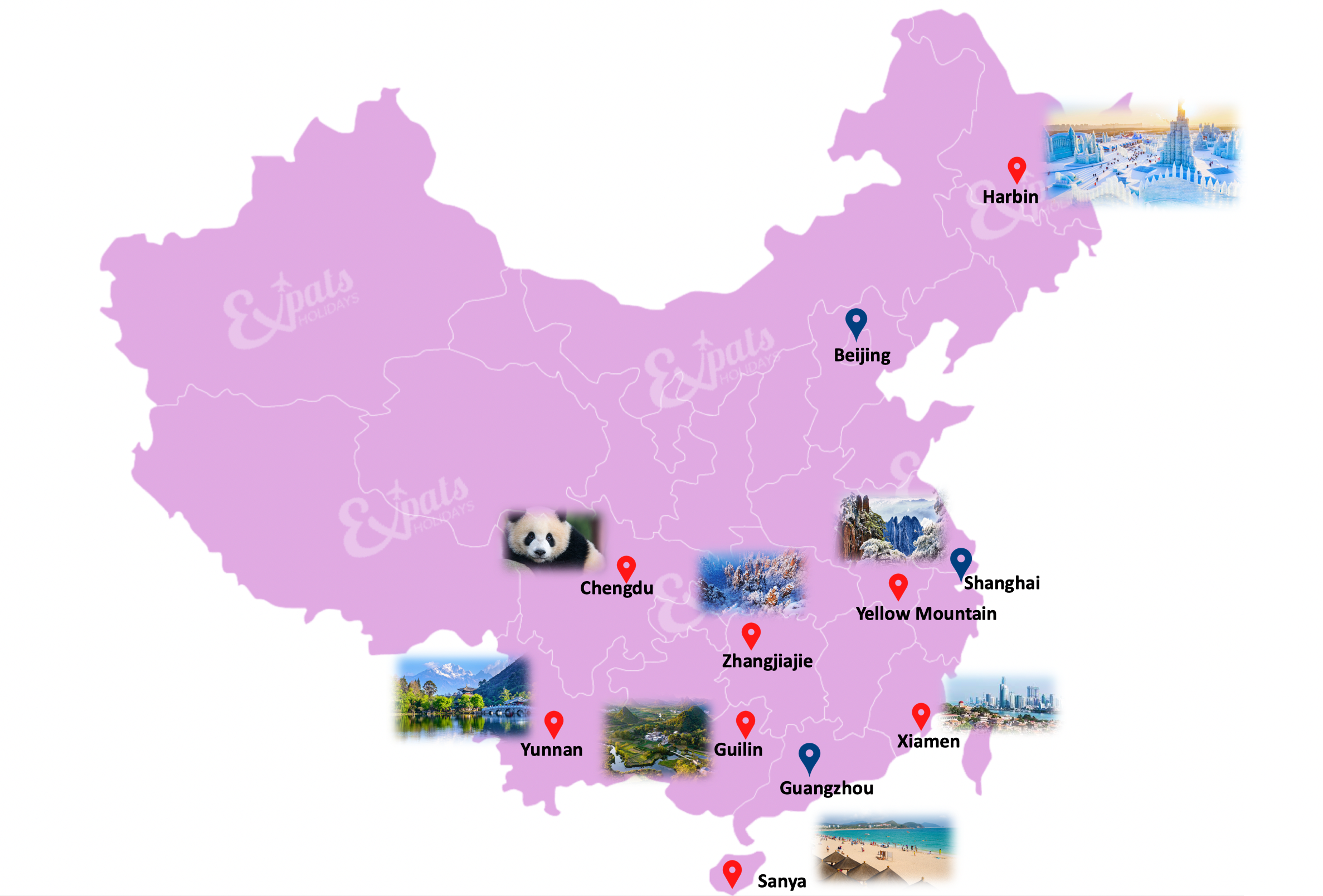 Labor's Day
Spring is the best season to tour for most of the destinations in China. If you're a fan of history, you will get the most satisfaction out of seeing ruins right in front of you, and visiting locations that were once hubs of life and activity in the past. Xi'an and Pingyao are home to rich Chinese history and architecture.
Guilin, Yunnan, Chengdu, and Luoyang are four top family-friendly destinations. Cycling along the Li River, hiking the Karst mountains at Ruyi Peak Scenic Spot and riding a bamboo boat on the Yulong River all these activities can be done in Guilin.  
If your kid is an animal lover get close to see pandas in Chengdu will be his/ her unforgettable experience! For older children, exploring the birthplace of Chinese Zen Buddhism and Shaolin Kung Fu will definitely make them return home with a renewed sense of wonder.
Itineraries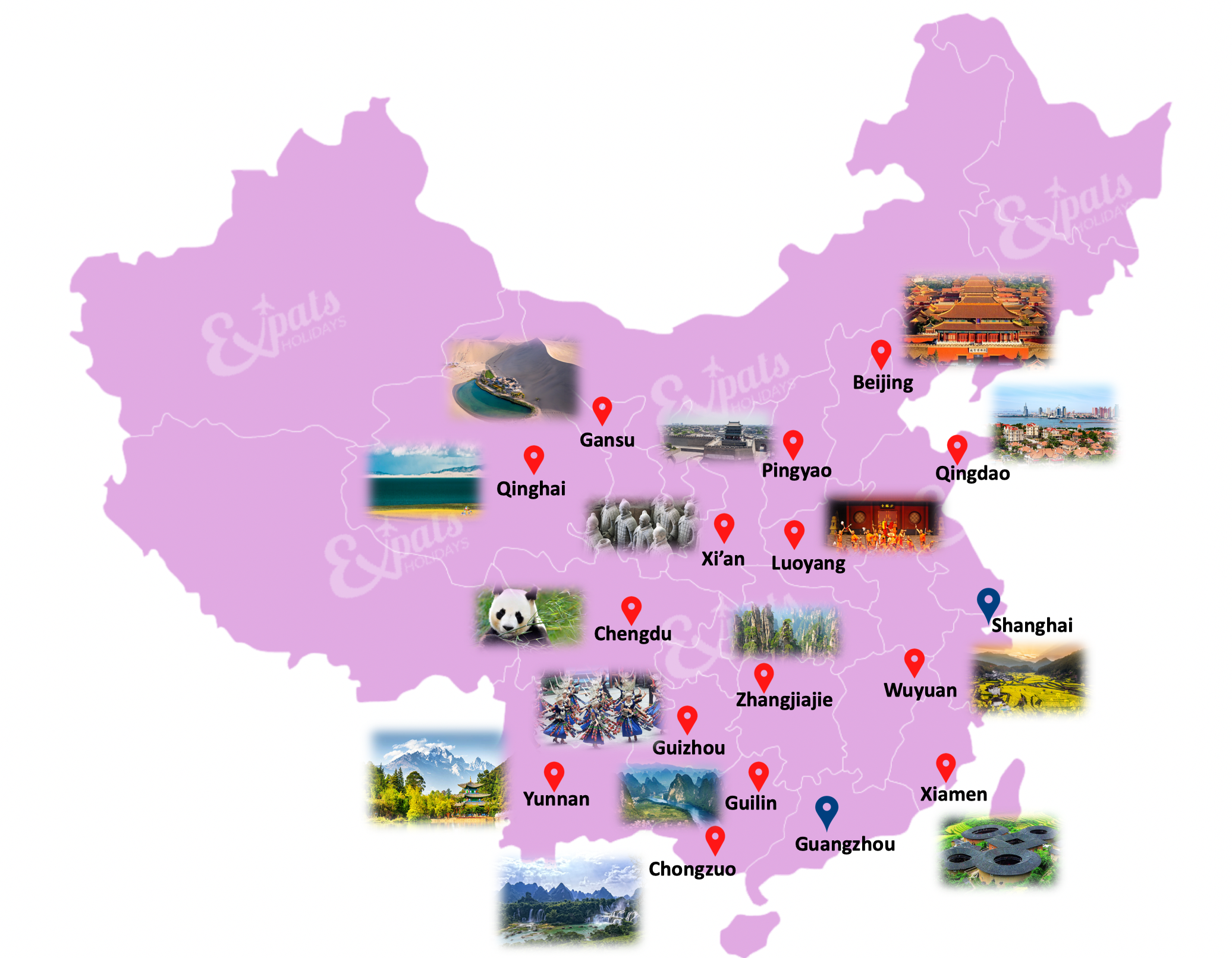 Dragon Boat Festival
Dragon Boat Festival is a holiday that involves racing Dragon Boats, eating rice dumplings, and more. In this 3-day vacation, we recommend Moganshan as the perfect place where you can refreshingly cool in the summer and take a look of the forested views.
Inner Mongolia and Qinghai are the places you can immerse in the natural beauty of vast grassland and lake with a nice weather conditions. Guizhou is not very well known among expats. The province owns the most spectacular natural features such as waterfalls, caves and valleys as well as rich ethnic traditions and villages.
If you prefer Yunnan, then Tiger Leaping Gorge located between Jade Dragon Snow Mountain and Haba Snow Mountain, it's one of the deepest gorges with nature trails you can't miss. Or enjoying a laid-back vibe all day long in Erhai Lake would also be a nice thing to do in Yunnan.
Itineraries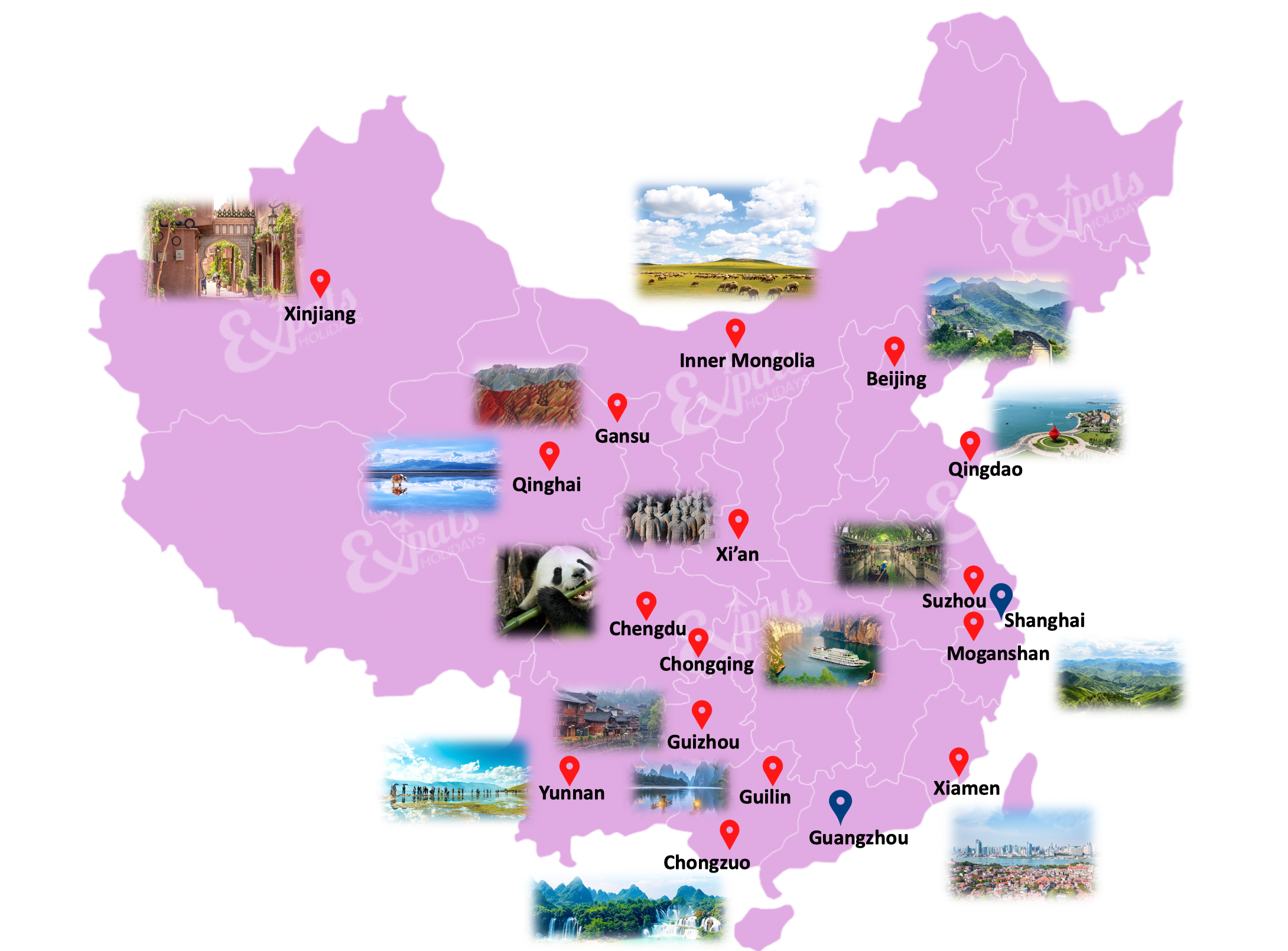 China's National Golden Week
As you might know, during the Golden Week all the popular areas will be full of visitors. Therefore booking flight tickets, hotels and tours earlier is extremely important.
Daocheng Yading is located in Sichuan and it's a place with magnificent snow mountains, vast meadows, colorful forests and clear blue lake. Tibet definitely beckons to adventurers who are in love with history, religion and hiking. One of our best seller trip is the Silk Road trip in Gansu that is the world oldest trade route, being not only a road of business, but also a road of art and culture.
Chongqing is the urban of the cradle for nature and Sichuan cuisine is definitely worth your visit too. Here, you can explore Wulong Karst UNESCO World Heritage Site, try famous Hot Pot, get aboard on the Yangtze River Cruise and more.
Itineraries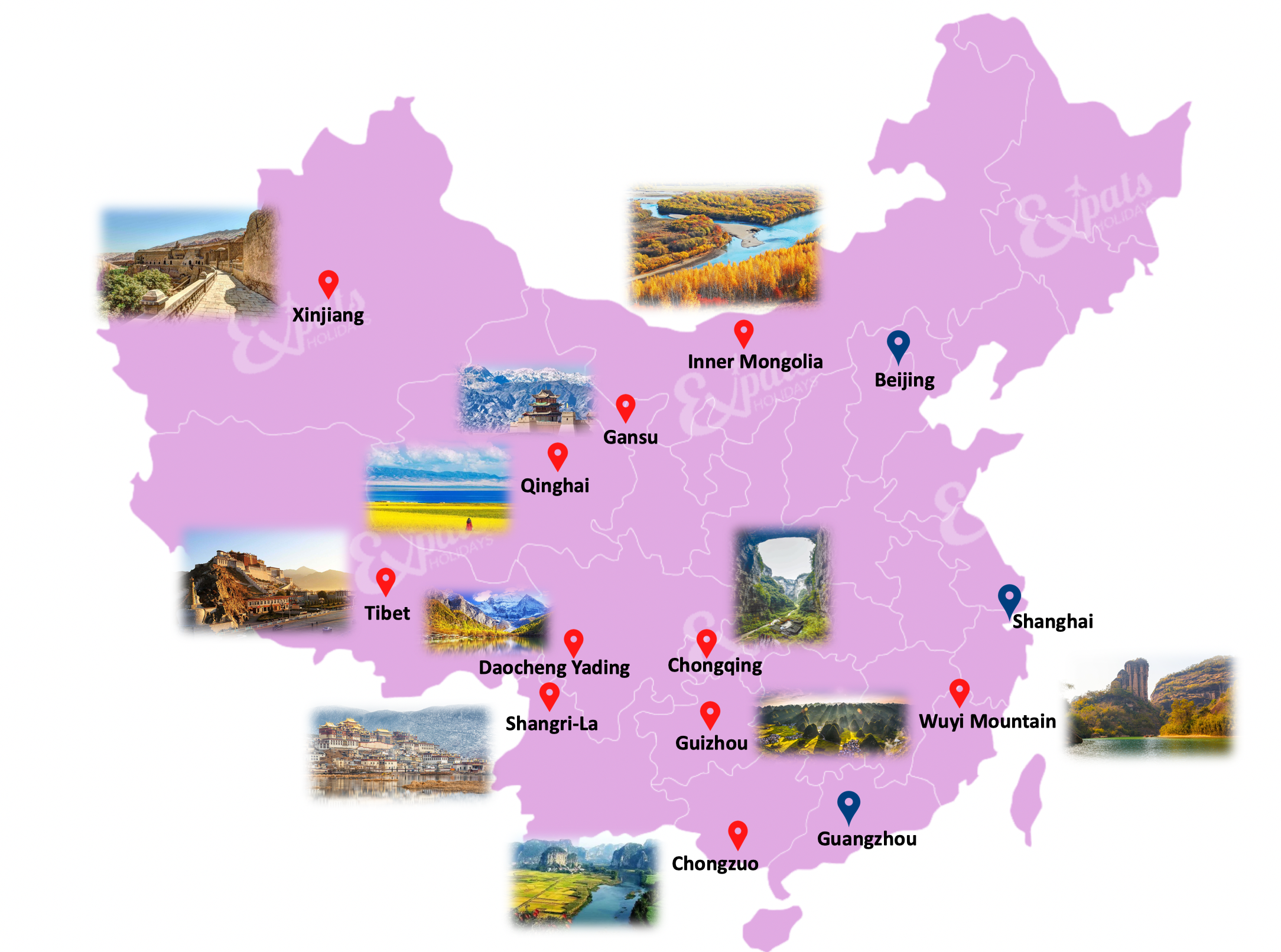 Christmas Holiday 
Top 3 warm destinations in winter are Sanya, Xishuangbanna and Xiamen. Xiamen ranks among China's most appealing tourist destinations, with a fine mix of urban and natural attractions while Xishuangbanna boasts of lush tropical rain forests with a variety of rare animals making these places the best destinations to hide from the cold weather.
As for the destinations in the north of China, Harbin is the best place you can experience fairy-tale world of Ice and Snow Festival, see the charming Russian pastoral scene, and enjoy skiing all day long.
Itineraries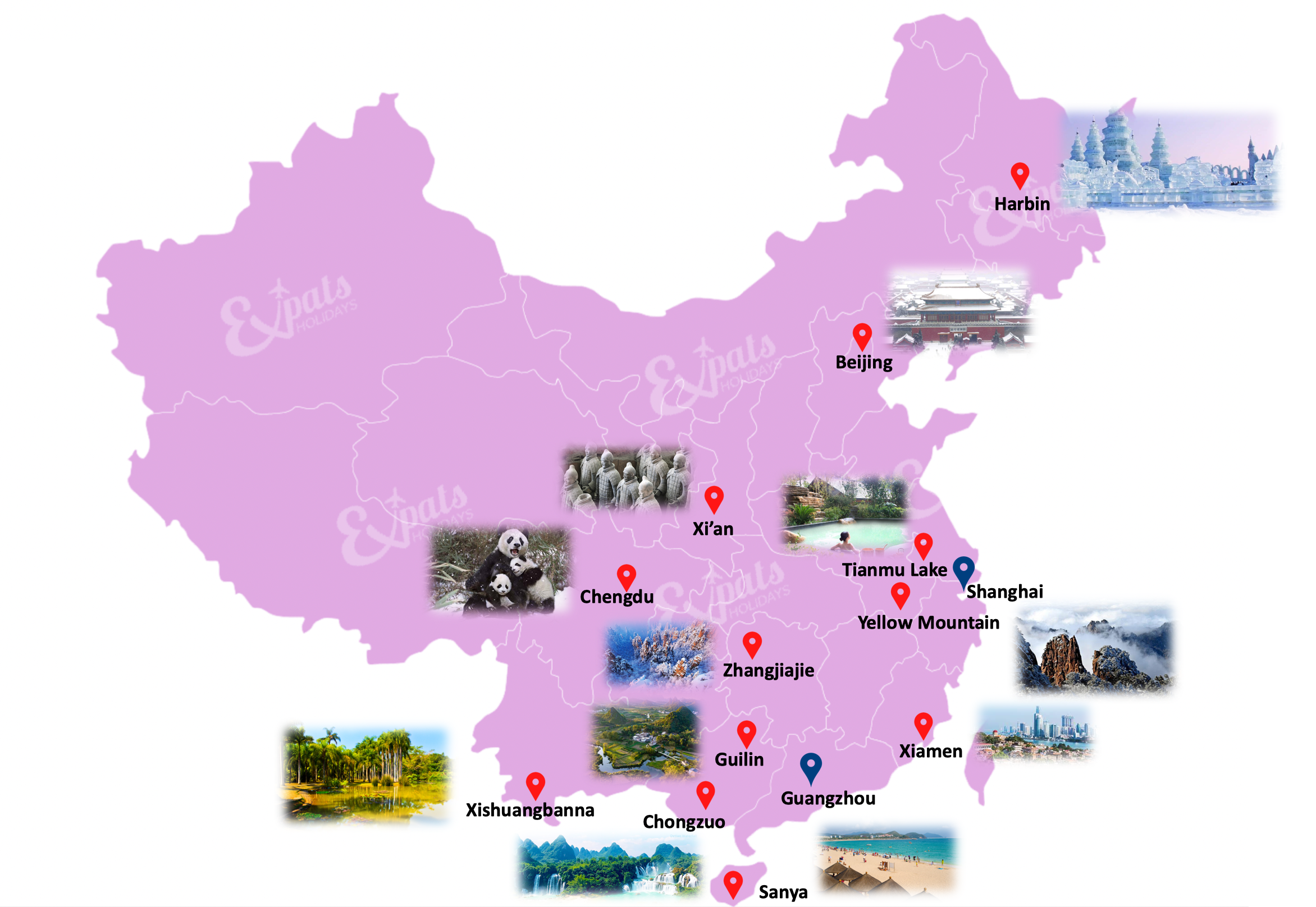 We are extremely grateful to you for choosing, supporting and encouraging us to continue getting better and better during this tough year. We are extremely pleased to accompany you on your future travels in 2022. Explore the colours of life with Expats Holidays team! BOOK NOW!