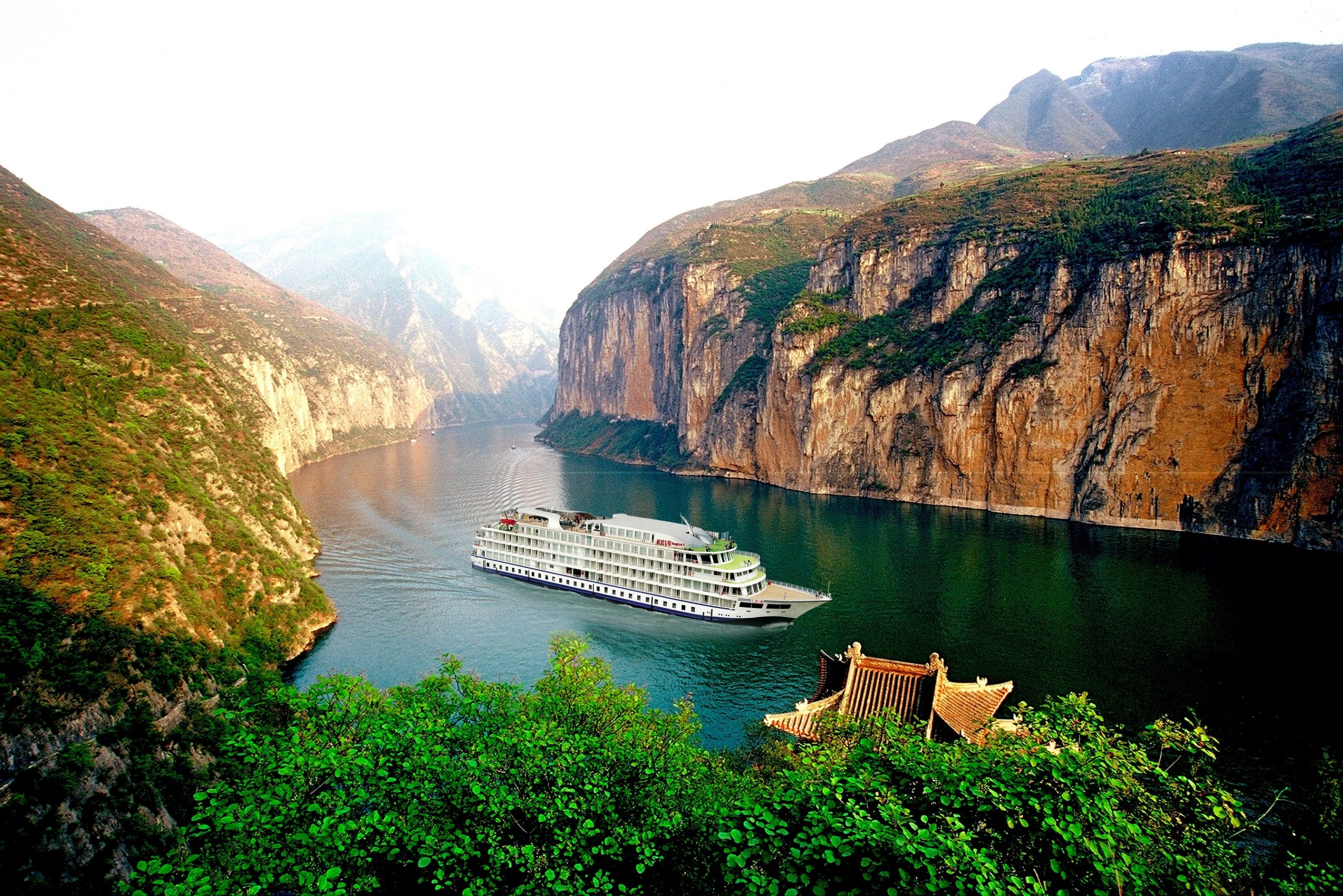 Get aboard all-Inclusive Century Cruises from Shanghai to Chongqing
One of the best times to visit China is in October, which also means that most tourist attractions will be quite crowded. Why not take a Century Cruise from Shanghai to Chongqing instead of taking a flight or the bullet train to tour several Chinese provinces and cities? Please don't miss this unique cruise experience; there are only a few schedules available each year. Scroll down to learn more about it! On this 11 to 12 days cruise tour between Shanghai to Chongqing you will visit more than 6 provinces and cities while enjoying shore excursions to 7 National 5A Scenic Sites. Onboard Century Cruises the fun is all included everything you need is covered in the cost of your cruise. There is something for everyone and packed with chills.
Sailing Dates
Shanghai – Chongqing  12D11N
October 20th – October 31st, 2023
November 10th — November 21st, 2023
Chongqing – Shanghai  11D10N
October 10th — October 20th, 2023
October 31st – November 10th, 2023
VISITING: Shanghai, Yangzhou, Nanjing, Chizhou, Jiujiang, Wuhan, Yueyang, Jingzhou, Yichang, Fengjie, Fengdu, Chongqing

Shore excursions along your journey
Yangzhou
Yangzhou has always been a gathering place of culture and a scenic, flourishing city with many famous historical sites, ruins, and elegant gardens. The scenery of Slender Lake is beautiful and perfect for a peaceful day. While Dongguan Street houses many time-honored Chinese brands from various fields, such as the Pan Guanghe hardware store built in 1862, the Chen Tongxing shoe store established in 1909 and the Qian Dachang paper store dating back to 1912 await your exploration.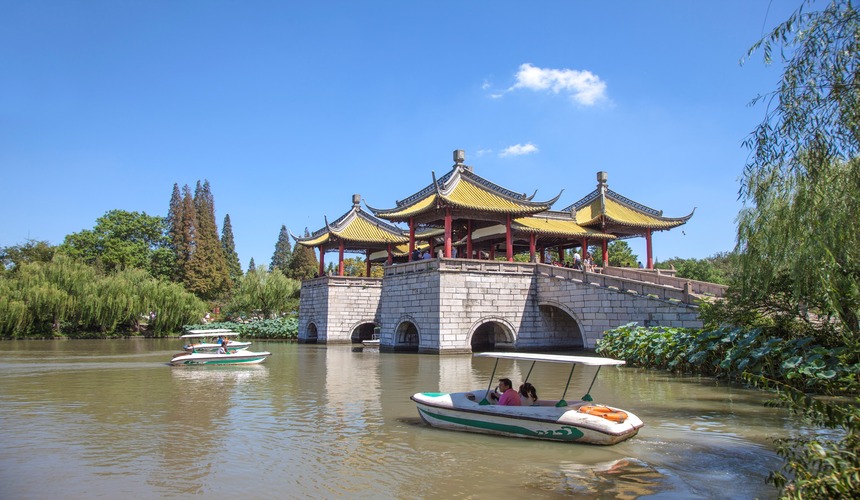 Nanjing
Surround by its city wall, this modern metropolis served as the capital city of many dynasties throughout China's existence. You will be visiting Mt. Niushou Cultural Park – guided by the spirit of Zen. A centuries-old sacred Buddhist site in southern Nanjing containing historic monasteries, pagodas, and relics of the Ming Dynasty. Then after exploring the Muyan Riverside Scenic Site where rich in mountains and rivers, with profound heritage and numerous scenic spots.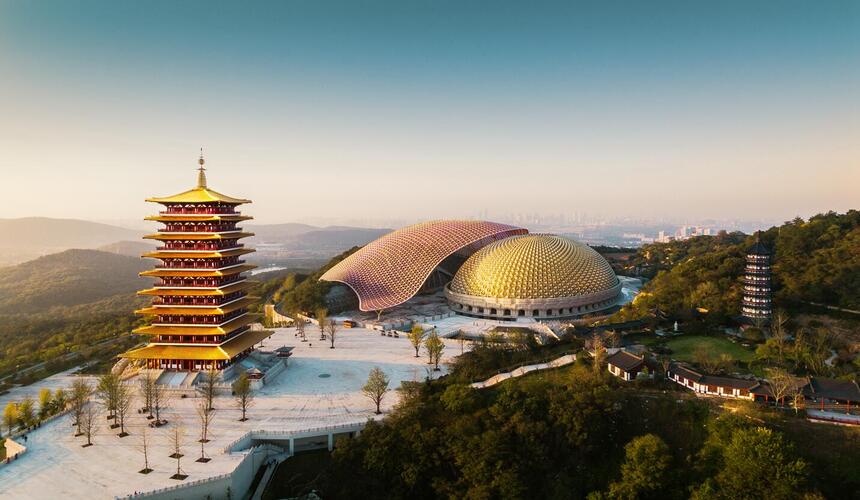 Chizhou
Chizhou is located in the southwest region of Anhui Province. Many famous ancient Chinese poets, such as Li Bai and Du Mu visited Chizhou and wrote poems. There are two options for your shore excursions. One is to visit one of the four famous Buddhist mountains in China – Mt.Jiuhua. Another option is to Jindizang Temple where you can enjoy the magnificent temple site to admire the rich royal flavored religious architectural set as well as the tranquil nature view.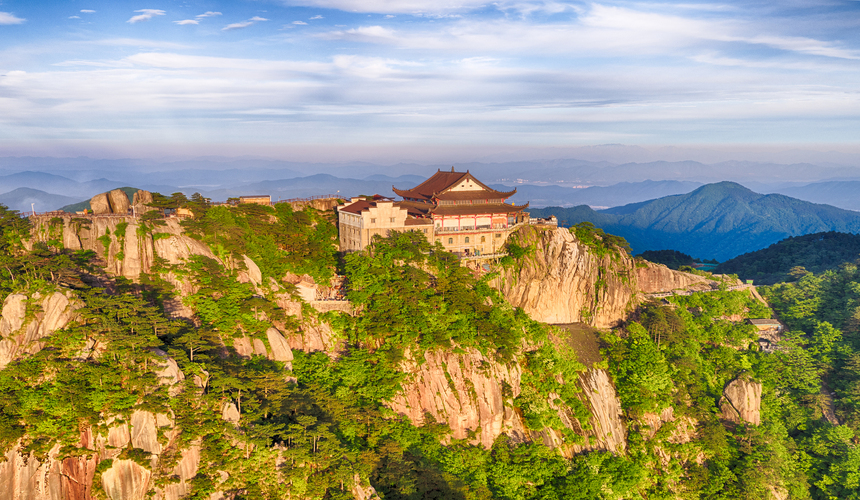 Jiujiang
Few areas of Jiangxi can rival with the charm and character of Jiujiang, from the famed Mt. Lushan and dramatic Poyang Lake to numerous historical buildings. As for this destination, there are two shore excursion options for you. You can not miss the home of China's Porcelain – Jingdezhen Porcelain Town. Learn some basic knowledge about Chinese porcelain downtown before heading to the nearby ancient town for a deeper understanding of the porcelain progress made by local people. As for the nature lover, there is a Mt.Lushan day tour for you. Buddhist and Taoist temples, along with landmarks of Confucianism, where the most eminent masters taught, blend effortlessly into a strikingly beautiful landscape which has inspired countless artists who developed the aesthetic approach to nature found in Chinese culture.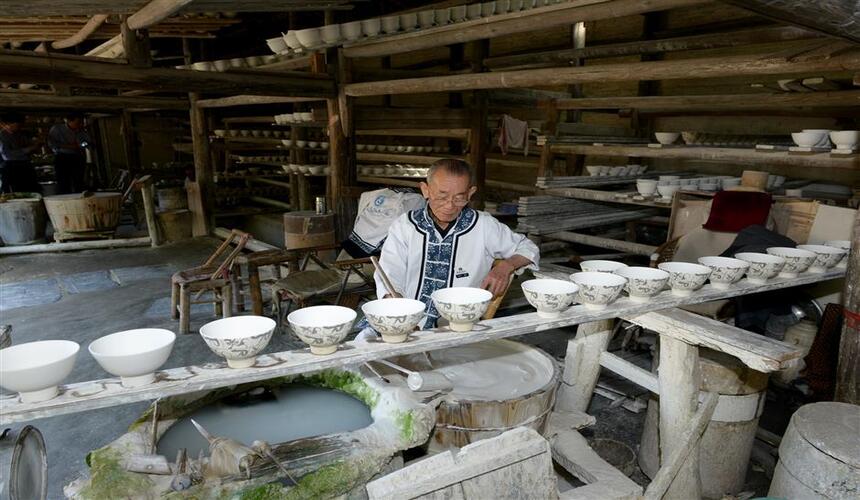 Wuhan
It is a city has matured from the sprawling convergence of three independent cities to central China's main industrial and commercial centre. Take a tour to the Yellow Crane Tower to enjoy the fame of 'The First Scenery Under Heaven'. Then get to know more about the history of this place in the Hubei Provincial Museum.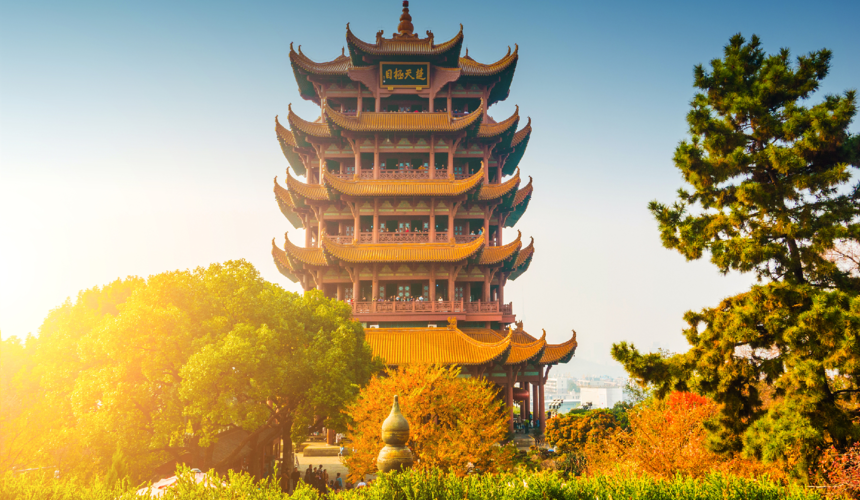 Yueyang
Yueyang owns 163 kilometers (101 miles) of the Yangtze River coastline and is the only international trade port city in Hunan province. Its real charm rests with human cultural relics as well as the natural landscape. The well-known Yueyang Pavilion is one of the three famous pavilions in South China. While Ancient Bianhe Street is the best place for your to walk along the bluestone road, enjoy the street snacks and buy some souvenirs in the handicraft shops.
Jingzhou
Jingzhou is the birthplace of Chu culture with many stories of the Three Kingdoms took place here. You can choose either to visit Xiongjia National Archaeological Site Park or Shore excursion to Jingzhou Museum & Jingzhou Ancient City Wall. Xiongjia National Archaeological Site Park has the precious largest chariot and horse pit over 200 years early than the Terracotta Warriors. Jingzhou Ancient City Wall is one of the best-preserved and larges scaled city walls in the southern part of China with the Jingzhou Museum containing over 130 thousand pieces of historical and cultural relics.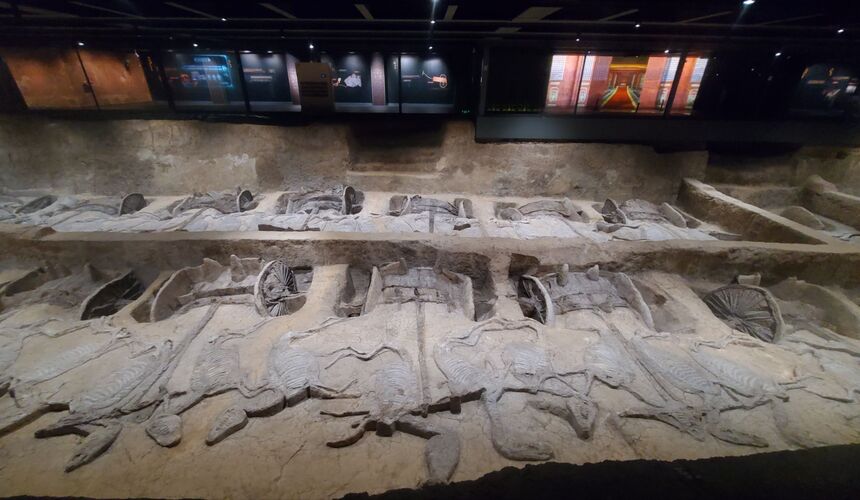 FAQs about the Century Cruises tour
What are the rooms like?
You will spend the night on a Yangtze cruise. Each room is at least 28 square meters and has two single mattresses or a double bed. Each room features a private balcony, air conditioning, a refrigerator, and a safe. Each room contains hot water thermos containers and a limited supply of bottled water. In the accommodations, the voltage is 220v.
Are meals included?
There are additional locations to purchase additional refreshments on the ship. Buffet-style breakfast, lunch, and supper featuring primarily western cuisine are served. For those who prefer western cuisine in the evening, there is a VIP dining alternative with more western dishes. Never consume the tap water on the cruise ship or anywhere else in China. Bottled water is readily available and accessible everywhere on board.
Is there Wi-Fi?
Although cruise ships have Internet access, the Wi-Fi is extremely spotty and cannot be relied upon due to its erratic reception; it is most reliable in urban areas.
What's the entertainment like?
From welcome parties to shows, film screenings and lectures to Tai-Chi classes and karaoke, a comprehensive schedule of entertainment options is provided upon arrival. In addition, there is a gym, a swimming pool, a spa, a library, and several small stores.
What about paying and tips?
Major credit cards are accepted on board, and the majority of purchases will be charged to your cabin account. People who provide you with outstanding service generally appreciate gratuities.
For more travel details about the cruise tour, talk to our travel consultants right ahead!