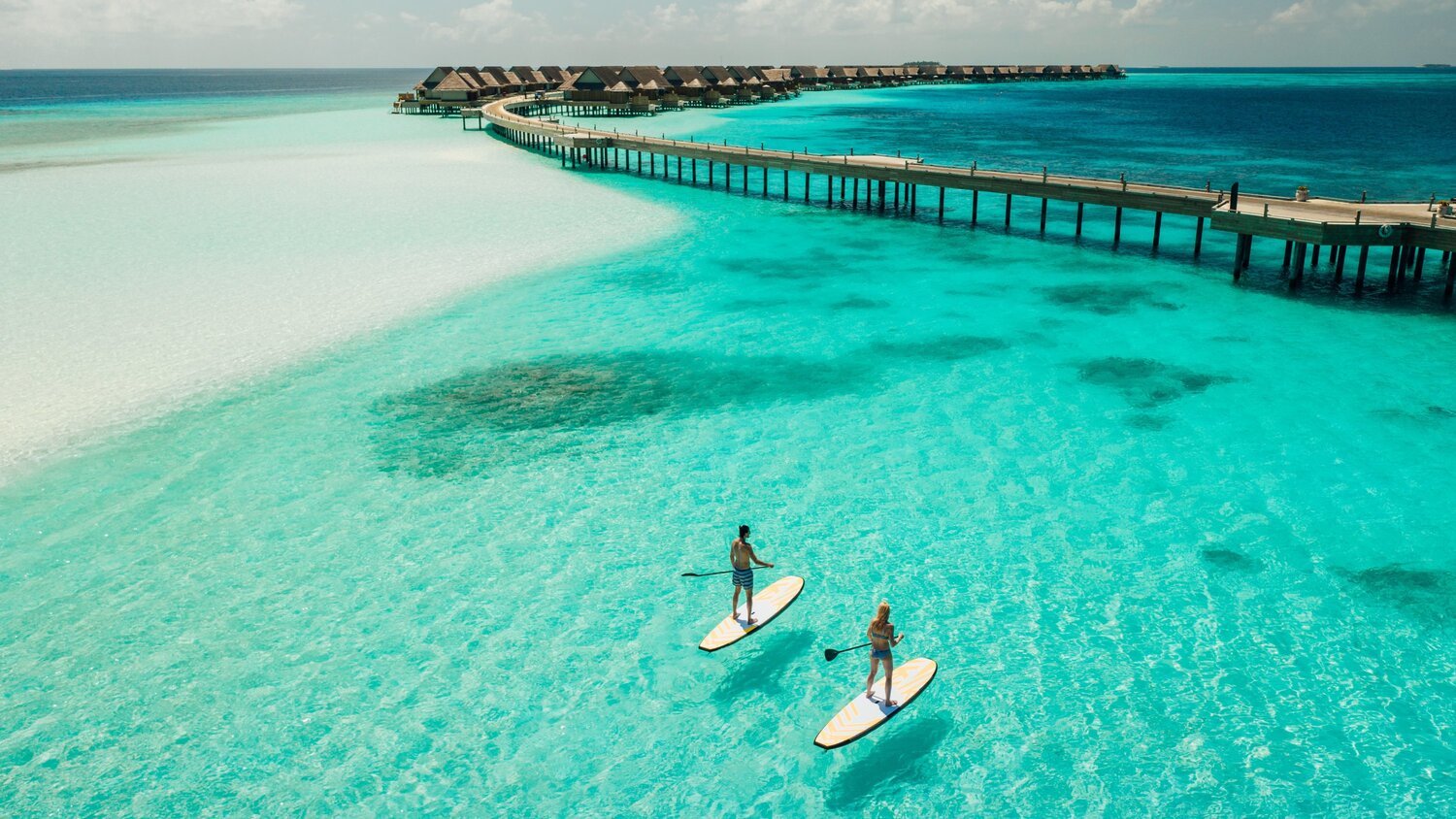 Plan your Maldives vacation with us!
Long stretches of white sand beaches bordering the turquoise-blue Indian Ocean, waterside villas on stilts, and a romantic candlelit dinner with a goblet of champagne at a floating gazebo – Maldives is all about luxury and nature. Often referred to as the Manhattan of the Indian Ocean, Hulhule Island's metropolitan appeal blends perfectly with its tropical charm, making it one of the most popular reasons to visit Maldives. Continue browsing for more information!
Things to do in Maldives
Relax on the beaches
Unquestionably, one of the best reasons to visit Maldives will be the tranquil, litter-free beaches and the immense, bluish-green Indian Ocean that touches the horizon. Even though mornings with gentle sunlight and calmer waves are delightful, the twilight hours with a million shades of red, orange, and purple are enchanted. Enjoy the sea atmosphere and the sound of the waves in constant temperatures between 25 and 30 degrees Celsius. Redefining romance beneath the billions of stars.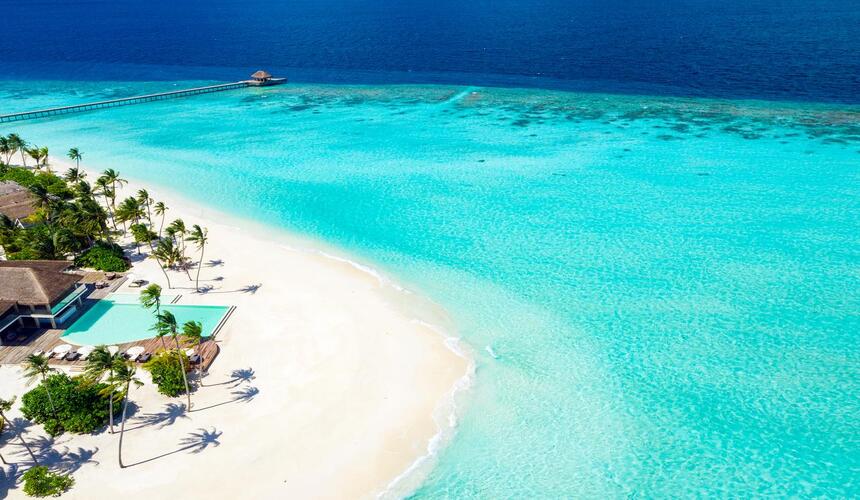 Dive into the water
Underwater marine life, such as manta rays, sea turtles, and barracuda swimming through the vibrant coral reef, is another cause to visit Maldives. Visit Kuda Huraa because its water is balmy enough to swim in without a wetsuit.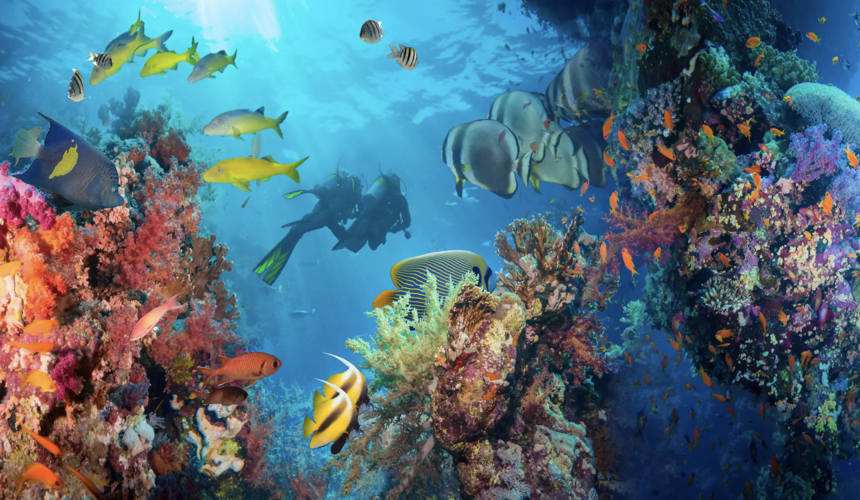 Enjoy yourself with water activities
In Maldives, you can engage in water activities such as kayaking, canoeing, sea bobbing, jet-skiing, snorkelling, and rollerblading, among others. All levels of surfers would enjoy the sunshine, monsoon wind, and consistent swells of atolls such as Laamu Atoll. Unquestionably, participating in aquatic sports is one of the best things to do in Maldives.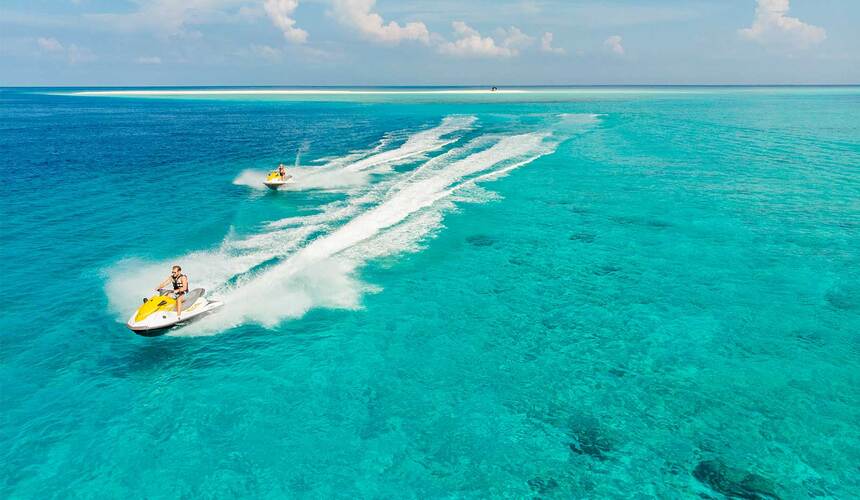 Discover Maldivian culture
In addition to its natural grandeur and historical sites, the Maldives are renowned for their vibrant culture. If you wish to learn fascinating information about the Maldives, be sure to observe Bodu Beru, a popular Maldivian folk dance that is frequently performed in the evening on the beach. Or utilise a Maldivian watercraft. Dhoni can be equally delightful when used to learn about the local people and their culture.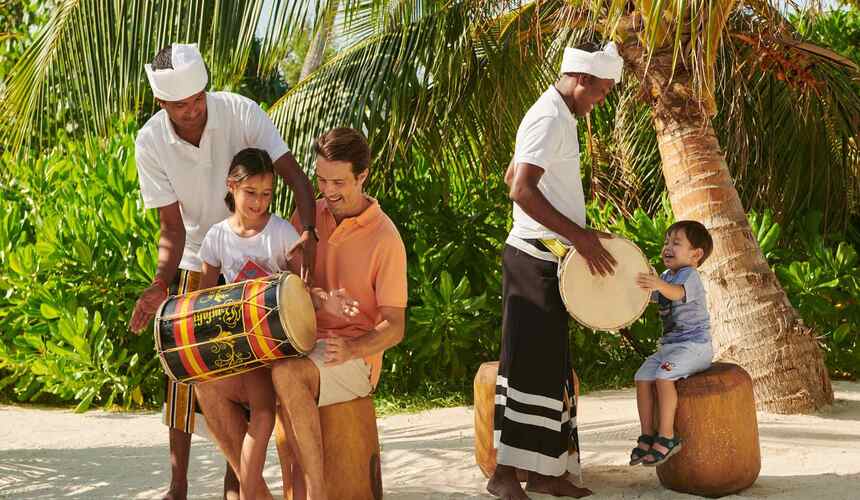 Savour the cuisine
You can sample local cuisine such as Maldivian Curry with Tuna while savouring the intoxicating sea breeze by the tranquil blue lagoon. Indulge in freshly captured and prepared seafood such as Garudhiya, a fish soup served with lime, chilli, rice, curry leaves, onions, and a coconut. Mashumi Roshi Tuna and Chapati, Hedhika Tuna, egg, potato, and coconut, and the street food Mas Kashi dried fish with mango and coconut are also worth attempting.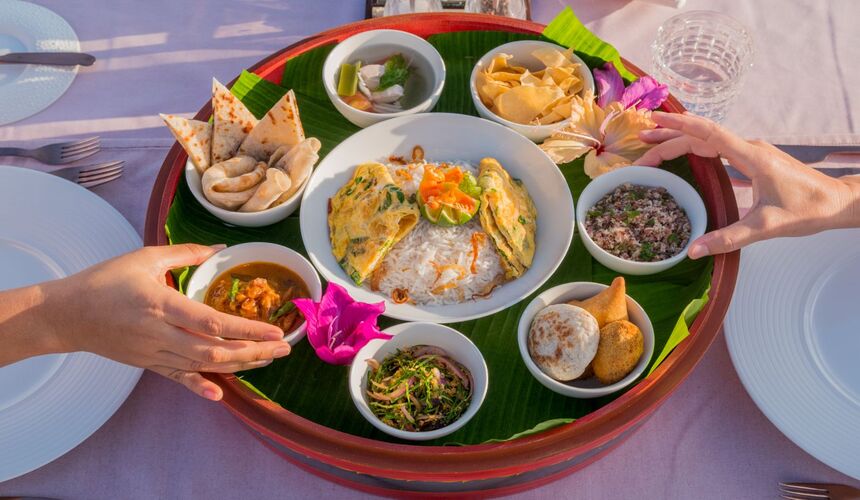 Observe bioluminescent water under the night sky
Remember to visit Raa Atoll's Vaadhoo Island, where you can observe stars envy of the playful Sea of stars in the Indian Ocean! The phytoplankton dinoflagellates that emanate luminescent toxins in response to the movement of the waves do so as a defence mechanism to ward off fish and other animals. Despite being unfriendly to science, you can plainly walk through them, creating more luminescence and a lasting memory.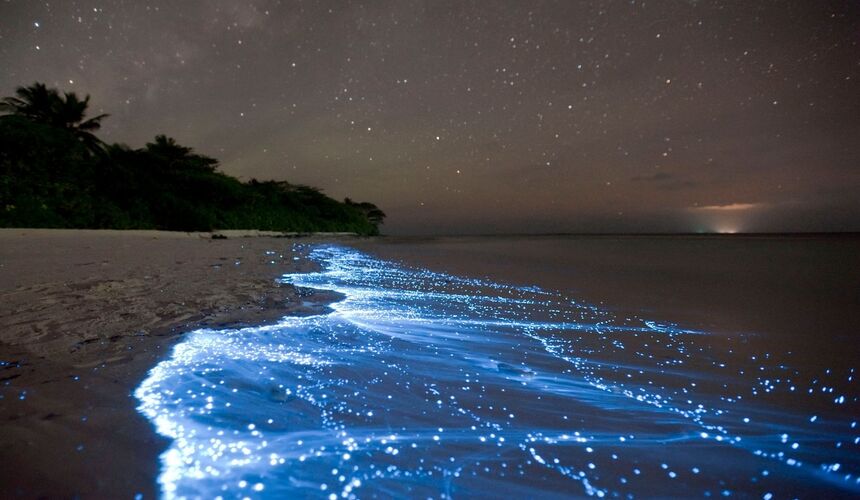 Explore Architectural Heritages
The Grand Friday Mosque at the Islamic Centre with its gleaming gilded dome, Arabic calligraphy and wood carvings on the walls, and the library is the largest in Maldives and dominates the skyline of Male. Not to be forgotten is the Hukuru Miskiiy, renowned for its coral-stone carvings, wood carvings, and lacquerwork.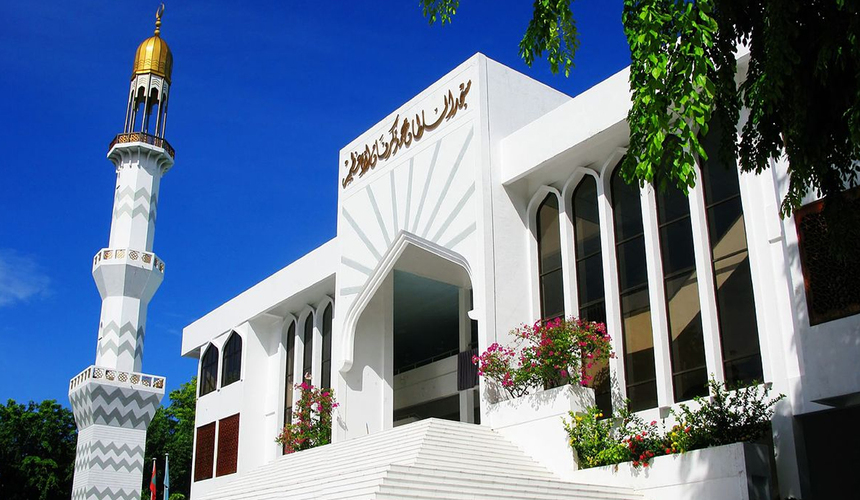 Accommodation
Sheraton Maldives Full Moon Resort & Spa
White sands, crystal waters and gold sunshine feature at the luxurious Sheraton Maldives Full Moon Resort & Spa on the private Furanafushi Island in North Male Atoll, Maldives. The resort is accessible by a complimentary 15-minute speedboat ride from Velana International Airport. This property s has 176 rooms in a variety of styles, ranging from exquisite deluxe rooms to quaint cottages and luxurious water bungalows and villas, as well as a spacious two-bedroom water suite. In 2019, all rooms and suites were renovated. On the island are cottages and oceanfront villas with private swimming pools. The ocean pool residences at the East point offer an elevated level of discretion with a private entrance gate. While cottages are ideal for families due to their proximity to resort amenities, water bungalows offer the option of a private plunge pool.
Closest airports: Velana International Airport 6km
Nearby attractions: Hulhumale' Park 3.3km, Central Park 3.7km, Tree Tower Park 4km
Facilities: 2 swimming pools, spa and wellness centre, fitness centre, restaurant, bar, private beach area, tennis court, fishing, kids' club, canoeing, darts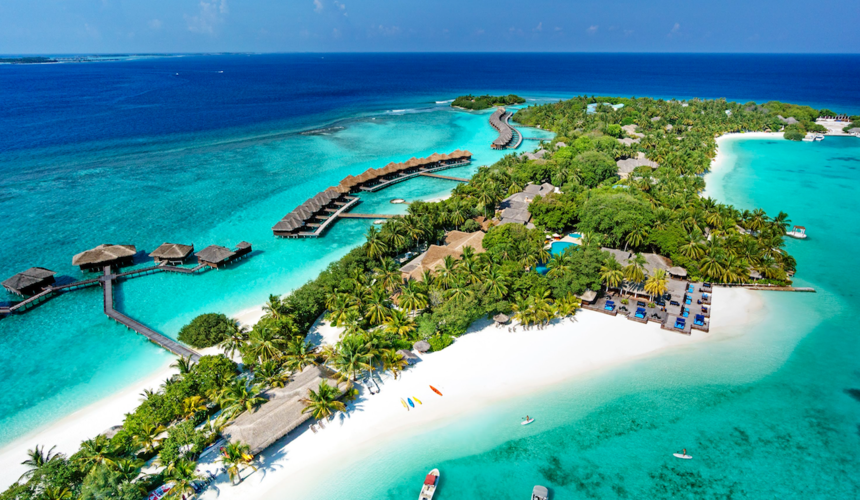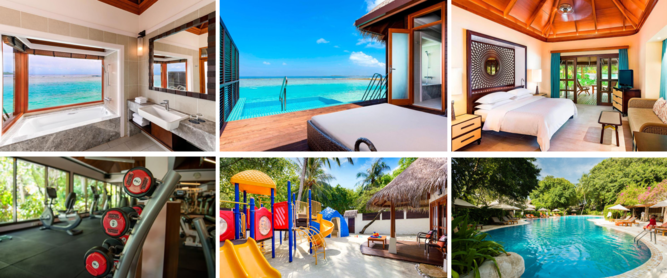 OBLU SELECT SANGELI
The blissfully romantic OBLU SELECT Sangeli is located on the northwestern point of Malé Atoll in Maldives. Immerse yourself in a mélange of flavours at exotic restaurants and bars while staying in stylish tropical villas and suites. Lose yourself in the idyllic setting of undulating palm trees, pristine white beaches, and a turquoise lagoon brimming with thriving coral life. There are six kinds of accommodations, including beach villas, beach villas with pools, water villas, water villas with pools, honeymoon select ocean villas, and a two-bedroom beach pool suite.
Closest airports: Velana International Airport 51km
Nearby attractions: Eriyadu Beach 5km
Facilities: 2 swimming pools, spa, fitness center, non-smoking rooms, restaurant, bar, bicycle rental, kids' club, canoeing, darts, pool table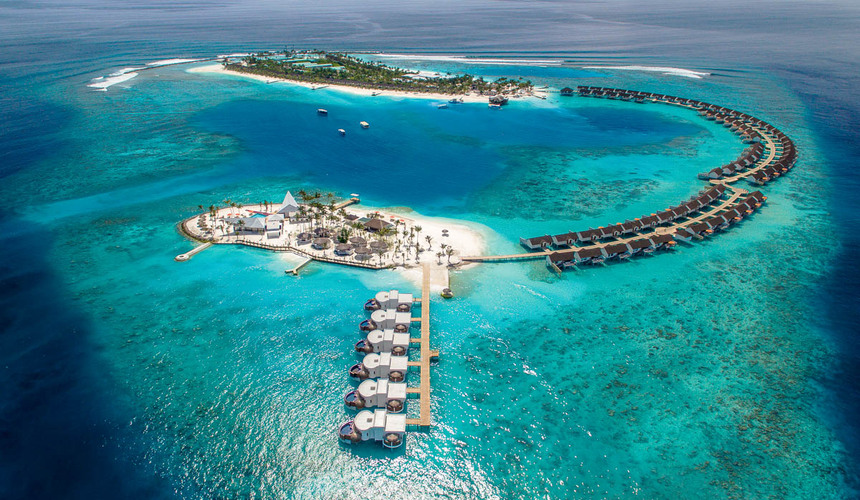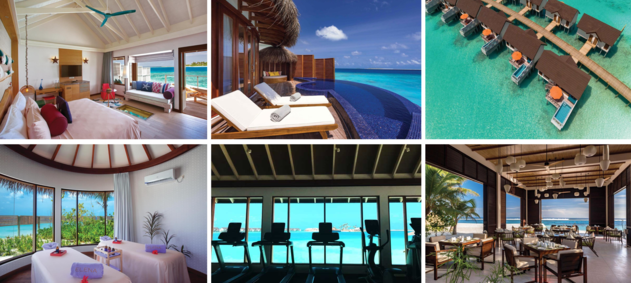 JOY ISLAND MALDIVES
This is a brand-new resort that will open on September 1, 2023. Joy Island is located in North Malé Atoll and features 151 villas on the beach and in the lagoon. Velana International Airport is only 40 minutes distant by speedboat. This beautiful island's broad white sand beach resembles a butterfly, and it is surrounded by a breathtaking turquoise lagoon. On this island, there are 91 beachfront rooms and 60 overwater accommodations. Designed in a manner that complements the vibrant colours of Maldives with its use of fresh tones and a relaxing atmosphere.
Facilities: swimming pools, spa, fitness center, restaurant, bar, bicycle rental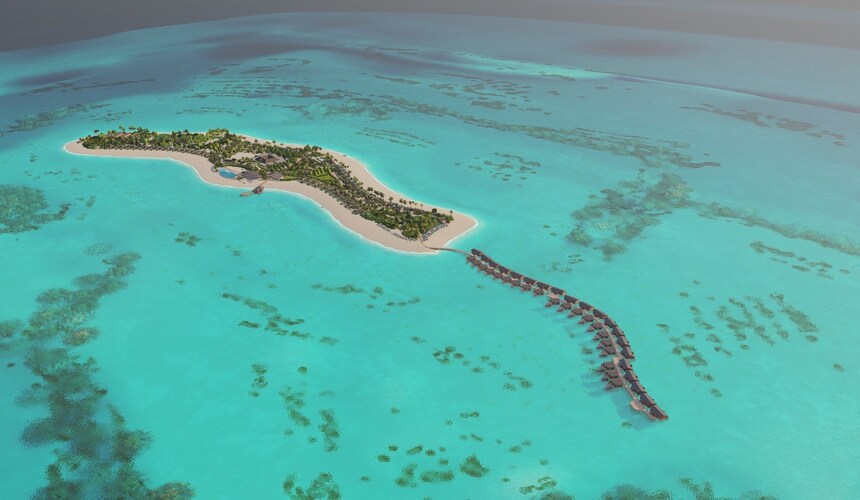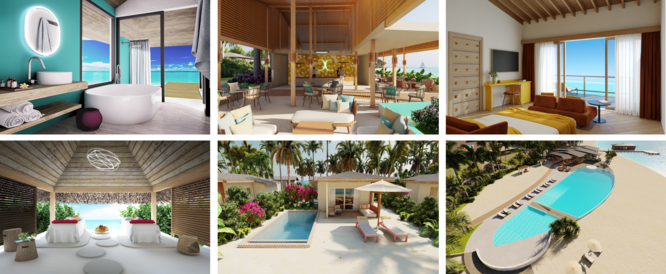 Tips for Maldives
Each resort is typically situated on its own island.

The Maldives are a Muslim nation. This means no alcohol, so avoid the duty-free shop on your way over. If you purchase any, it will be confiscated at the airport. You are not permitted to carry alcohol on board

While the individual resort islands in the Maldives are relatively liberal, the Maldives as a whole are quite conservative; therefore, you should act accordingly in places such as the airport.

December to April is peak season in the Maldives, and during this time, prices will increase. The weather in the Maldives is generally pleasant throughout the year, so if you want to save money, you should consider travelling outside of high season.

Maldives Island Time is how the time on many of the resorts is referred to. It is a very unofficial time zone in the Maldives. Islands that are a distance away from the capital of Malé add an hour or sometimes maybe even two on to the actual time. It means that when you leave to catch your flight for your journey back home you are actually leaving an hour or two earlier, this is especially helpful if you are leaving in the morning.

The Maldives houses the Male International Airport, which is located on Hulhulé Island, near the capital of the country- Malé. It is the main international airport in the Maldives and has remarkable connectivity with all the other countries in the world.
Are you concerned about transportation, or do you have any other requests? No concerns, we'll handle everything! Our travel consultants are available to assist you in planning a memorable excursion to the Maldives.