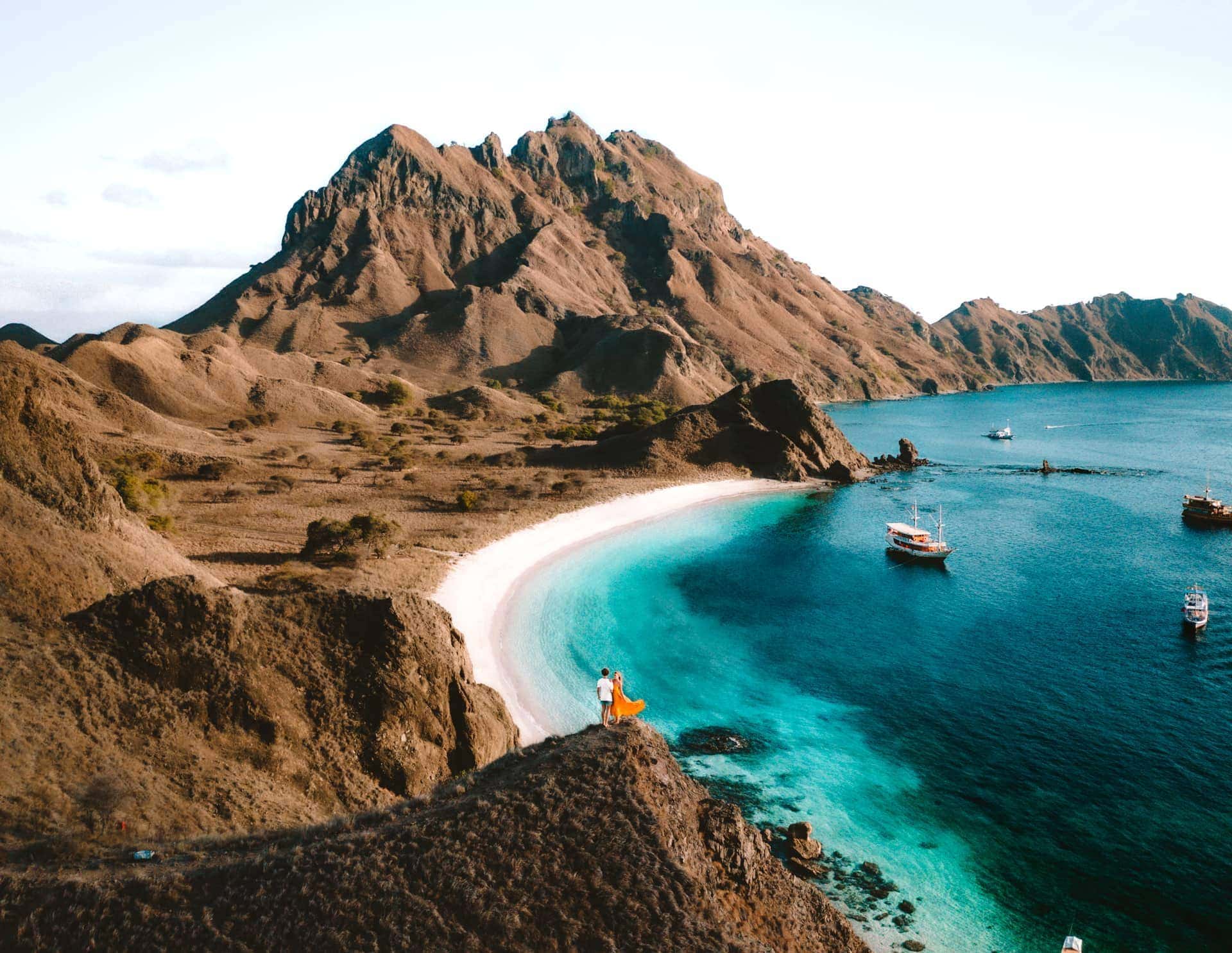 Visit the Komodo dragon and pink beach on Komodo Island, Indonesia
One of the best-untouched treasures of Indonesia is the Komodo Islands. It is located in the province of East Nusa Tenggara. Situated between Sumbawa to the west and Flores to the east, Komodo is part of the Lesser Sunda chain of islands and forms part of Komodo National Park. Home of a group of 29 small and big quite white-sanded islands. World-famous for its Komodo Dragon, countless manta rays, sea turtles, dolphins, small sharks, world-class snorkeling and diving sites with millions of fish, stunning hiking paths, and pink beaches.
How to get to the Komodo Islands
Many international airlines offer flights to Ngurah Rai International Airport in Bali from major cities around the world. Once you arrive in Bali, you will need to take a domestic flight to Labuan Bajo, the main gateway to Komodo National Park. There are several airlines that offer flights from Bali to Labuan Bajo, including Garuda Indonesia, Wings Air, and Lion Air. The flight takes approximately 1 hour and 30 minutes and offers stunning views of the Indonesian archipelago. If you want to fisit visit the capital of Indonesia – Jakarta on your trip. Flights to Soekarno–Hatta International Airport in Jakarta offers direct flights from Shanghai, Beijing and Guangzhou. It take approximately 2 hous and 30 minutes to Labuan Bajo.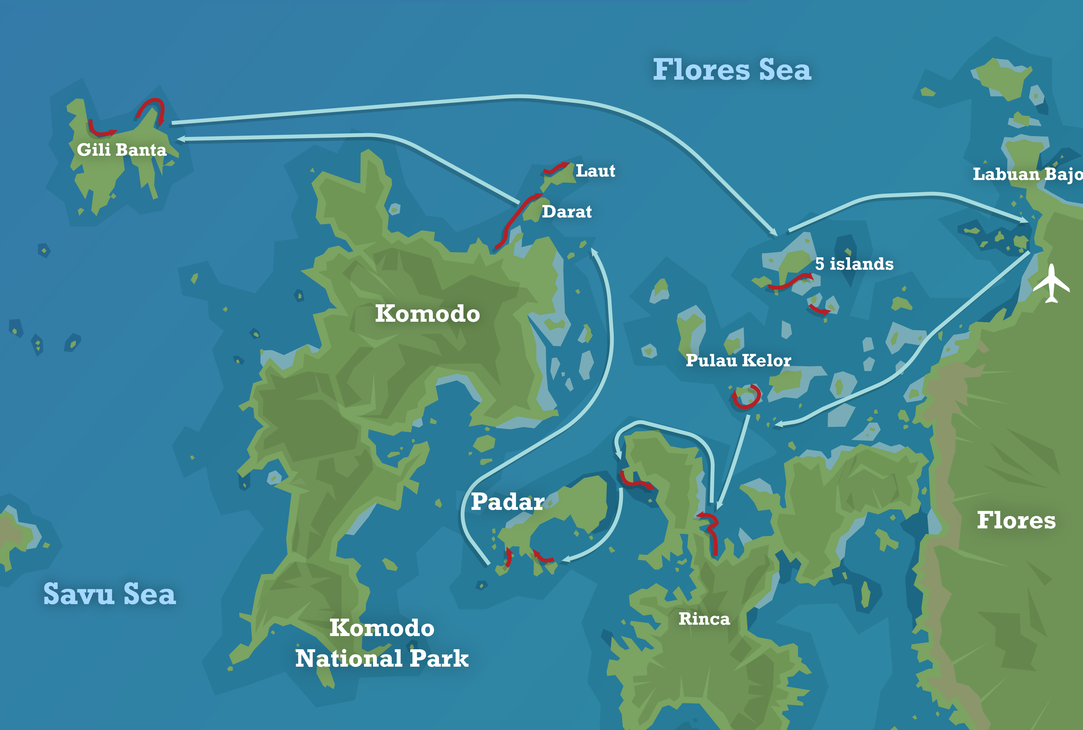 9 Things to do in Komodo Islands
Hike up Padar Island
The Padar Island hike is an unforgettable adventure for hiking enthusiasts visiting Komodo National Park. Padar is one of the three main volcanic islands that make up Komodo National Park.  Both the Komodo dragon and a sizable deer population call it home. There is a 20-minute climb to the highest viewpoint on Padar Island. A satisfying journey, reaching the summit provides stunning panoramic views of the nearby islands, blue ocean, and several beaches. Hiking Padar Island is a must-do activity in Komodo National Park, whether you're on a day excursion from Labuan Bajo or a longer live-aboard adventure.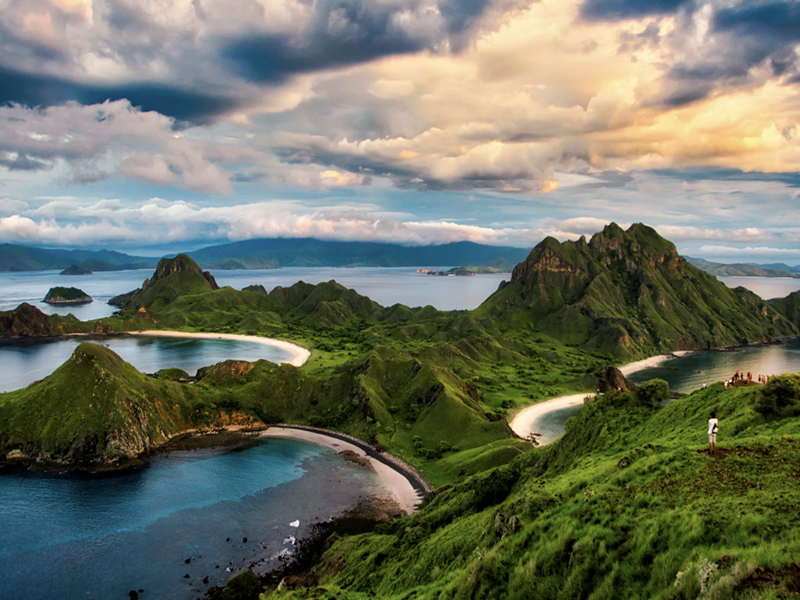 Meet the Komodo Dragon
The journey to the land of the dragons, Komodo National Park, begins with a morning water shuttle to the island where guests will meet their trained National Park guide. Komodo dragons are endemic to Indonesia and only found on a small group of islands that make up Komodo National Park. Adult males can reach up to 3 meters in length and tip the scales at close to 136 kilos, making them the world's largest living lizard.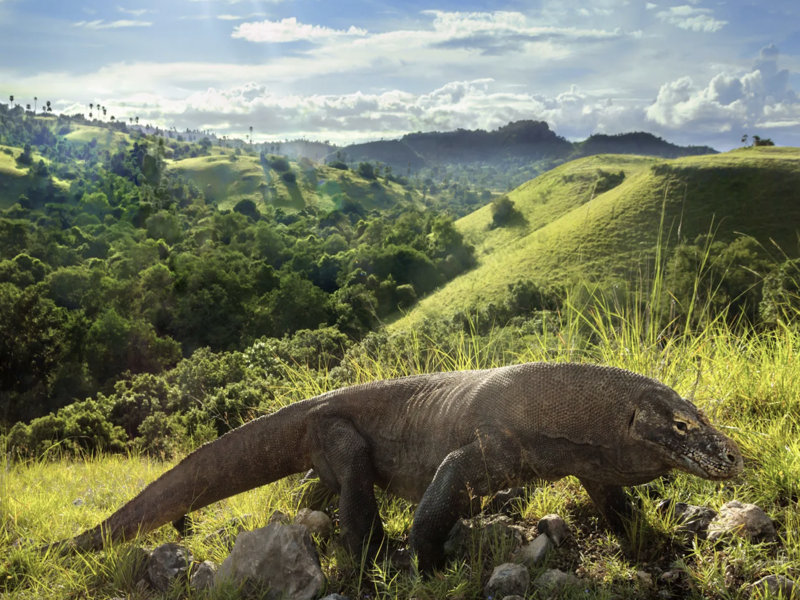 Snorkel with Manta Rays
Manta Point has been a well-liked area to encounter these gentle marine giants because manta rays are frequently seen there while eating. Manta Rays are enormous, amusing creatures that may reach a width of up to 4 meters. They are generally harmless and enjoy being around people. Reefs lie from 2 meters to 9 meters in depth. Both diving and snorkeling are options. During your snorkel or dive here, you might witness turtles, sharks, eagle rays, large trevallies, enormous clams, several kinds of sponges, and cuttlefish, to name a few.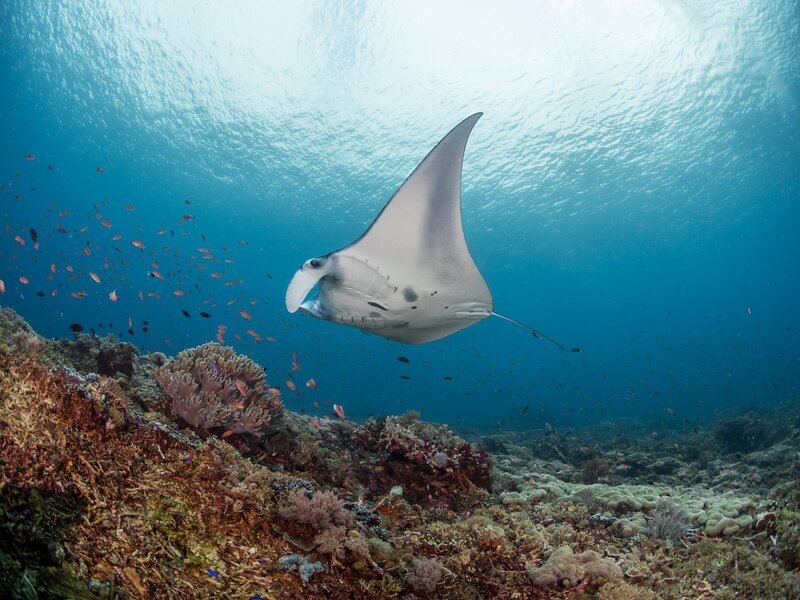 Explore Rangko Cave
A hidden treasure, Rango Cave is not too far from Labuan Bajo. This limestone cave only receives sunlight once daily, and when it does, the pool inside is a lovely shade of blue. The pristine blue water inside the cave contains so much salt that it will keep you floating easily.  You can even spot some small fish swimming in it. Water shoes can be a smart choice.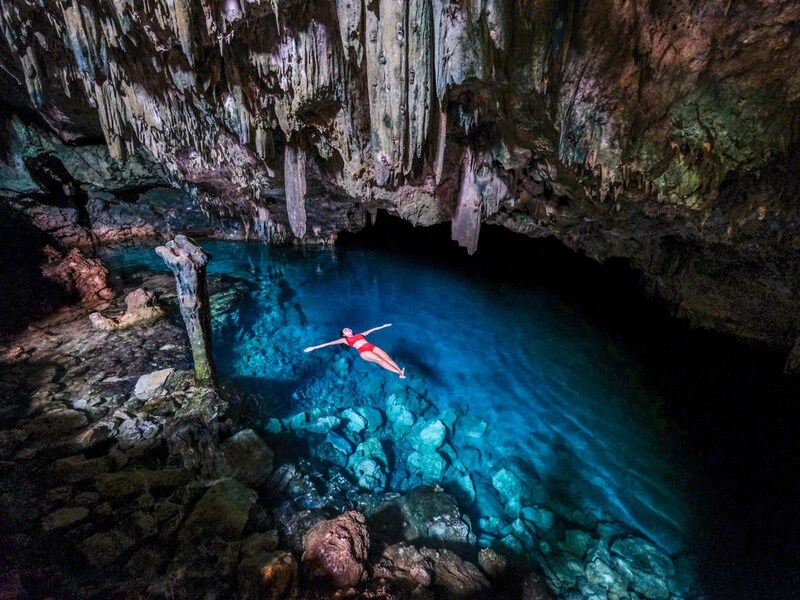 Wander on a pink beach
On the north side of Padar Island, one of the pink beaches is located in a secret harbor. This is the pink beach with the most vibrant colors that Indonesia has to offer! Compared to the beach in Komodo Island, the color of the sand here is actually more vivid. On Komodo Island, the habitat of the renowned Komodo dragons, is where you can find the second pink beach. This Komodo beach's sand isn't quite as pink or red as the one on Padar Island, but the shoreline itself is more picturesque and it's flanked by high hills and mountains.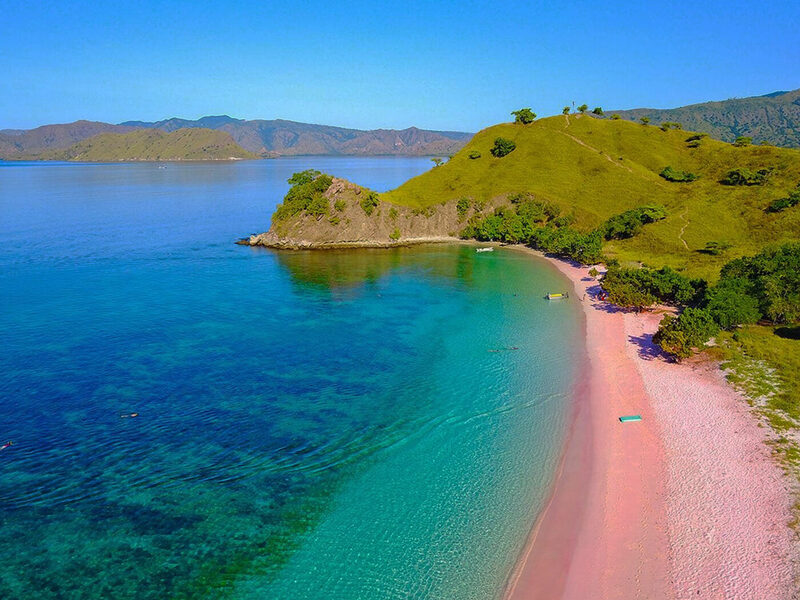 Enjoy scuba diving
In addition to the manta points, the island has many more diving locations where you can go scuba diving and see the stunning coral reefs that surround it. Schools of fish may be seen here, and because the water is so clear, you can see for yourself and capture the marine life on camera for some breathtaking underwater movies. This is one of the most iconic Komodo activities. Turtles and, of course, the uncommon manta rays in the non-manta zones are occasionally visible here.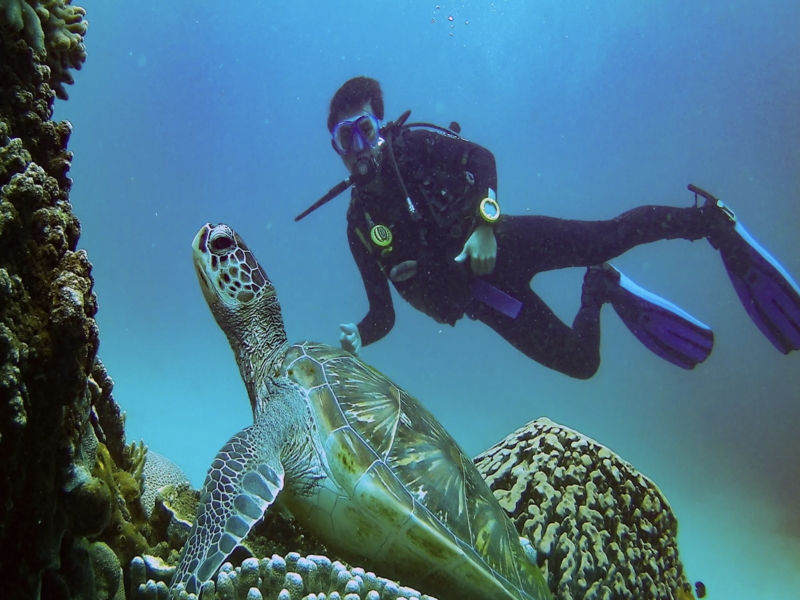 Discover Cunca waterfall
The Komodo Islands' main settlement of Labuan Bajo, where you are advised to stay, is not far from the Cunca Falls. In contrast to the barren Komodo Islands, which have no greenery, you can stroll around the island on days when you are not taking boat tours. A secret gem among the things to do on Komodo Island is the Cunca waterfalls.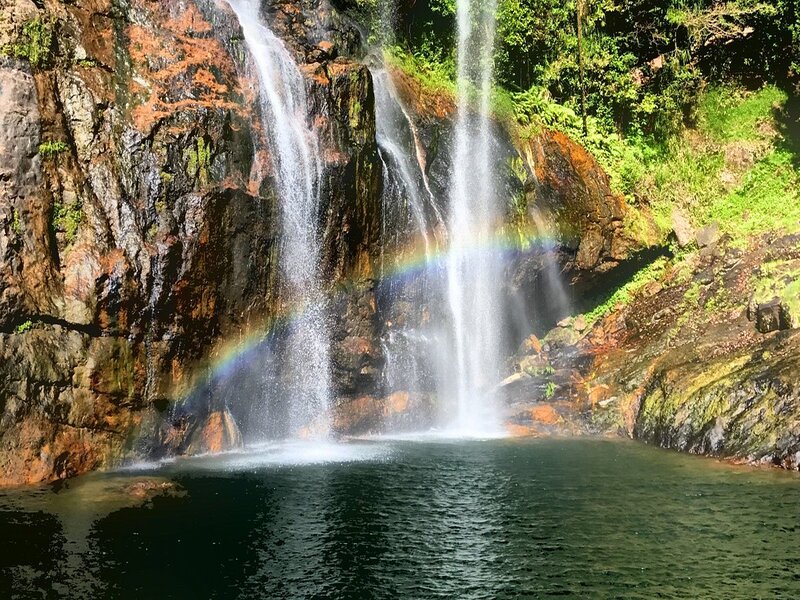 Immerse under the seaside sunset
You can not miss the sun setting in the sea in a blaze of golden, orange, and pink at twilight. The offshore volcanic islands are in the backdrop here and add to the surreal nature of the scenery. One of the most incredible things to do in Komodo Island is to watch the sunset from the marina, with the huge, vibrant sailboats to your back and the bright embers of the sunset mirrored on the waves.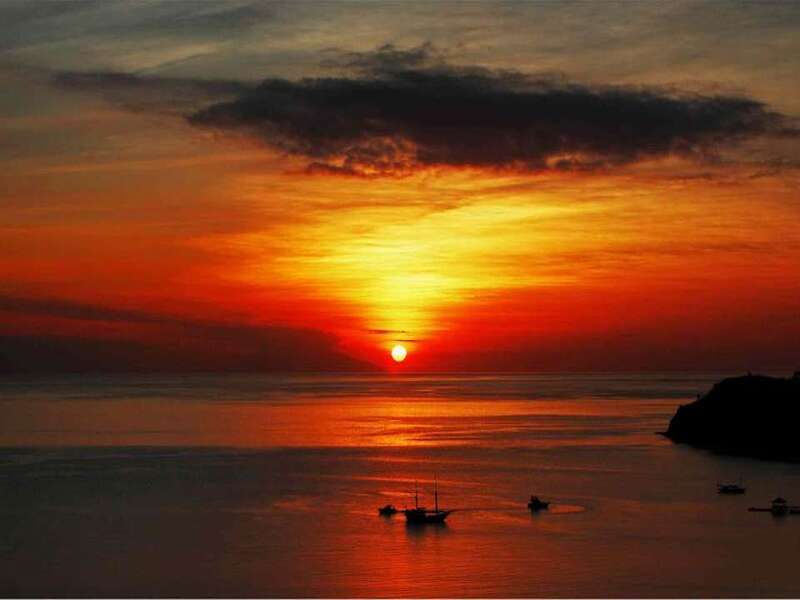 Gaze the Milky Way
The Komodo Islands and the town of Labuan Bajo are quiet and there is literally no pollution or much of lights to speak of here. If you are doing the two-day overnight tour of the islands by boat, the skies are definitely something that you will notice. Watching the brilliant unspoiled skies lit with a thousand stars is really one of the best things to do in Komodo Island.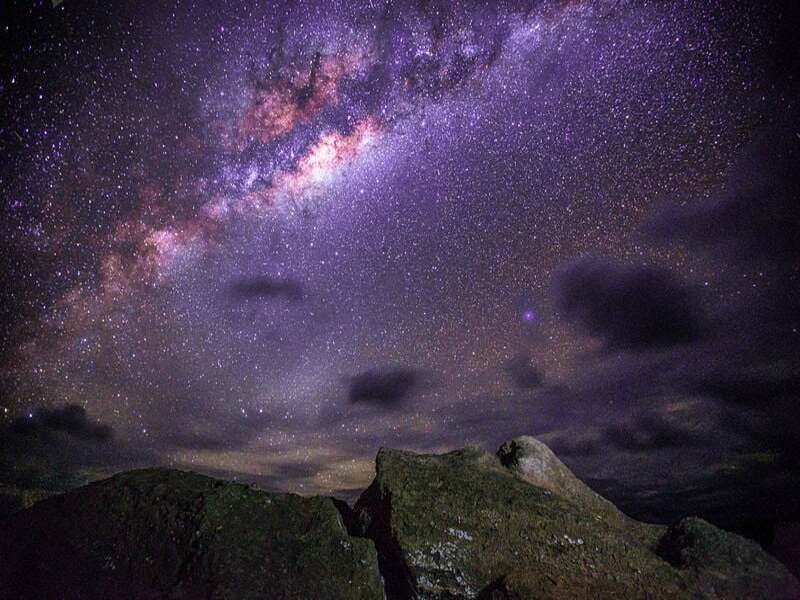 FAQs about Komodo Islands
Q1: What is the best time to visit Komodo Island?
A1: The best time to visit Komodo Island is from April to November. During April, one can enjoy the great weather with slight rain showers and fewer tourists around, while, during July and August, which are the most crowded months and peak time, the weather is too hot. September to November be the shoulder seasons to visit this beauty with a relaxing weather.
Q2: Why need to check my menstrual cycle?
A2: Check your menstrual cycle before making travel arrangements to Komodo Island. The Komodo dragon is a wild animal that can detect the scent of blood from a distance of up to 12 miles away. It's better to stay off the island while you're on your period. This may seem delicate, but you can try to talk to the tour guide or park ranger in advance, and they can give you advice based on the circumstances.
Q3: When is the best time to experience of swimming with manta?
A3: If you're looking for the experience of swimming with a manta plan to visit around September to October.
Q4: When is the best time for scuba diving?
A4: The visibility is best when the sea is calmer between November and January.
Q5: Can a drone be used?
A5: You need a permit. Please exercise caution with all drone use and make sure you are up to date with Indonesian drone regulations for the area. If you are uncertain of the drone laws for your trip, make sure to check with your tour provider as to whether you'll be able to use your drone on the trip on the other islands and boat.
Q6: Can you stay in Komodo Island?
A6: The options for staying on land in the national park are very limited. The best place to stay would be on a boat, as you get to sleep in various locations throughout the park, and can get to places bright and early.
Q7: When is the best time to meet Komodo dragon?
A7: The Komodo dragons' mating season is in July and August, followed by nesting between September and November, so the reptiles will be more visible during these months.
If you want to visit Komodo Island, please feel free to contact our travel consultants to help you plan a wonderful trip!