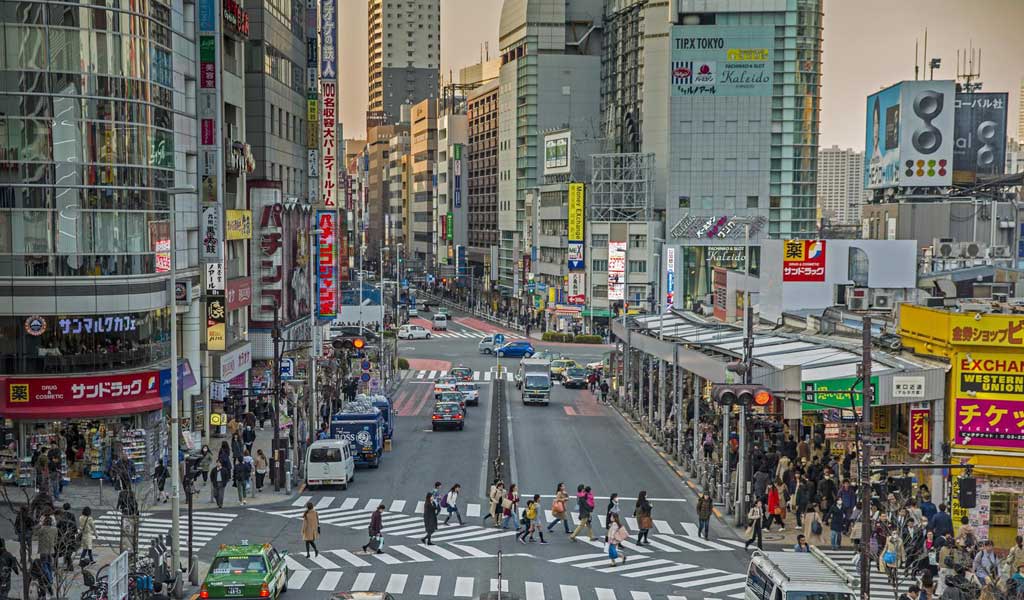 Best of Osaka -Japan
Let me emphasize you on why I recommend this most popular touristic destination in Japan, not only as a good place but also as the best place, everyone can visit in his or her lifetime. Continue reading, especially if you are planning your first trip to Osaka.
Overview
Osaka, previously known as Naniwa is a universal city near the ancient capital of Kyoto and the capital of western Japan. It is the 2nd biggest metropolitan area after Tokyo, located on the island of Honshu in Japan. It may not have the traditional or picturesque spots as other cities in Japan, yet it's one of the best known cities for the mind-blowing cityscapes, greatest amusement parks, scrumptious local foods, and trendy shopping streets including classic and modern sightseeing spots for day and night and more, apart from being one of the largest port cities and commercial hubs in Japan. Osaka is one part of the country you definitely don't want to miss, particularly when it comes to learn all about the Japanese culture and meet the coolest outgoing people.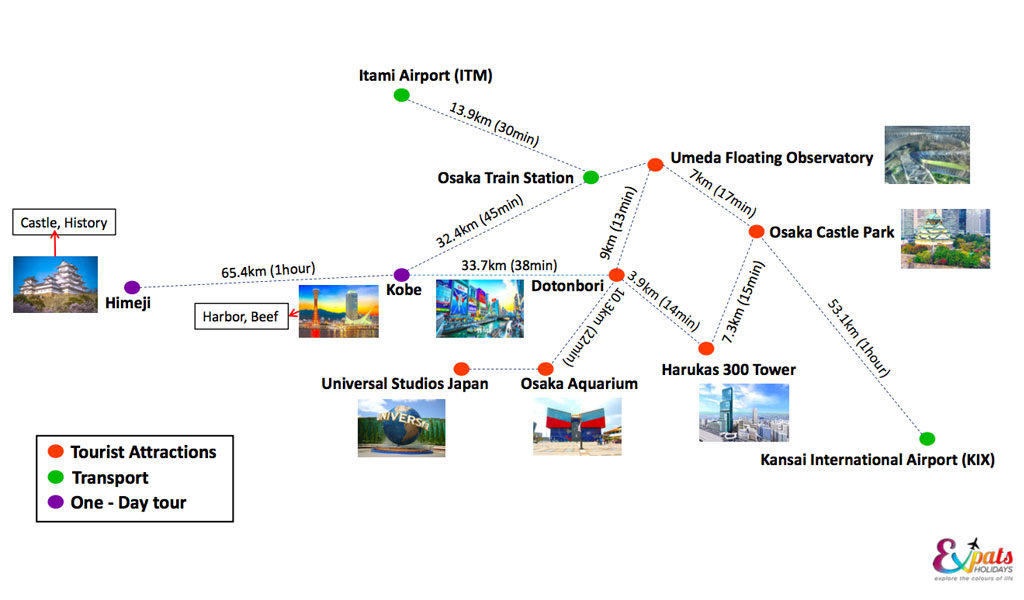 Food Scene
If you are a foodie, you will be lucky to be in Osaka as it's the right place for you to have one of the best food scenes in all of japan. It is a well-known food paradise and joining a food tour is a great way to explore the rich food culture in Osaka for those who want to do it one day. Evening food tour, foodies walking tour and bar hopping food tour are some of the highlights include in the food scene to discover the authentic food life in Osaka. Out of these, bar hopping is recommended if you want to get the best out of the local nightlife and try best food and drinking in hidden areas whereas walking tour is recommended to visit locals hang out spots to explore the neighborhood deeper. Moreover, do not forget to experience the famous local foods such as okonomiyaki (Japanese savory pancake), battera (Osaka style press sushi) and kushikatsu (deep-fried skewered meat and vegetables) in your magical food tour to Osaka.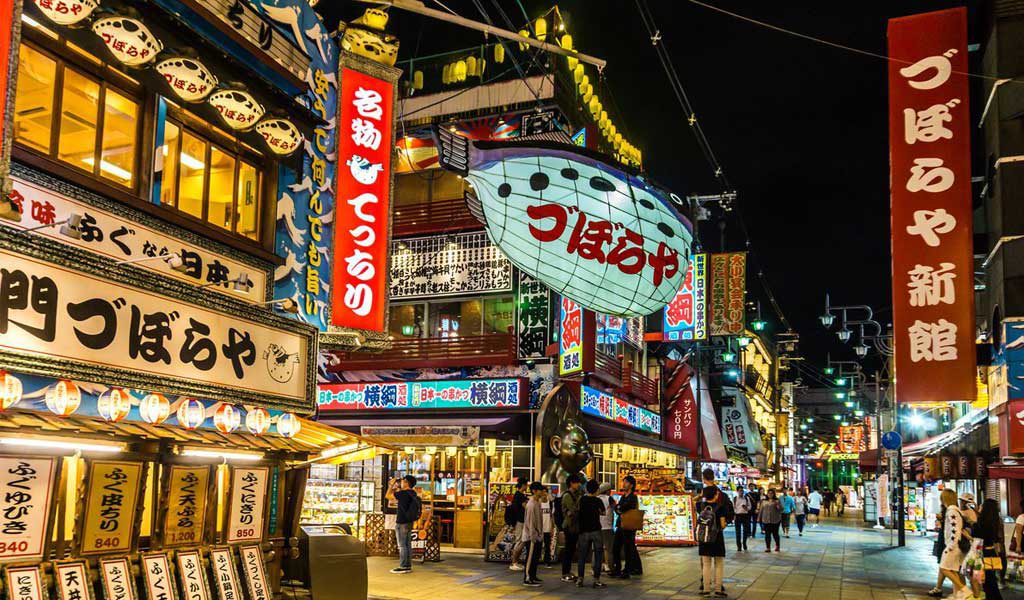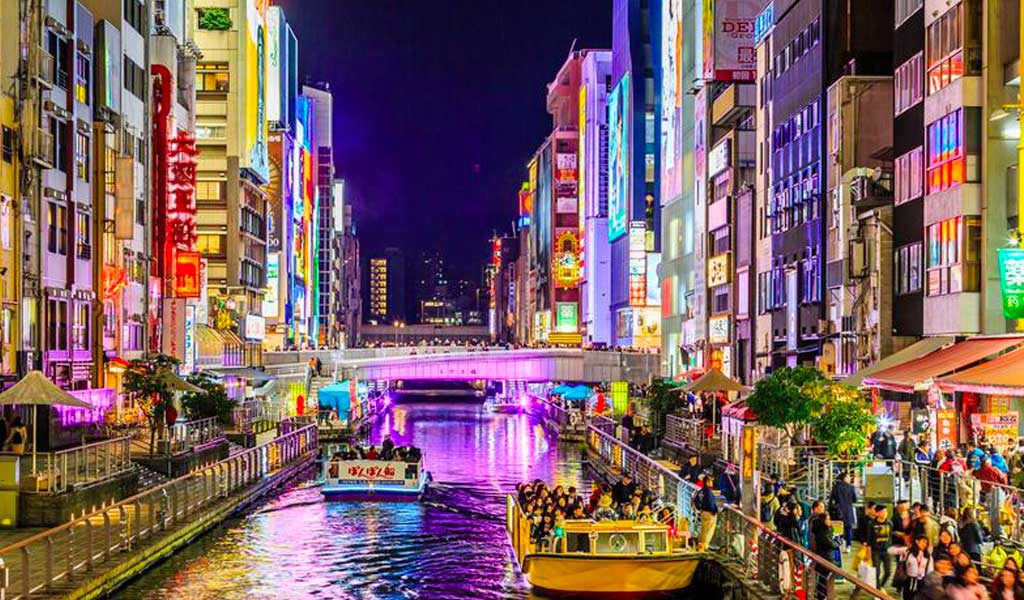 Landscapes
 If you wish to explore Osaka in one day, you should absolutely not miss Umeda Sky Building, Osaka Castle Park and Dotombori, as those best portray the western metropolis of Japan. Ascend the Umeda Sky Building to capture a panoramic view of the city and enjoy the floating garden filled with gorgeous flowers and plants. Visit the symbol of Osaka and one of the greatest castles in Japan, Osaka Castle Park, which is very popular during the cherry blossom season to feel the breeze by cycling around Osaka or observe its amazing vistas over the adjacent park and wider Osaka from the observation deck on the 8th floor. It is the home to Osaka-castle, Osaka-jo Hall, classical music halls and theaters one can enjoy the performing arts, hotels, shopping and sports facilities. Dotonbori, on the other hand, is an energetic neighborhood with vibrant neon lights at night. It draws millions of tourists every year offering the best of Osaka by displaying the famous shop displays, umpteen bars, restaurants and cafes. Additionally, a known place for active nightlife, unending shopping and great entertainment. So, sit back, relax and listen to some live music while looking out across the sparkling Osaka.