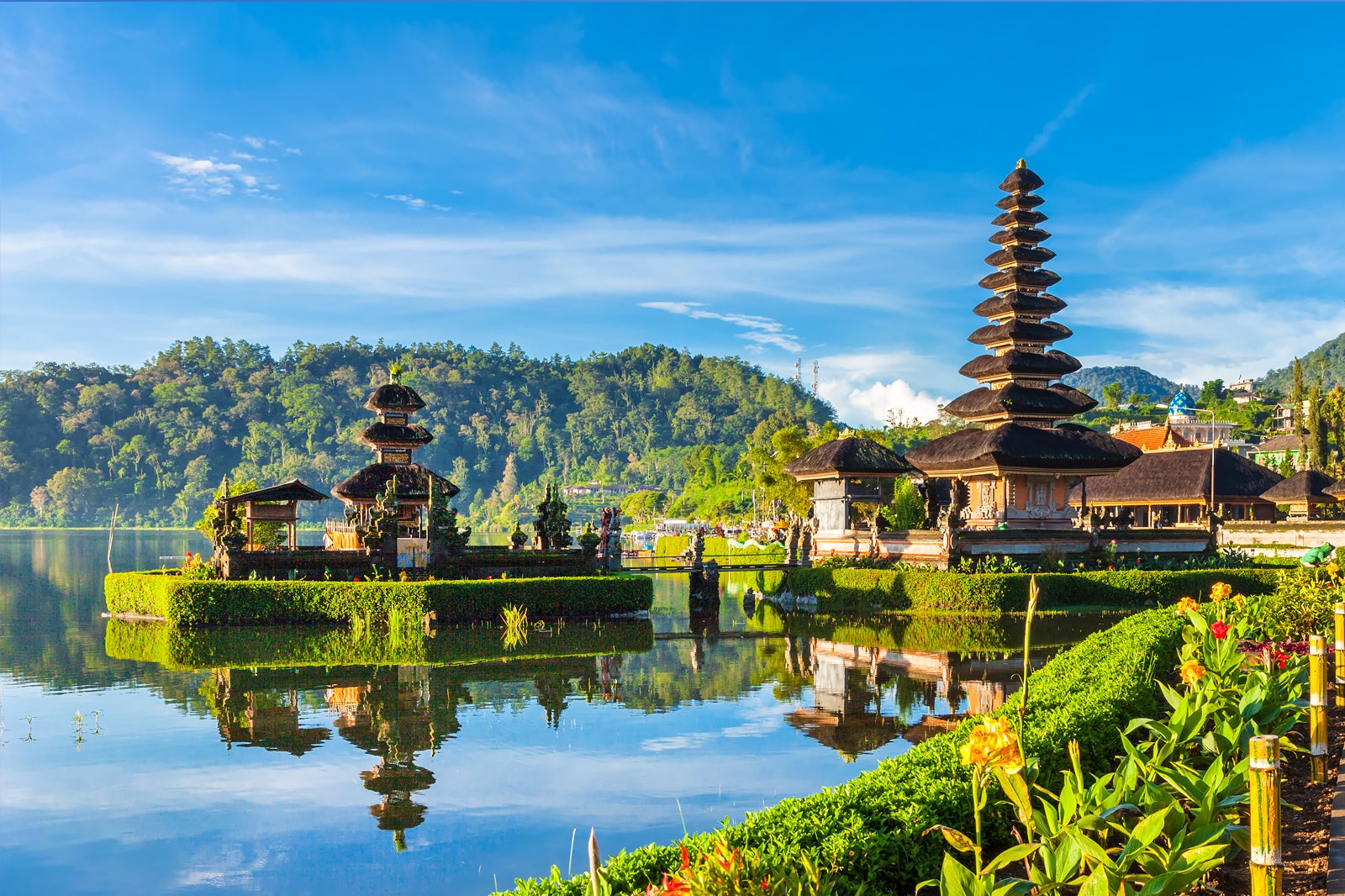 Enjoy your Summer Holiday in Bali!
Bali has everything from sybaritic pleasures like Seminyak and Kerobokan to wild beaches in the south and nudist beach life on Nusa Lembongan. In Sanur, you can enjoy family-friendly activities, or on Bukit Peninsula, you can indulge in lavish getaways. East and west Bali share the island's most beautiful rice fields and ancient monuments with Ubud, the center of Bali's culture. Although the north and west of Bali are sparsely populated, they have some of the best diving and surfing in the world.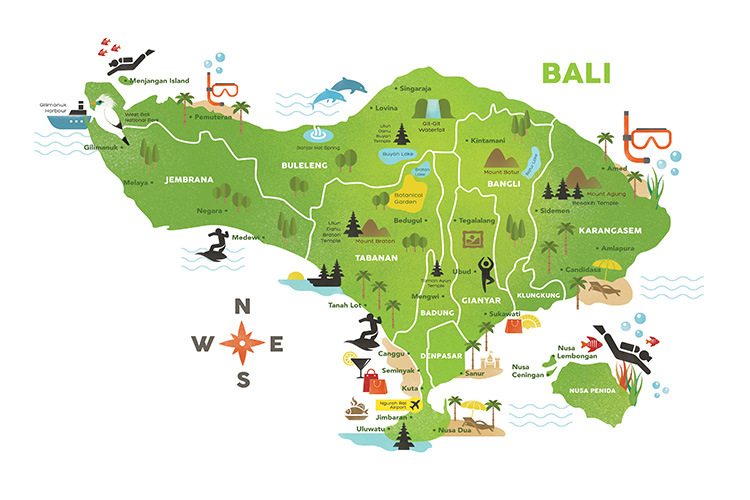 Explore Bali
Tegalalang Rice Terrace
One of Bali's most popular and photogenic destinations is Tegalalang Rice Terrace, 20 minutes north of Ubud. In this UNESCO World Heritage Site, you can see wide, undulating layers of rice paddies maintained by a sophisticated irrigation system and farmers who tend the terraces just as their ancestors have for millennia. Get some fresh air by strolling or sitting at an open-air cafe.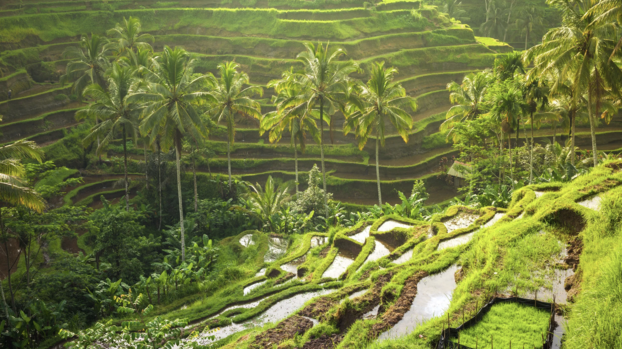 Pura Lempuyang Luhur
Nearly unnoticed by tourists, Lempuyang Temple is an ancient seven-temple complex in eastern Bali, best known for the Gate to Heaven that frames Mount Agung, the island's highest peak. The temple is a major Hindu pilgrimage site, and it is one of Bali's most majestic sights at sunrise.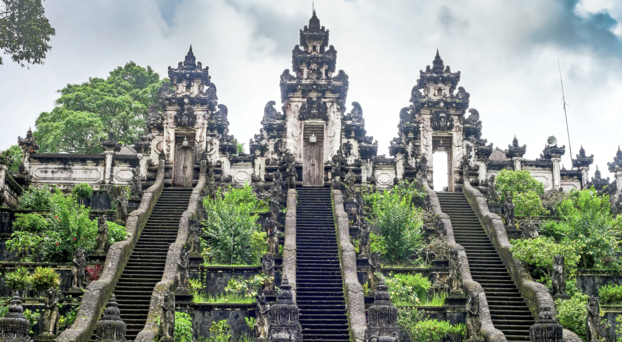 Banyu Wana Amertha Waterfall
Getting to the recently opened Banyu Wana Amertha Waterfall in Northern Bali is a bit of a challenge. Driving to the site from Ubud requires at least 90 minutes, and hiking through banana plantations takes 20 minutes. In exchange for your effort, you'll see a lush forest hidden behind a quartet of grand waterfalls that are somehow not overrun by crowds once you've completed the hike. Among the waterfalls, the main one is the most impressive. It is an amphitheater of verdant rock with misty streams cascading into a shallow pool.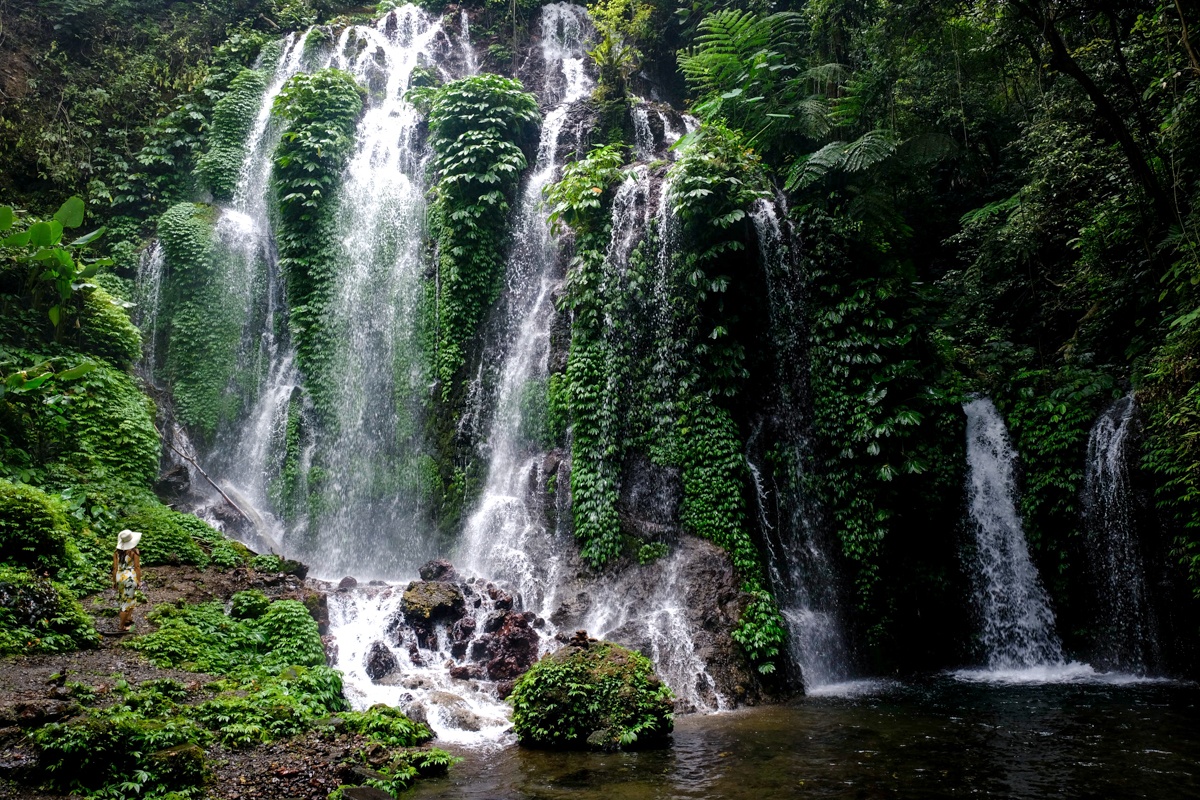 Ubud Monkey Forest
There are more than 1000 long-tailed Balinese macaques in their natural habitat in Ubud Monkey Forest, which looks like an open-air zoo. Despite the monkeys' cantankerous behavior, Balinese Hindus who come to pray in the complex's three ancient temples consider the primates sacred, as they are attracted to jewelry, bags, and conspicuous food.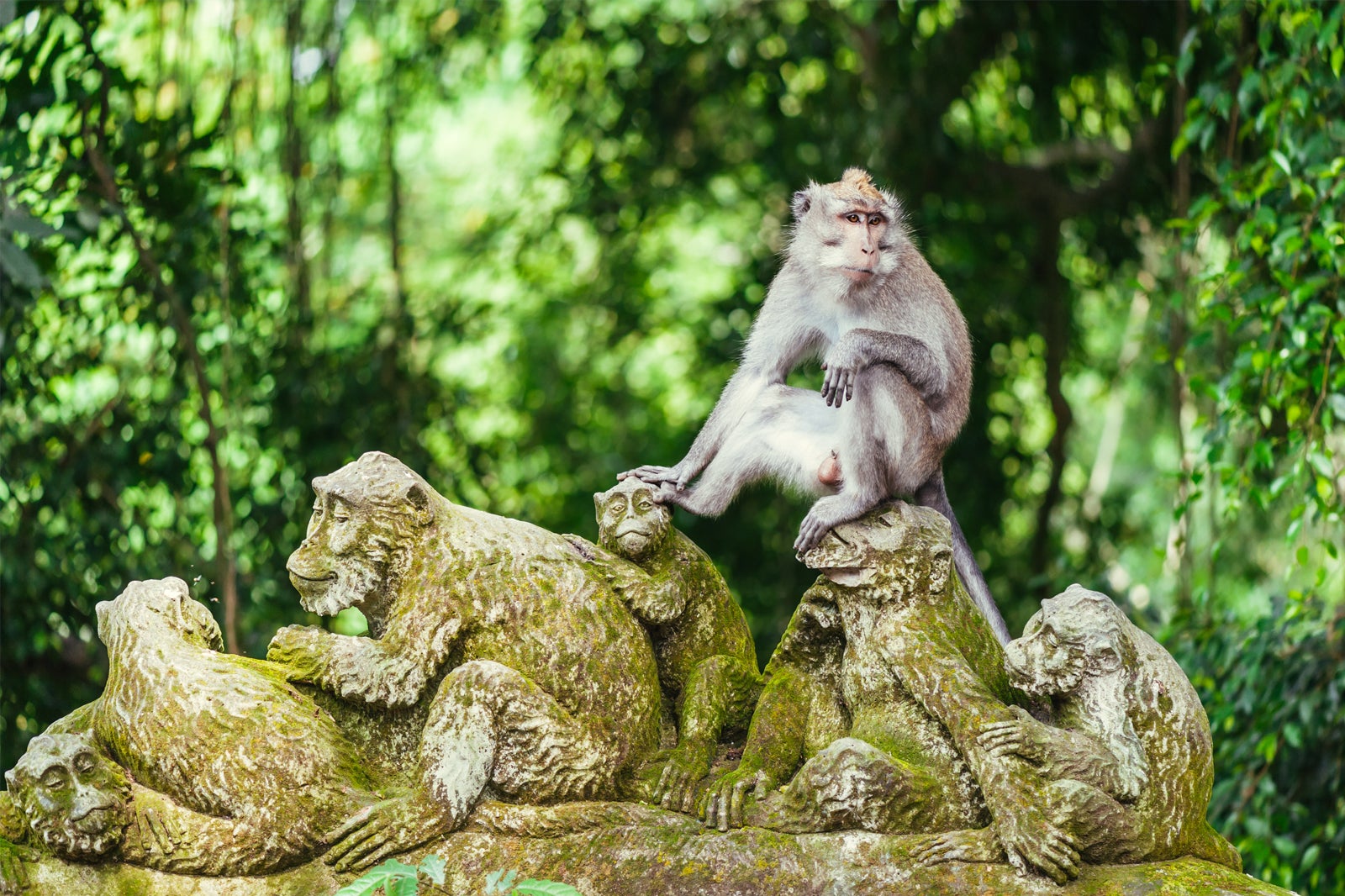 Tirta Gangga
A former palace turned lavish water garden, Tirta Gangga looks like it has existed for several centuries, but the Karangasem family conceived the project in 1946. In spite of its remote location in east Bali, travelers still enjoy its magical fountains, shrubs, sculptures, and flowers, as well as positioning themselves on octagonal stepping stones and feeding the carp.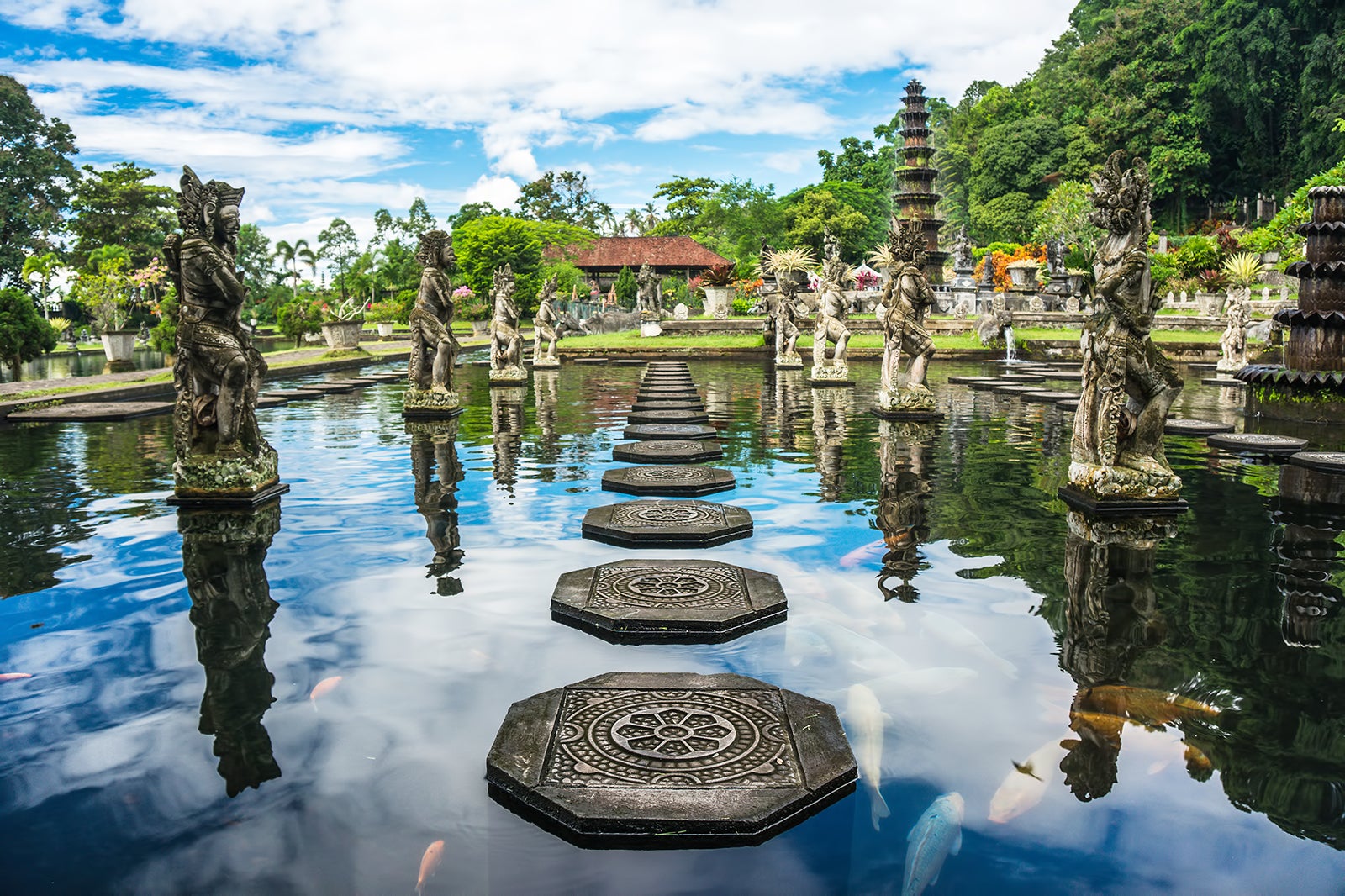 Gunung Kawi Temple
Along the Pakerisan River, near Ubud, Gunung Kawi is a complex of courtyards and shrines carved into the cliffs. An ancient Hindu site is surrounded by myths and theories, one of which claims Kebo Iwa carved the intricate reliefs with his fingernails. This jungle-enshrouded marvel will require some walking, but the reward is enormous, especially in the morning.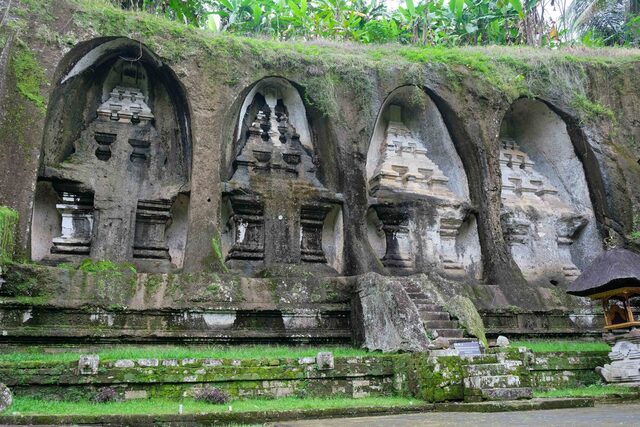 Beji Guwang Hidden Canyon
There is a sacred Balinese site called Beji Guwang Hidden Canyon, a ravine based in the Sukawati district of Bali. There is a series of mid-rise canyons lining the Oos River beyond the ticketed entrance where you can climb, wade, swim, and scale your way through a rocky-tropical landscape unlike anything else on the island.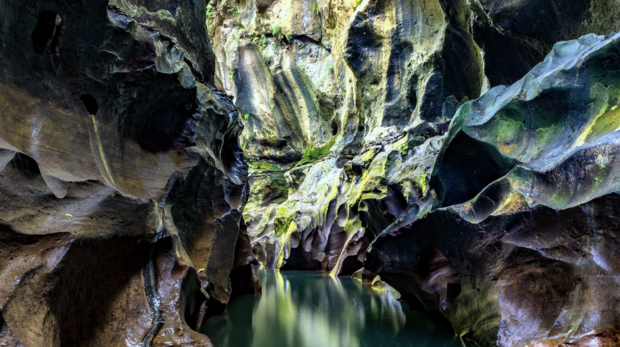 Mount Batur
One of the most dramatic destinations in Bali filled with natural beauty is Mount Batur. In this 5,600-foot volcanic marvel lies Bali's most spectacular crater lake and slopes that are ideal for hiking and cycling. A spectacular sunrise can be seen from the peak.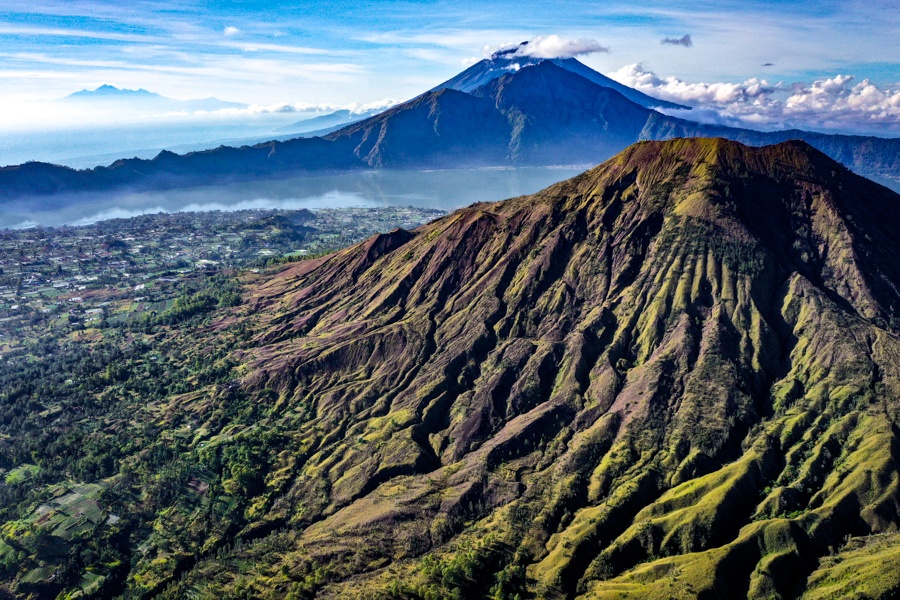 Sukawati Art Market
There are also less expensive and quieter options available in southern Bali, such as Sukawati Art Market. Handcrafted artworks are available for sale, ranging from framed paintings of local farm life to large wooden sculptures of Hindu deities. If you're looking for bargains on vibrant patterned dresses, accessories, home goods, and totes for all tastes, it's the perfect place for you.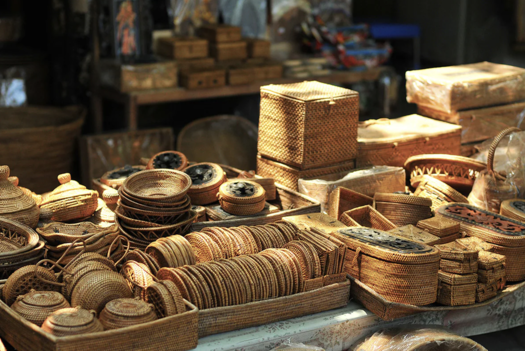 Accommodations
La Berceuse Resort & Villas
A tranquil rural setting surrounds La Berceuse Resort & Villas in Nusa Dua, Bali. Private pool villas and rooms are decorated in contemporary Balinese design and set in landscaped tropical gardens, creating a tranquil and peaceful environment that allows you to immerse yourself in the island's rich cultural heritage and artistry.
Geger Beach – 15 min walk

Nusa Dua Beach – 36 min walk

Bali National Golf Club – 19 min walk

Bali Collection Shopping Centre – 35 min walk

BIMC Hospital Nusa Dua – 38 min walk

Ngurah Rai International Airport – 10km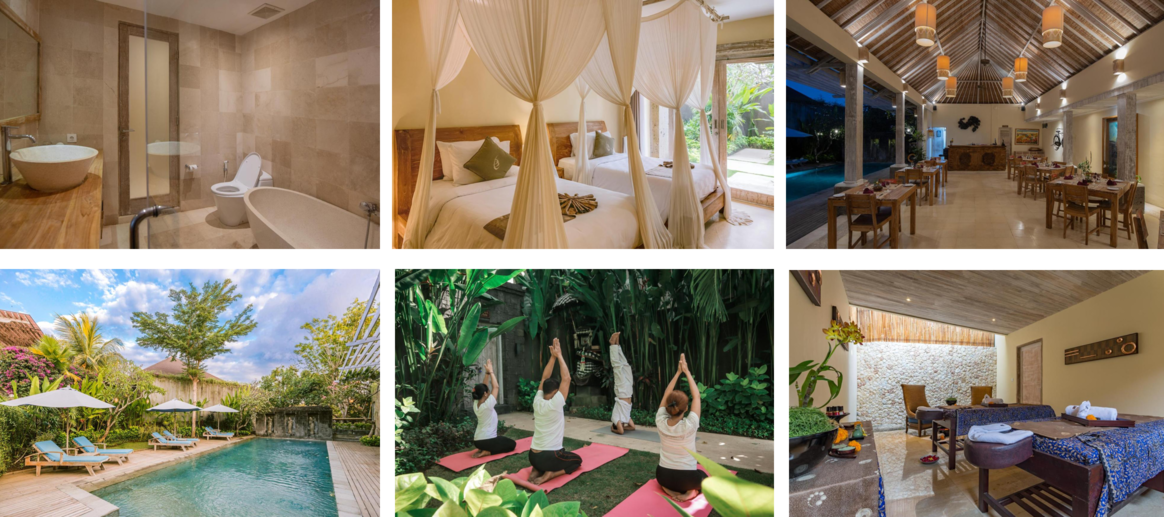 ClubMed Bali
At the All-Inclusive Club Med Bali Resort, surrounded by rice paddies and temples, you'll find plenty of space to relax with family and friends. A floating restaurant with delightful al fresco dining, an adults-only Zen Pool overlooking a lush field of palm trees, and contemporary design inspired by local culture. Kids can fly on the trapeze and splash around in the splash pool with new friends, while adults can explore nearby temples or be pampered at the Spa by MANDARA.
Nusa Dua Beach – 12 min walk

Geger Beach – 3.6km

Bali Ngurah Rai Airport – 11.3km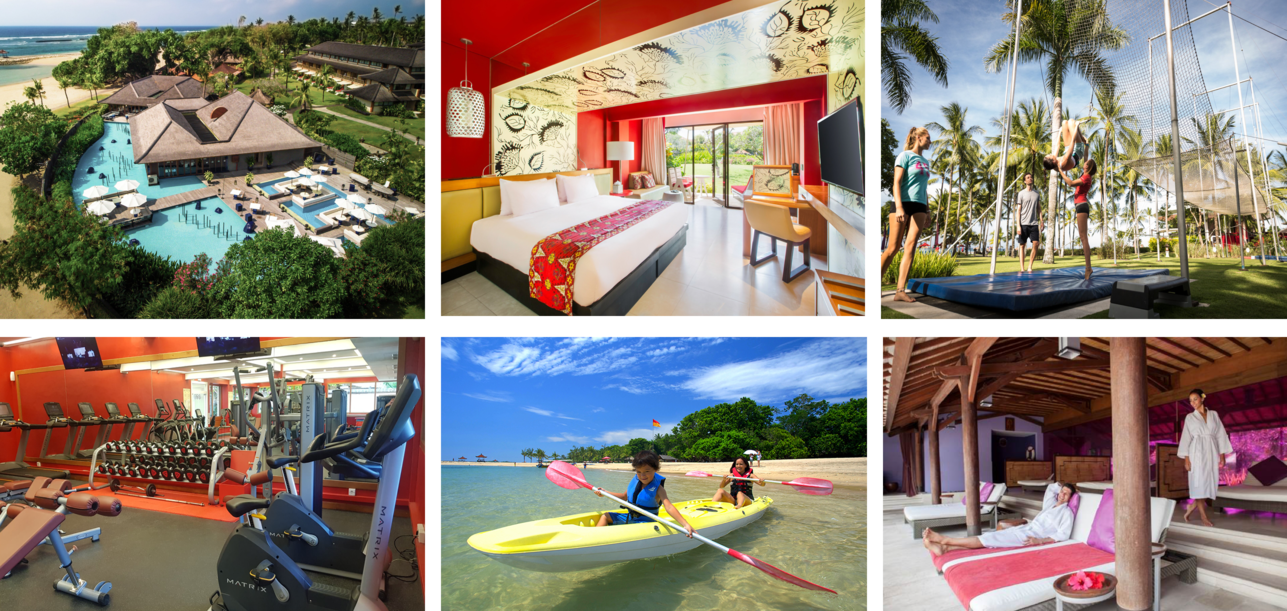 Anantara Seminyak Bali Resort
After extensive renovations, the Anantara Seminyak Bali Resort is reopening its doors amid tropical gardens and overlooking the Indian Ocean. Take a dip in the shoreline infinity pool. Enjoy the Indian Ocean view from your private balcony. Let precious spices and royal rituals pamper you at the spa.
Double Six Beach – 20 m

Seminyak Beach – 300 m

Petitenget Beach – 600 m

Legian Beach – 600 m

Ngurah Rai International Airport – 6km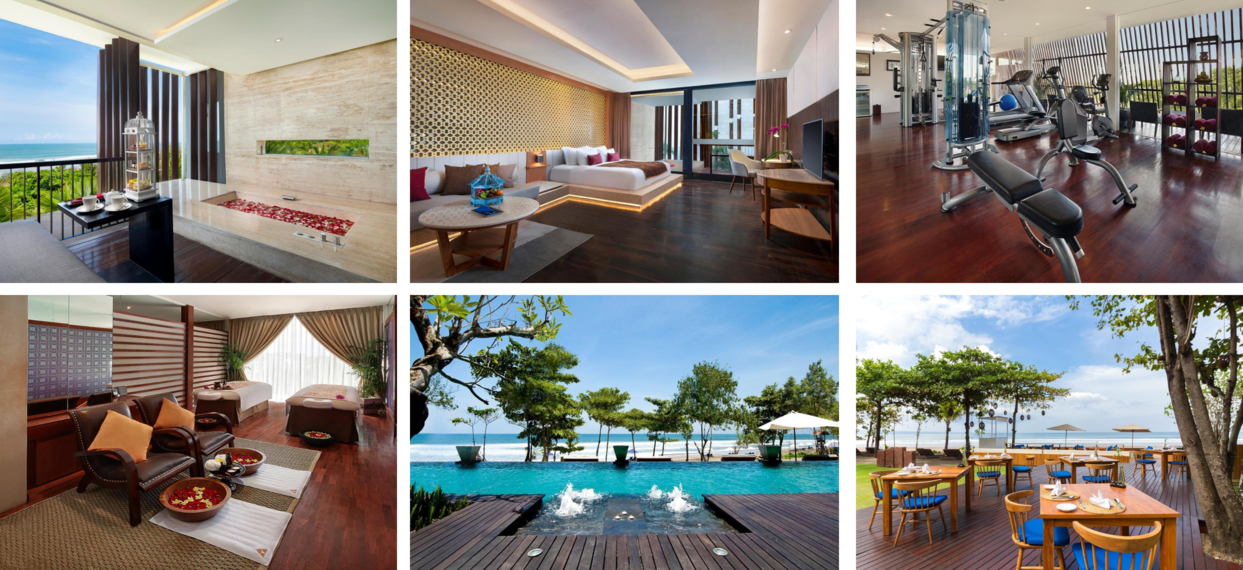 The Kayon Resort by Pramana
With its scenic location on the hillsides of Ubud and its proximity to Petanu River, Kayon Ubud Resort offers a serene and relaxing environment. There is a secret that grows from earth towards heaven that is known as Kayon, or tree of life creations. Located just ten minutes from Ubud center, this enchanting five star boutique resort has been designed to work in harmony with the environment. This stone wall is decorated with reliefs of Ramayana stories, which creates a romantic atmosphere.
Bali Museum – 6 km

Ubud Monkey Forest – 5 km

Ngurah Rai International Airport – 33km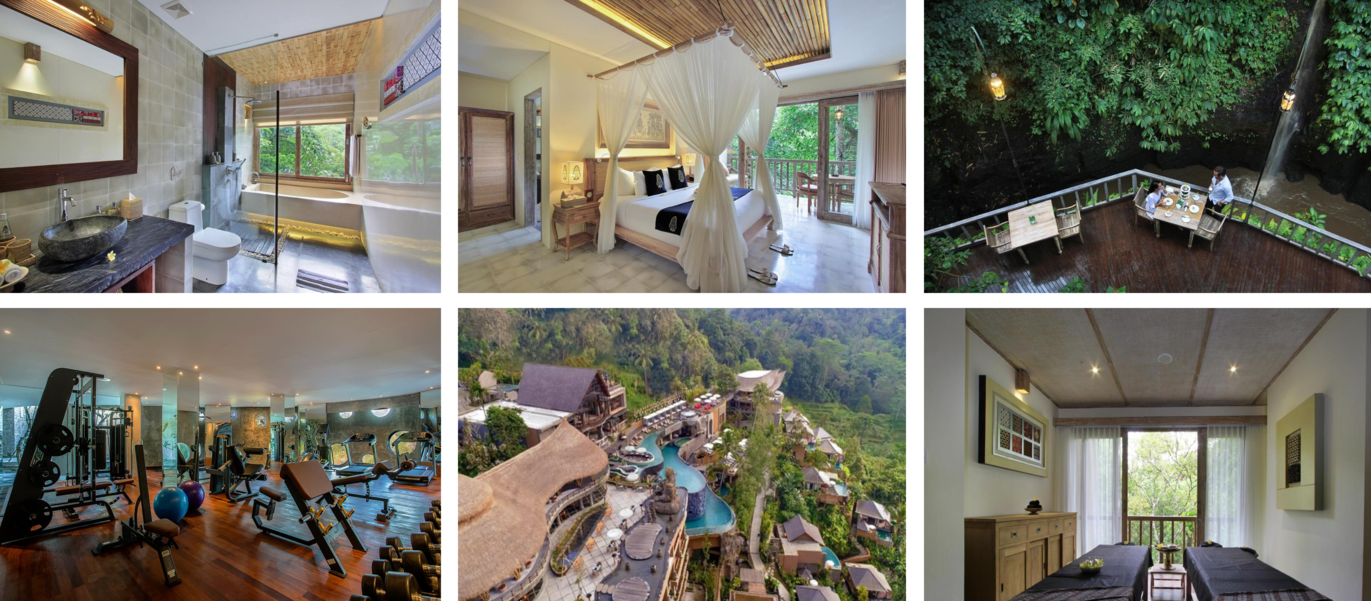 Bali COMO Uma Canggu
Located on Bali's south coast, the easy-going Uma resort is footsteps from the beach. Embrace the vibrant beach culture of Canggu, enjoying healthy food, poolside lounging, and massages, then retreat to a luxurious room, suite, or penthouse.
Echo Beach – 40m

Batu Bolong Beach – 250m

Pererenan Beach – 400m

Canggu Beach – 750m

Bale Park – 5km

Ngurah Rai International Airport – 11km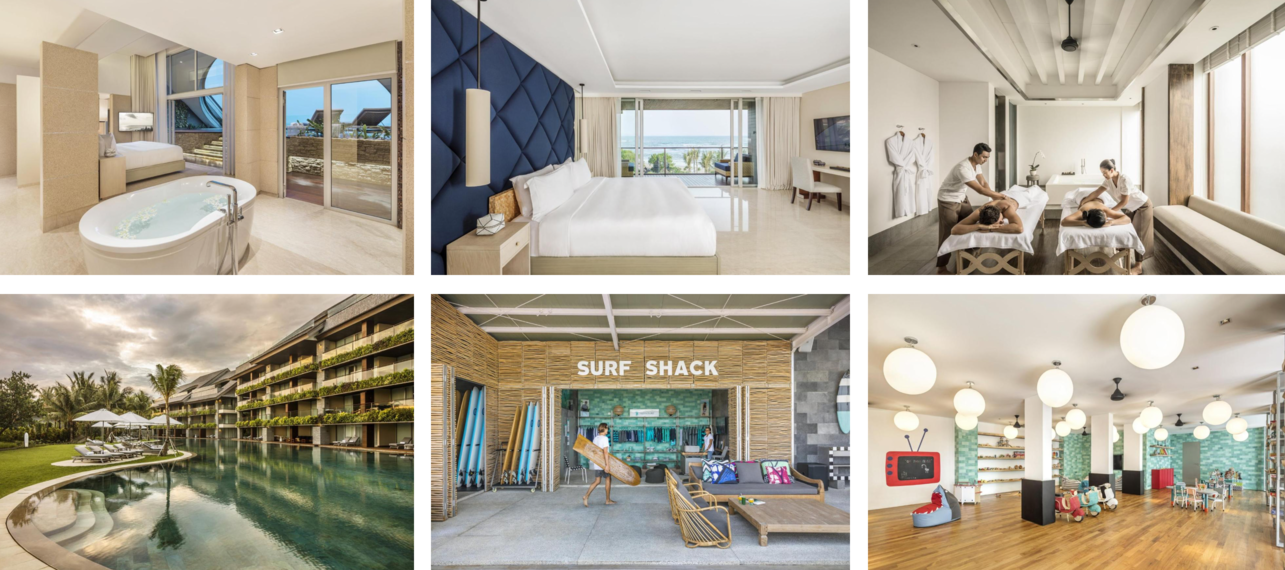 W Bali – Seminyak
Located in the heart of Seminyak, W Bali – Seminyak provides a stylish and comfortable stay. A vibrant center of fashion, nightlife, and restaurants in Bali. AWAY Spa and FIT gym are available 24 hours a day. There are  two world-class restaurants at Starfish Bloo and FIRE. Hotel rooms and suites offer garden views and panoramic views of the Indian Ocean, while villas feature private pools. 
Batu Belig Beach – 500m

Petitenget Beach – 550m

Bumi Ayu Park – 6km

Ngurah Rai International Airport – 8km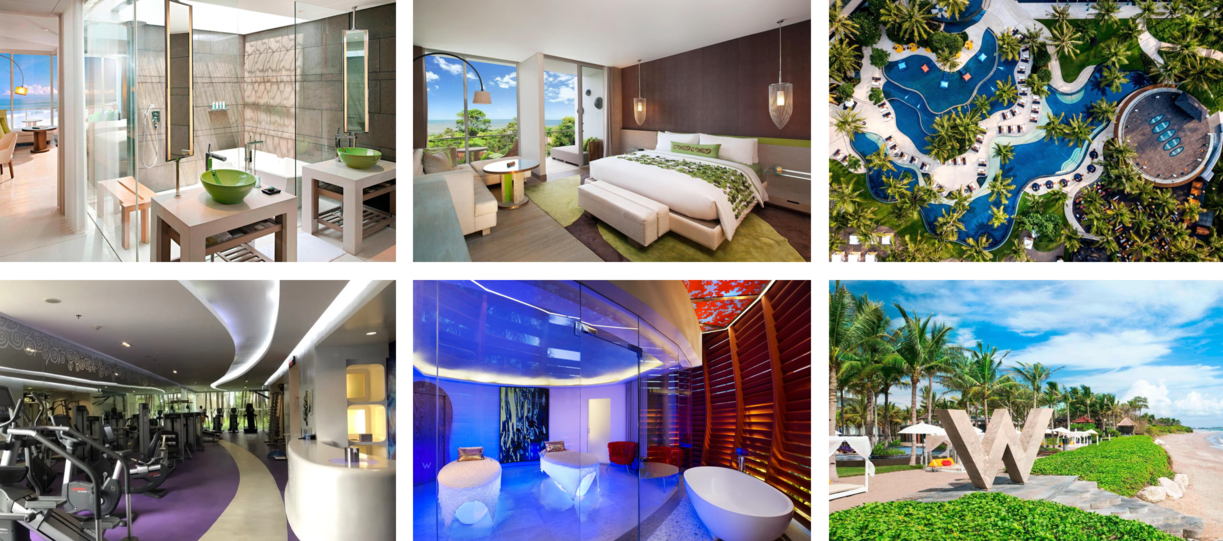 Are you still undecided on where to travel this Summer? If you would like to customize your own itinerary, please contact one of our travel consultants!