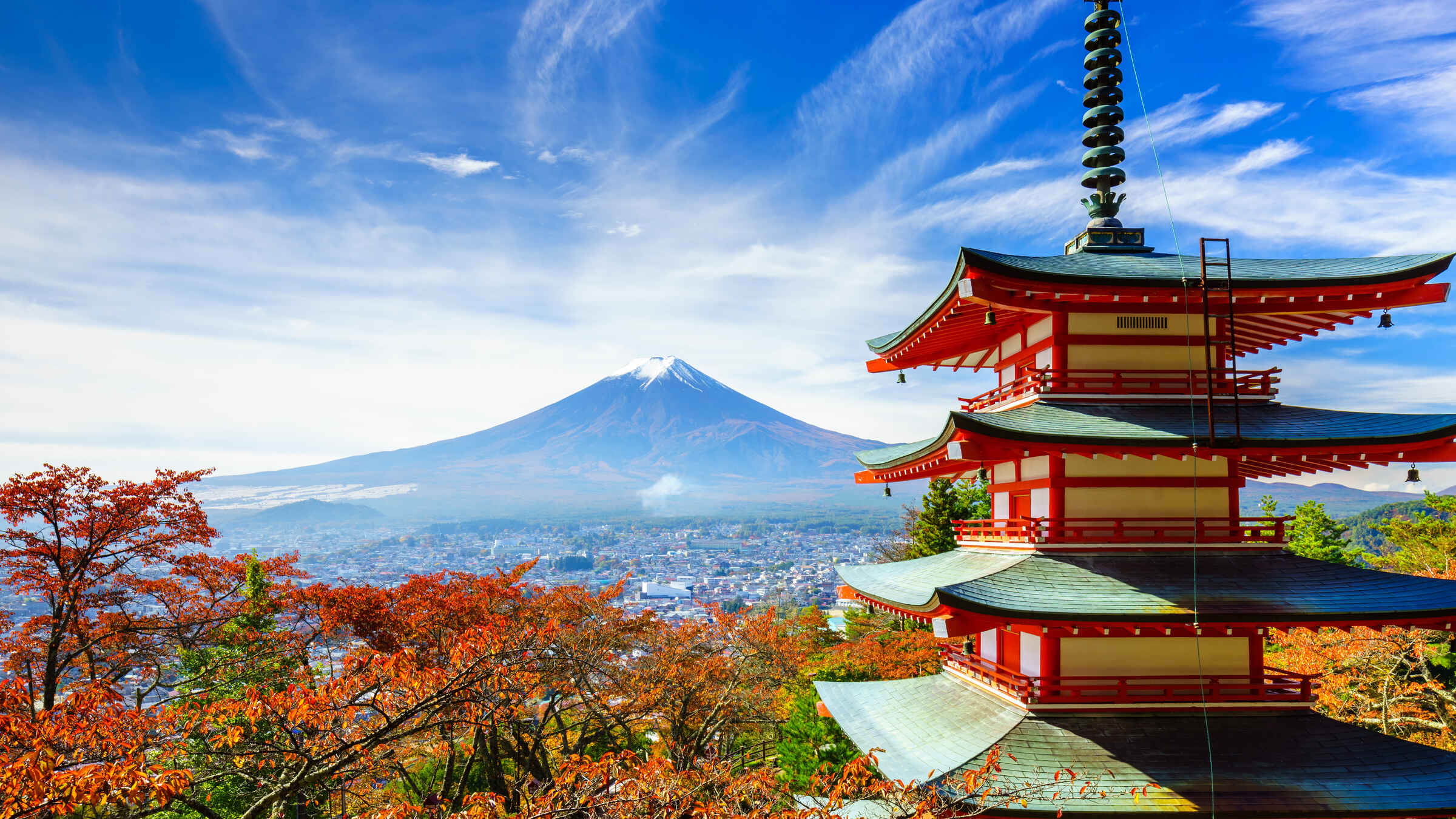 Let's plan a trip to Japan
Japan is truly timeless, a place where ancient traditions fuse with modern life, as if it were the most natural thing in the world. In this beautiful island country, there are so many places to visit that it is easy to feel overwhelmed and disoriented when you are visiting for the first time. Find out more about Japan's tour information in this article. First-time travelers can find answers to many questions here, as well as insider tips and practical advice for navigating the country.
Each Japanese destination has its own unique features. Hokkaido is a winter skiing paradise in north Japan. In the middle part of Japan, there are many destinations for sightseeing, such as Tokyo, Osaka, Hiroshima, etc. Okinawa is a great place for beach vacations at the end of south Japan. As it is both warm and dry between March to May and September to November, these are the best times to visit Japan.
It is a spectacular time to visit Japan during cherry blossom season, though it can be very crowded. During spring, these blush-coloured flowers begin to emerge, with the south blooming earlier than the north and central regions. The blooming season depends on environmental factors, so there is no set date. Each year, the Japan Meteorological Corporation begins providing bloom maps and forecasts in January. The best time to visit Japan during cherry blossom season is between the middle of March to the middle of April.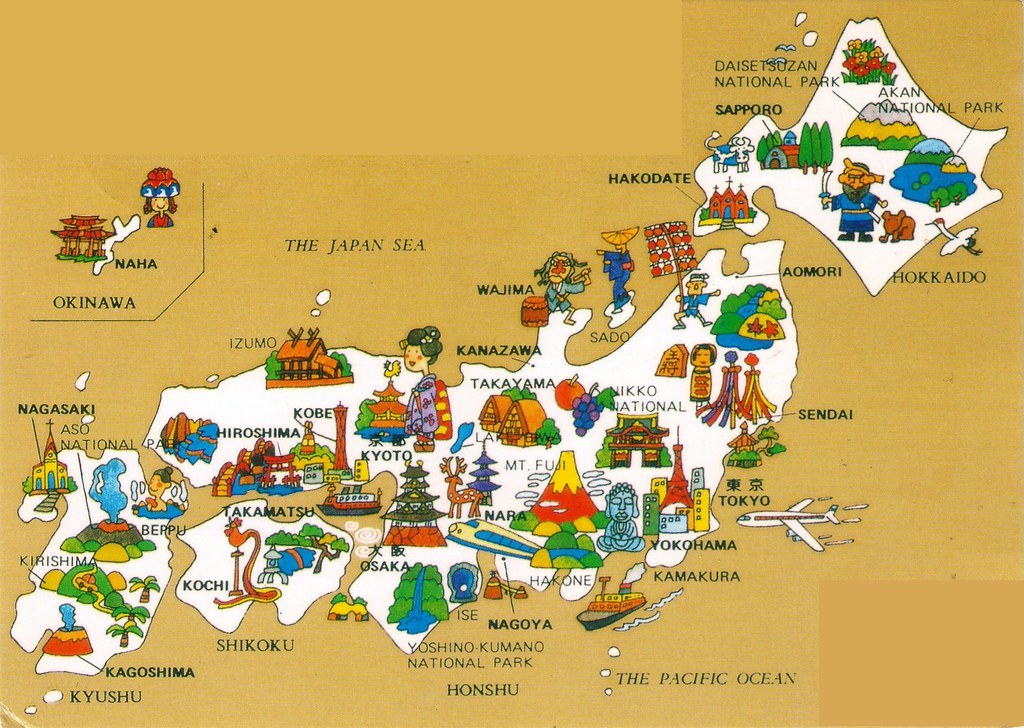 Tokyo
In Tokyo, you can find shopping districts like Harajuku and Shibuya as well as luxury flagship stores such as Ginza. Known for its gleaming skyscrapers as well as atmospheric backstreets with tiny bars, Shinjuku is the business district located in the heart of Tokyo. The ancient temples and traditional stores can be found in Asakusa. Tokyo is surrounded by many stunning destinations that you can easily visit on a day trip. One of the most popular destinations in Japan is Mount Fuji, the country's highest mountain. There is no doubt that Mount Fuji is one of the most iconic sites in Japan, not only as a geographical point, but also as a cultural symbol. Karuizawa will turn into a skiing paradise during winter. Karuizawa is one of the first ski resorts in Japan to open each year due to its advanced snow-making facilities. In general, it provides a variety of terrain that caters to beginner and intermediate skiers. The terrain park offers a wide range of features for freestyle skiers and boarders from November to April.
Travel Length: 3-5 days
Destinations features: Modern International City, shopping, transportation hub, amusement park
One-day tour destination: Yokohama (harbor city), Mt Fuji (hiking), Atami (hot spring), IzuIwaki City (hot spring), Karuizawa (winter skiing), Chiba (castle), Saitama (historical street), Nikko (hot spring), Nasu Plateau (hiking)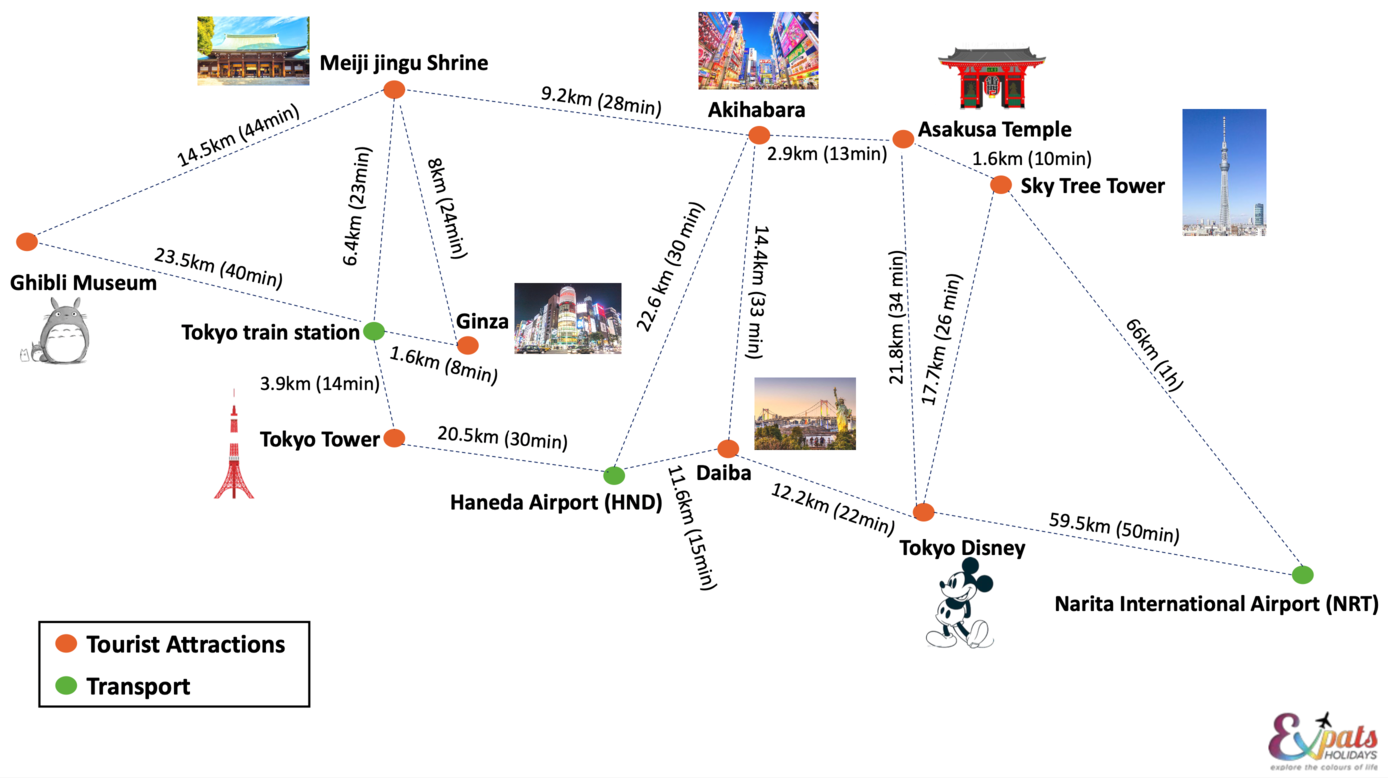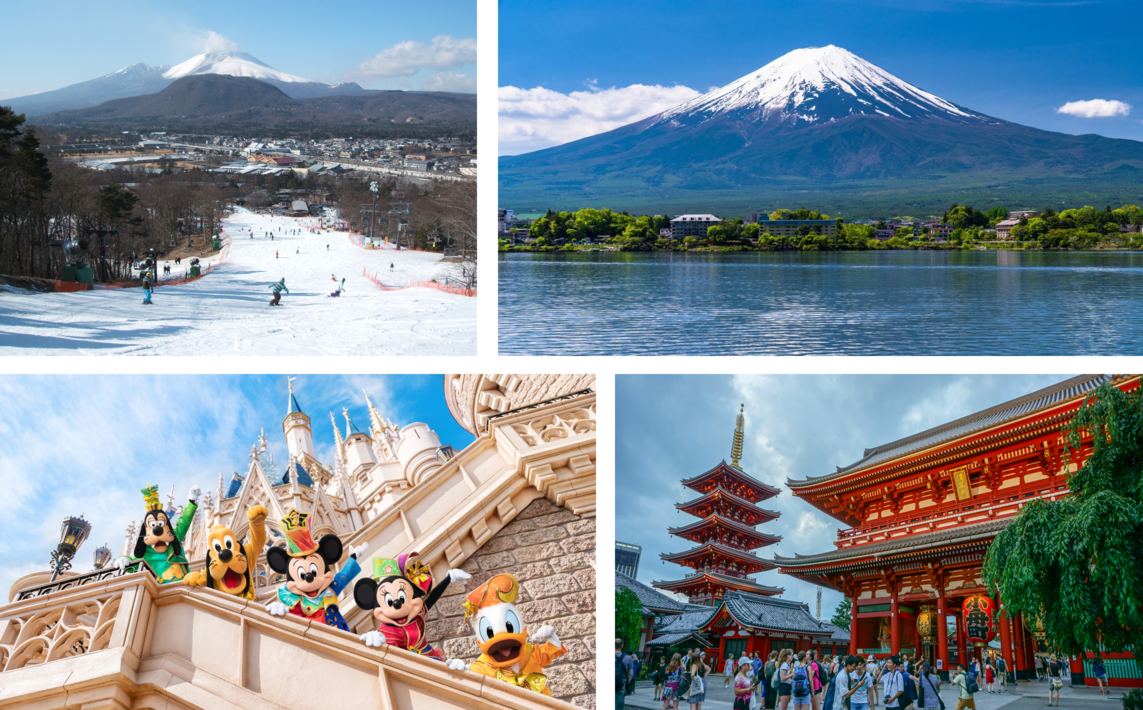 Osaka
Osaka is Japan's second largest metropolitan area after Tokyo. Enjoy the nightlife, delicious food, and friendly locals in this lively city. Aside from its modern attractions and shopping, Osaka also has a historical side, highlighted by Osaka Castle. In April, when the sakura bloom and the weather is typically at its best, the castle is a great place to discover Japanese history and to wander the beautiful grounds. Your day tour can also include two other destinations. The first is Kobe, which has been a port city for centuries. Due to its history, the city has a unique blend of Western and Asian cultures. Additionally, it has a reputation for its marbled Kobe beef. The second one is Himeji Castle, a National Treasure of Japan and a registered UNESCO World Heritage Site located in Himeji City. This castle is full of stories about feudal Japan.
Travel Length: 2-4 days
Destinations features: west Japan transportation, shopping, street food, amusement park
One-day tour destination: Kobe (harbor city), Himeji Castle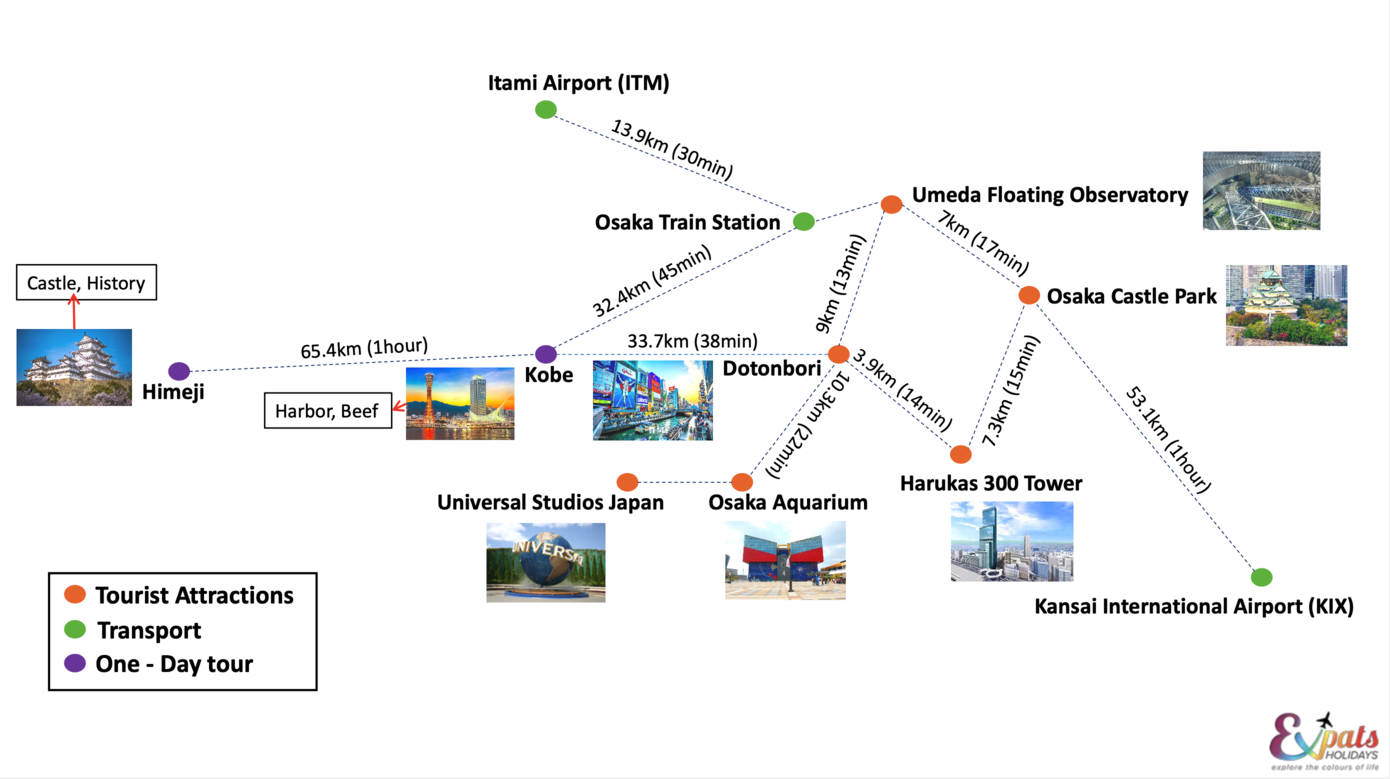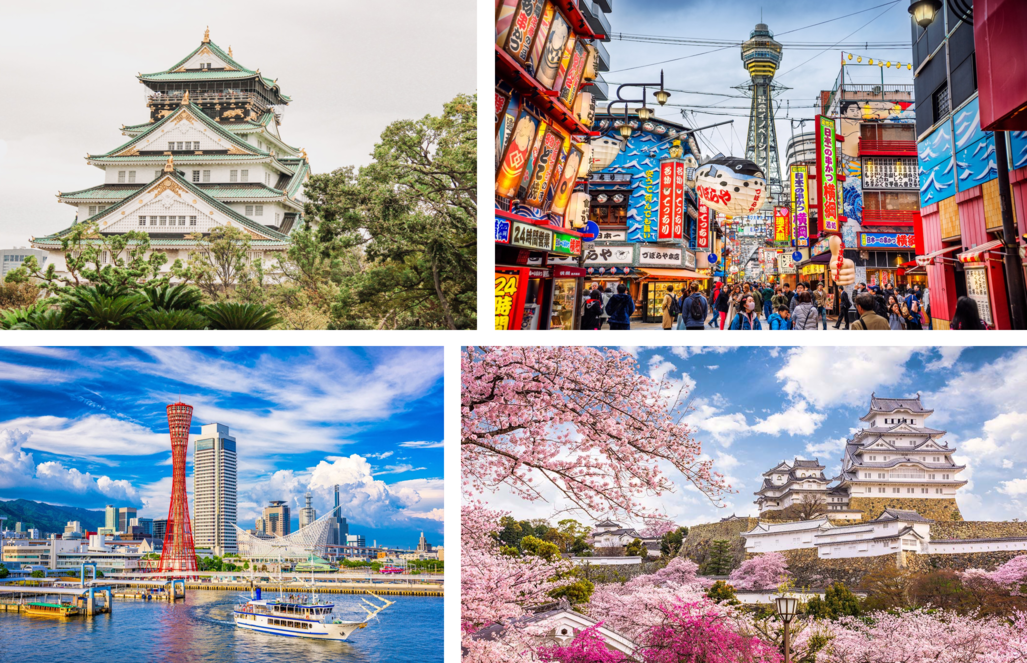 Kyoto
The city of Kyoto is one of the most rewarding in Japan. You can picture Kyoto with its sublime Zen gardens, mysterious Buddhist temples, colorful Shinto shrines, and graceful geisha. There are a lot of cultural and historical landmarks in this city. Kyoto's most iconic shrine, the Fushimi Inari-taisha Shrine, is located at the end of a colorful walkway adorned with thousands of traditional torii gates. A half-way point of the mountain, the Yotsutsuji Intersection offers amazing views of Kyoto. Because of Kyoto's strong Zen Buddhist roots, tea ceremonies are especially sacred throughout Japan. There are many historic sites to see in Nara, one of the most popular day trips from Kyoto. Be sure to check out the massive Todaiji temple and the lantern-lined Kasuga Shrine. While making your way to leafy Nara-kōen, the park famed for its free-roaming, inquisitive deer, stroll through exquisite Japanese gardens at Yoshiki-en.
Travel Length:  2-4 days
Destinations features: Kabuki, porcelain, ancient street, Kimono (Japanese traditional clothing), temple
One-day tour destination: Pommel (hiking), Nara (temple and deers), Uji (temple and Japanese tea)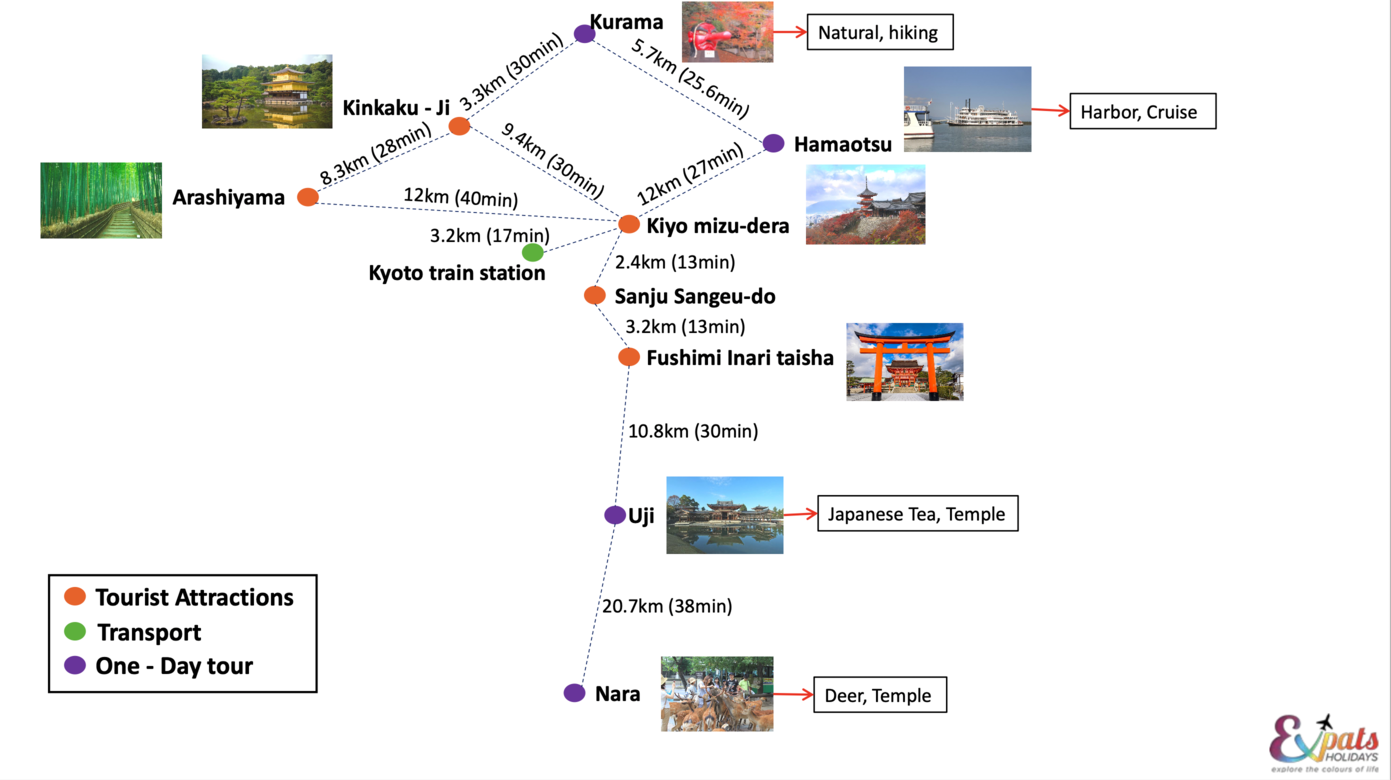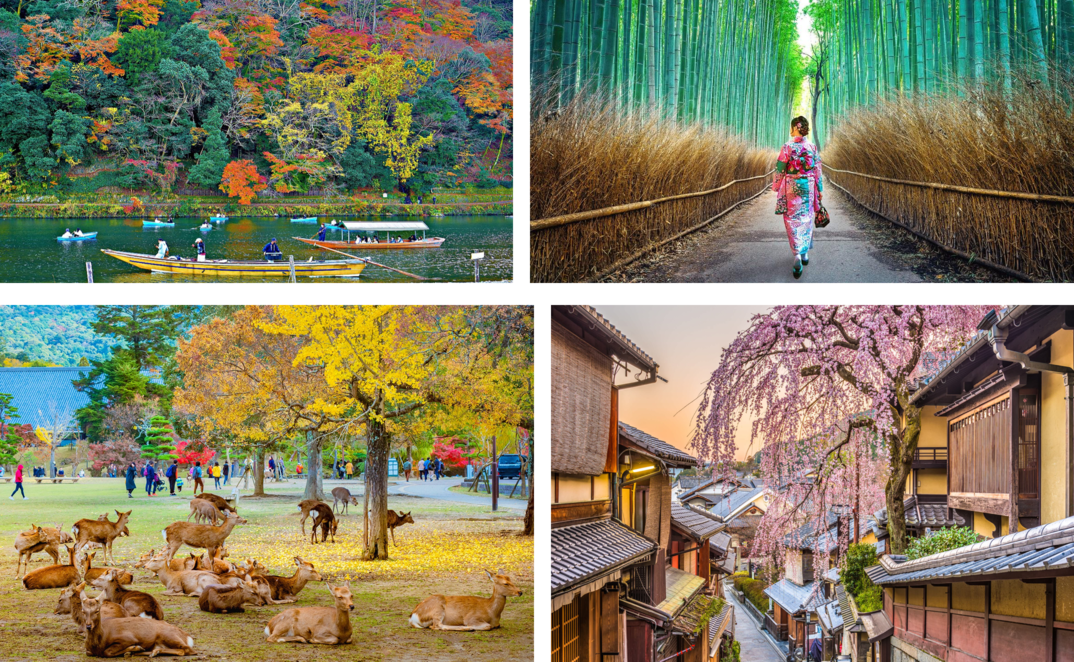 Travel Tips
Q1: Is a visa required to visit Japan?
A1: All foreign nationals/people who reside in the following countries/region and are required to obtain a short-term visa on visiting Japan are eligible to apply for a visa online from March 27, 2023. Canada, Mongolia, Saudi Arabia, Singapore, South Africa, Taiwan, United Arab Emirates, United Kingdom, U.S.A. Most of the Europe countries do not require a visa to enter Japan. Please check this link for more details: https://www.mofa.go.jp/j_info/visit/visa/index.html
Q2: When is the best time to travel to Japan?
A2: The best time to visit Japan is between March and May and between September and November as it's both warm and dry between these periods. If you are looking for a skiing vacation. The snow typically starts falling in Japan during mid-November in the north island of Hokkaido, with the earliest resorts opening during the third week of that month. Niseko, Rusutsu and Kiroro are usually the first of the big ski resorts to open to riders for the season, depending on the snowfall at that time. From December till February, the powder tap is usually turned on offering the legendary powder snow Japan is known for.
Q3: When should you avoid traveling to japan?
A3: Rainy season typically runs from early June to mid-July throughout most of the country, except in Okinawa where showers begin in early May. Cities such as Tokyo and Kyoto are often uncomfortably hot and best avoided during the peak summer months of July and August. Travelers all over the world admire Japan's cherry blossoms, it should come as no surprise that sakura season marks the busiest time in middle of March to the middle of April.
Domestic travelers also take advantage of Golden Week (a national holiday in Japan), from the end of April to about mid-May. It's a good time to avoid visiting at this time, unless meticulously planned ahead, since trains, hotels, and popular sightseeing spots can often be overcrowded or booked out entirely.
Q4: How long should I spend in Japan?
A4: It depends on where you plan to visit, if you want to visit Tokyo and Osaka, then it can be done at least five to six days. It is recommended that you need to add few days for each destination if you plan to add other day tour destinations.
Q5: Is there any direct flight to Osaka or Tokyo?
A5: Yes, Beijing, Guangzhou and Shanghai have direct flights to both Osaka and Tokyo.
Itineraries
If you want to visit Japan, please feel free to contact our travel consultants to help you plan a wonderful trip!