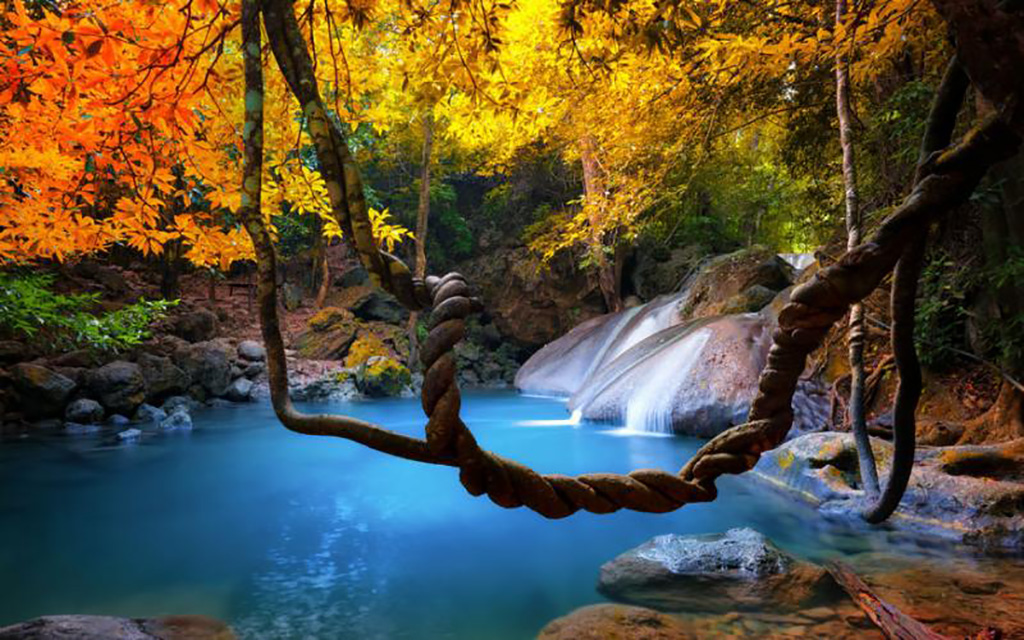 Top 5 Most Beautiful Waterfalls in Asia
There are hundreds of waterfalls worth chasing in Asia. After all they are one of the reasons, which make up the most amazing sights in every country.
I'm extremely grateful to have been able to catch a glimpse of them every now and then. And to tell you the truth, they all are absolutely mind-blowing miracles shining above the rest.
So without delaying further, let me list down the top 5 most beautiful waterfalls in Asia, worth exploring!
1. HUANGGUOSHU FALLS, GUIZHOU , CHINA
Huangguoshu falls in Guizhou is one of the biggest waterfalls in China & East Asia. Therefore, as a result, widely considered as the most popular waterfall in China.
There are 3 different standpoints to view this graceful waterfall scenery; first, using the waterfall-viewing pavilion, which helps you see the whole waterfall from a distance, second, bird's eye view that lets you enjoy it from a very high place (water-viewing stage) and third is the frog's eye-view , where you can observe the falls from below the ground.
June to September is an ideal time to visit this cascading beauty standing at 243 feet. And speaking of its specialty, visitors can enter into the curtain cave too, to experience the other falls from behind the curtain of water.
If you happen to visit Guizhou during your china trip, don't forget to visit this classic piece of nature set in Huangguoshu Waterfall National Park on the Baishui River in Anshun.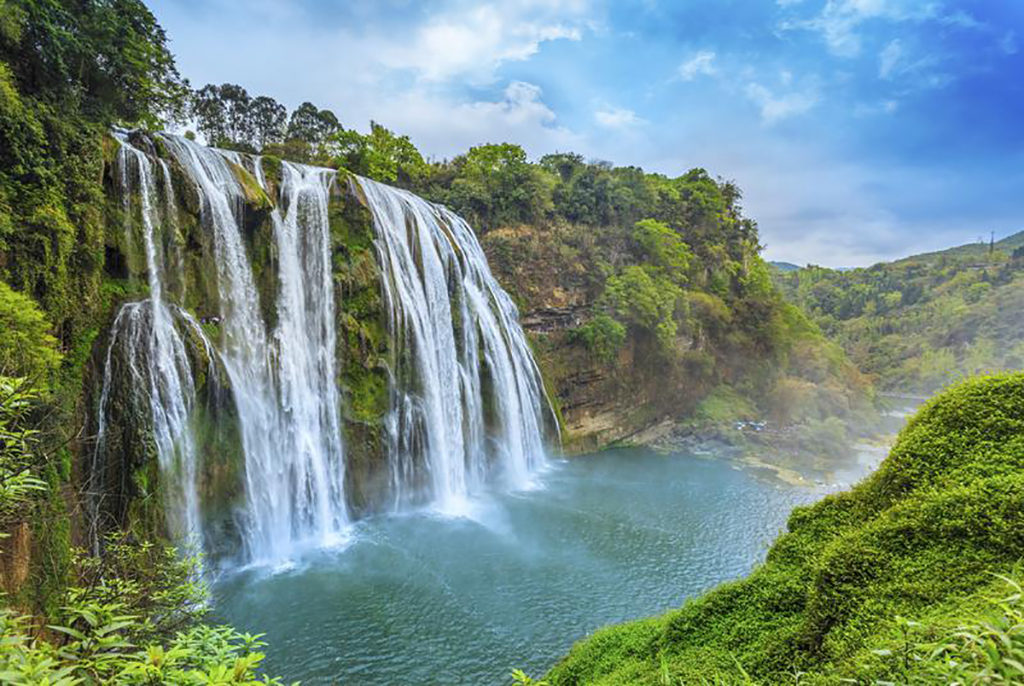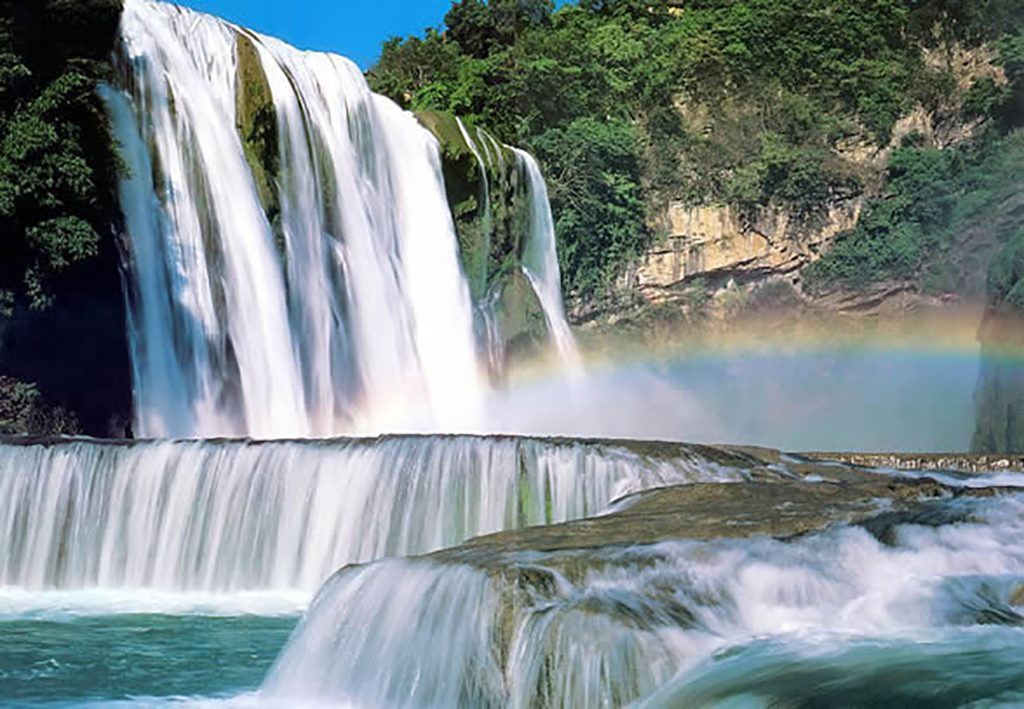 2. NACHI FALLS, WAKAYAMA PREFECTURE, JAPAN
With a height of 133 meters, Nachi falls is regarded to be the tallest and the most favorite among the other Japanese waterfalls. The waterfall attracts many tourists each day due to its unique holy setting, which adds more charm to its gorgeous panorama with a shrine and a temple.
It's also a UNESCO World Heritage sacred site that will leave you with a significant spiritual experience that cannot be found anywhere in Japan. Plus, this beautiful waterfall creates an impressive image of mysticism and serenity, running over a rocky mountain side. And at the same time allows you to snap some incredible photos and capture the best scenery from the observation deck inside the Hirui-jinja Shrine.
Since it's located close to the Kumano Nachi Taisha Shrine and Seigantoji Temple, you can easily access the site by train, car or bus, and it'd probably take around 3 hours from Osaka. Make sure to be there early in the morning to enjoy the laid back atmosphere and avoid the hordes of crowds.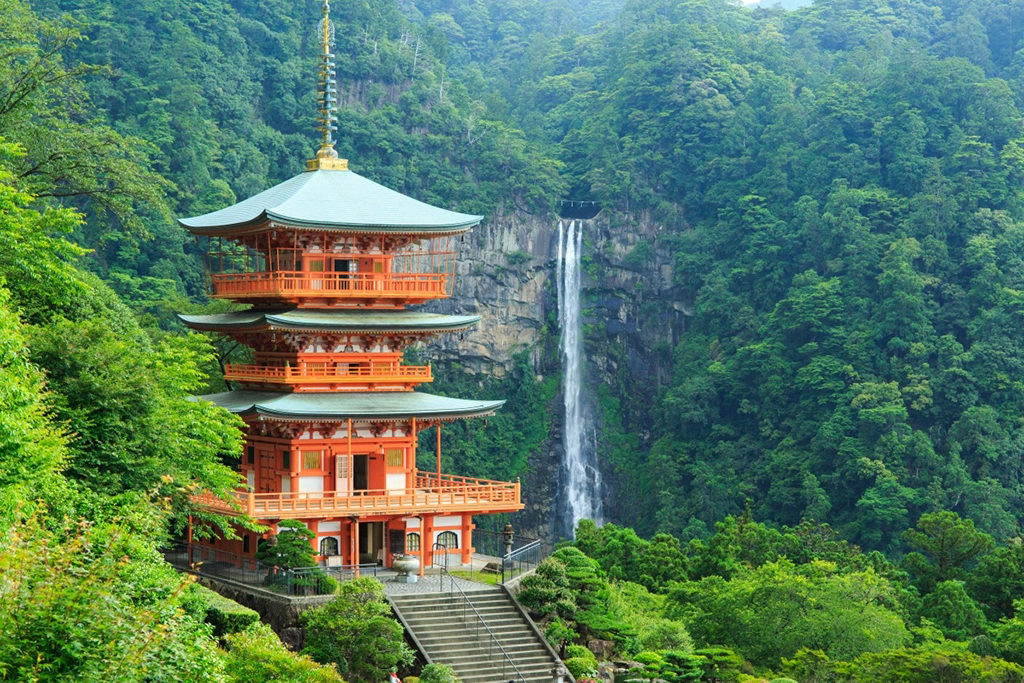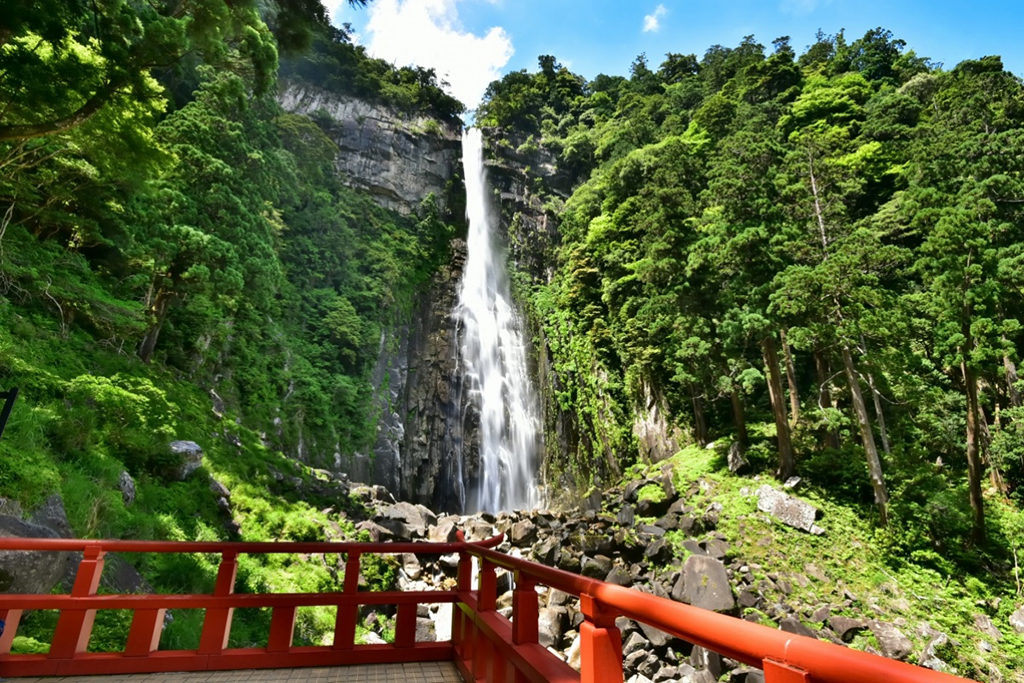 3. KAWASAN FALLS, CEBU, PHILIPPINES
Meet the Instagram star of Cebu, the enchanting Kawasan Falls! A must-see on Cebu Island you must not miss in the Philippines. This a three tier waterfall of 40 meters located deep in a lush rainforest.
So if you are to reach here from Badian, you have to walk for couple of minutes through the villages crossing a small river. If coming all the way from Cebu, it will take a couple of hours to get here depending on the traffic system.
At the end of the day, it's an all-in-one experience for those who are not only looking to finish off by a swim but also want to try adrenaline activities like hiking, cliff-diving, canyoneering and more you can't expect usually from a waterfall-venture.
Be sure to allocate a full day for the whole Kawasan Falls adventure and go early in the morning especially during the weekdays to skip the crowd and enjoy a freshening swim in the turquoise water or a leisure floating on a Bamboo Raft.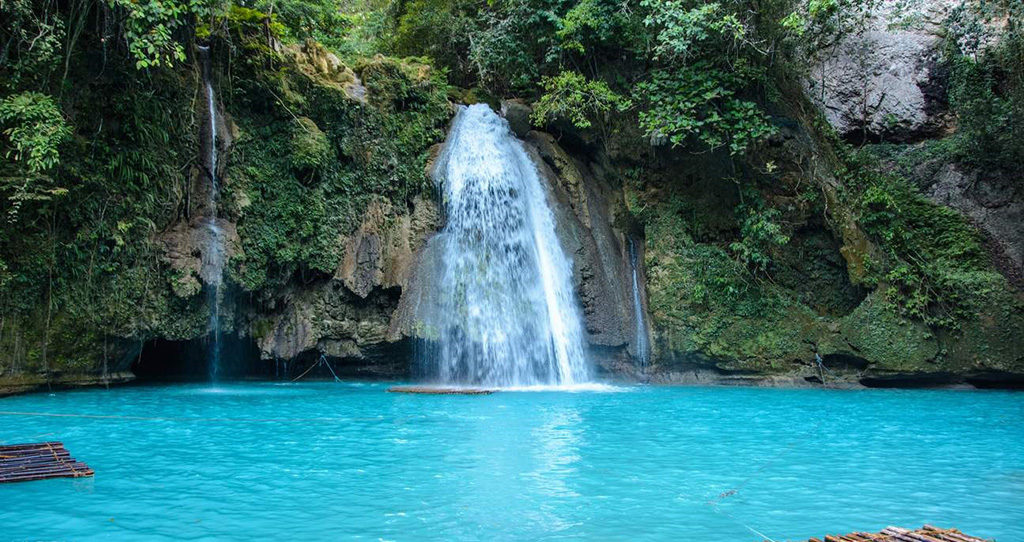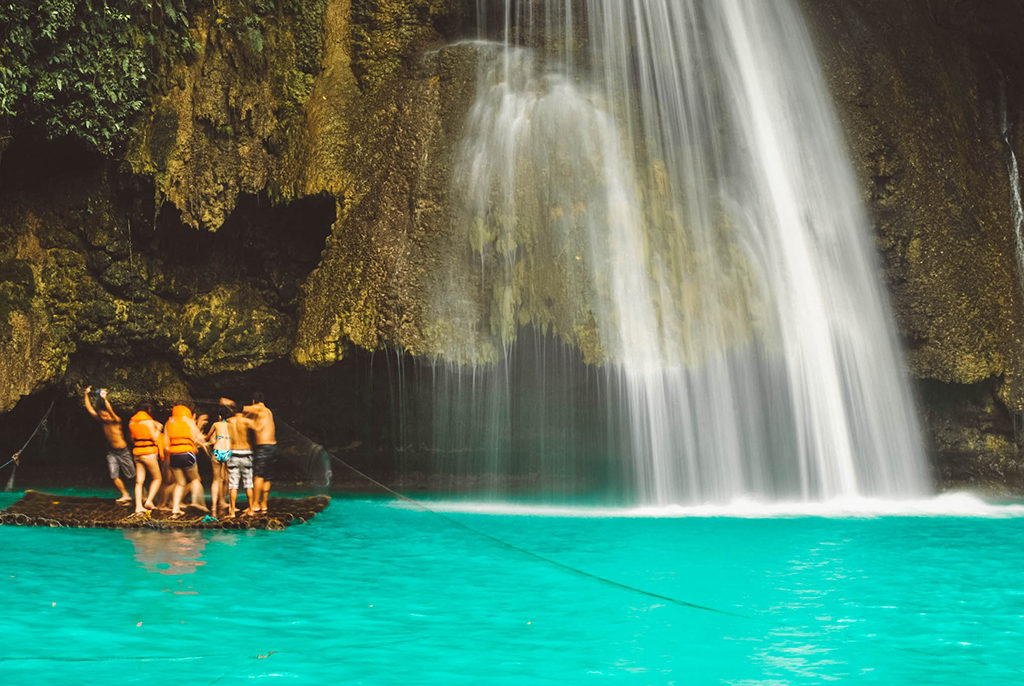 4. ERAWAN WATERFALLS, KANCHANABURI PROVINCE, THAILAND
The most far-famed waterfall in Thailand, Erawan in the Kanchanaburi province! The atmospheric falls has always been the favorite among locals and foreign tourists visiting the Bangkok, which is of course one of the world's most visited cities.
The astounding waterfall is located in the Tenasserim Hills of Kanchanaburi Province, a 3-hour drive from Bangkok and about an hour drive from Kanchanaburi to Erawan National Park.
It's a 7 tier waterfall you can discover one by one trekking through the jungle (around 1.5 KM). The treks get steeper as you climb up allowing you to explore the lush nature and wildlife in the surroundings.
Once you go up to the top to view the dramatic emerald water rushing and bubbling down the hillside, you will feel it's a challenge worth taking! Same as with Kuang Si falls, this place gets busy at weekends, so get there before 9 am if you want to enjoy it fully.
This place is a unique experience you can come back with happy memories. Plus, the first pool is the largest where you can spot schools of fish, take a dip or splash around while relaxing in the pool.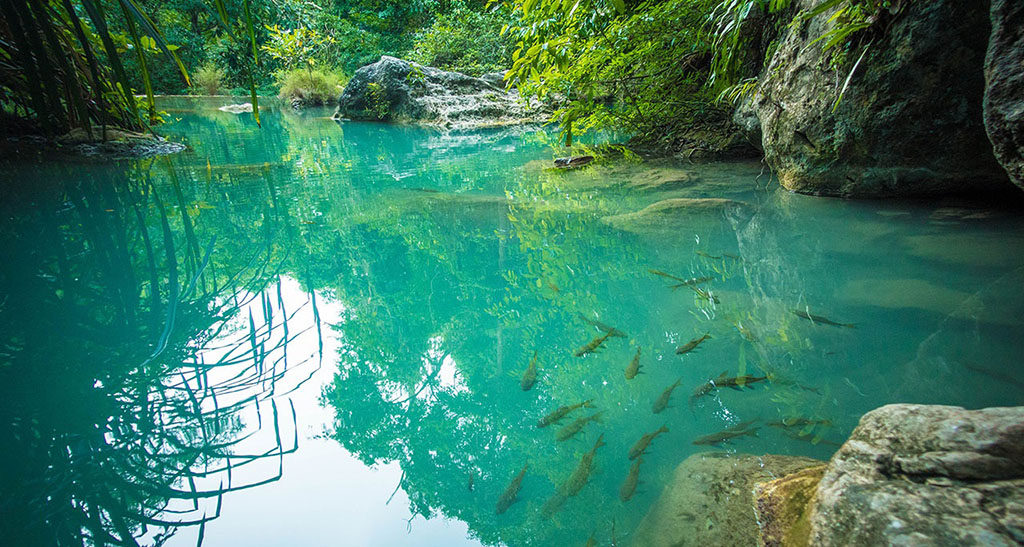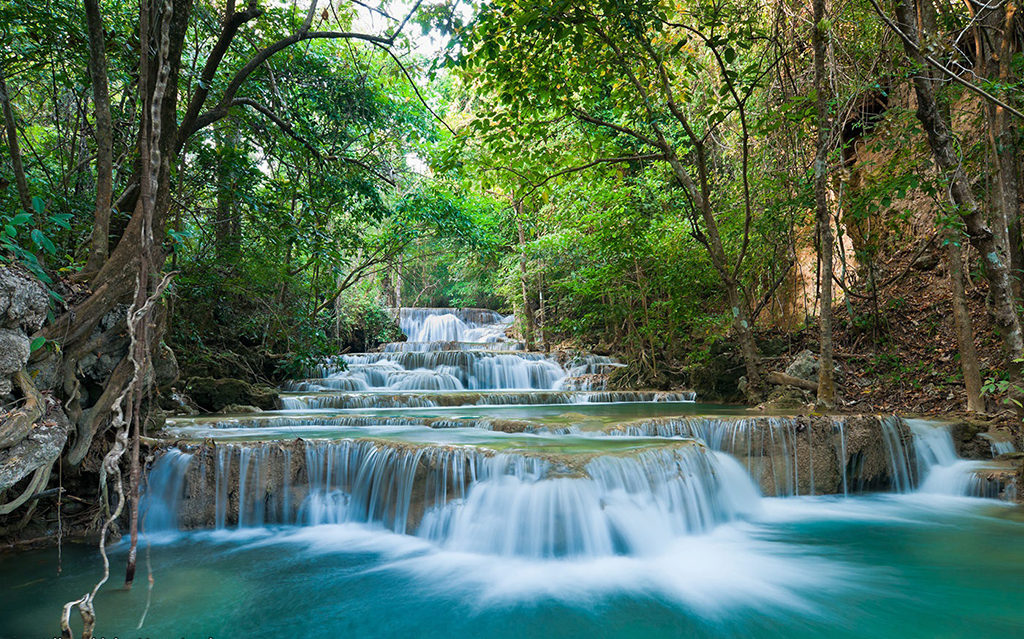 5. KUANG SI FALLS, LUANG PRABANG, LAOS
Last not the least, Kuang si falls in Luang Prabang! Your Laos trip cannot be completed without a visit here as it's the most famous to enjoy a few moments of silence or a refreshing swim to cool down on a hot day.
You can easily discover this just outside of Luang Prabang within 30 kilometers.  If you drop here during a busy weekend, you will find loads of tourists eagerly taking photos of this wonderful fall. Therefore, make sure to head here on a weekday (November/December to April/May) or as early as possible for a refreshing time-out from reality.
This incredible place with a bridge atop, hidden amidst the jungle and pouring down its milky blue water into many small pools at the bottom, which ultimately leads to the main fall with a 60-meter cascade.
Swimming is permitted in some parts of the waterfall where the water is shallow. If your tour is customizable, you can even include the nearby Bear Rescue Centre and reconnect with nature with a great hike through the jungle.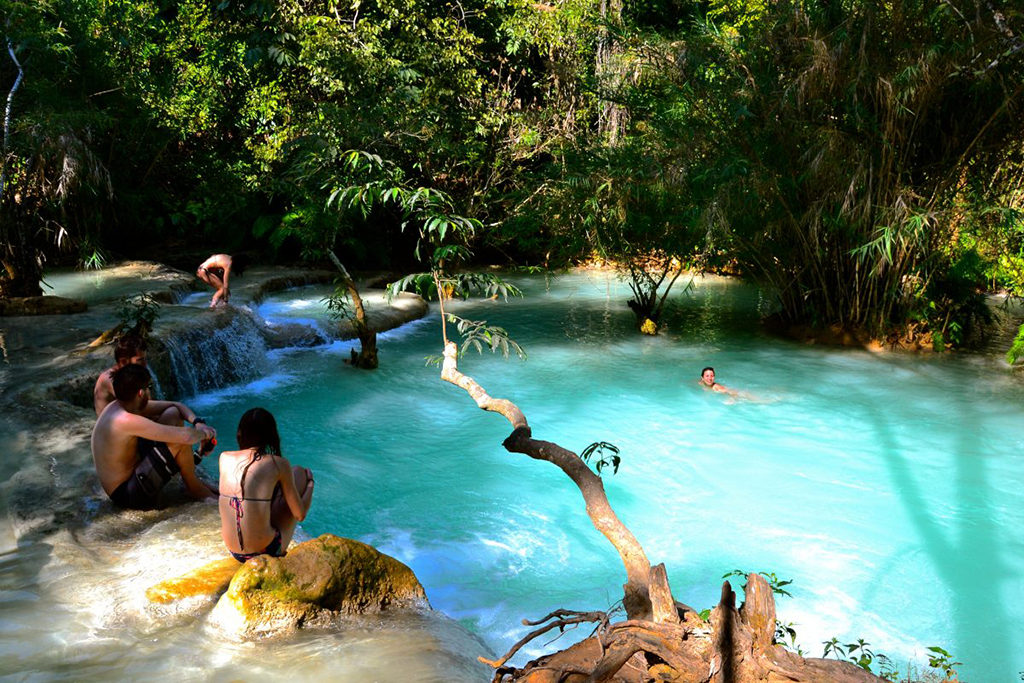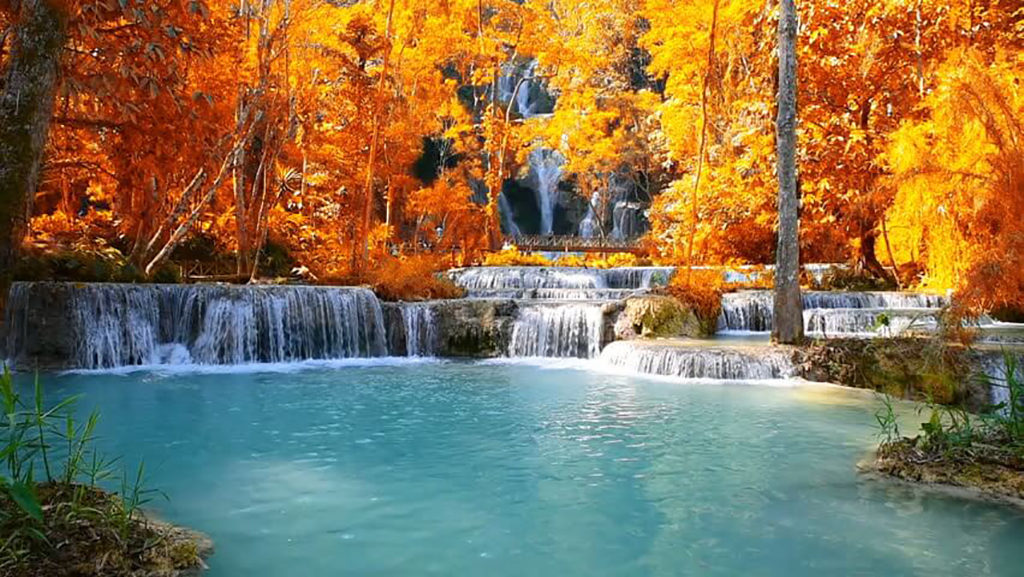 The list ain't over! There is an endless array of Asian waterfalls in many nature spots. If you are looking for our favorites, we can help you plan a trip to see one or more of these! If you like this article, don't' forget to let us know in the comments below and contact our team of travel specialists for more inspiration.