Experience the Silk Road journey like merchants and everyone did in the olden times with this 7 day tour itinerary which will take you through the famous Silk Road route. It starts with a cultural explosion at the Dunhuang Shazhou Night market which will amaze you with the many interesting things to see and experience. The tour also takes you through several important historical sites along the Silk Road as well as experiencing the Desert-Sand dunes and many others which will surely excite you. Let's start our trip back into time!
About This Trip
Price: From 1,259 USD  / per person
Best time to visit: Summer
Experience: Natural, Culture, Adventure, Desert, History, Family, Couple
Tour Highlights
Visit Yangguan Pass

Deserts and Cave explorations

Explore Dunhuang-Shazhou Night Market
Inclusions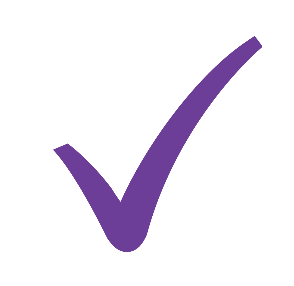 Private car: All transfers mention in the itinerary.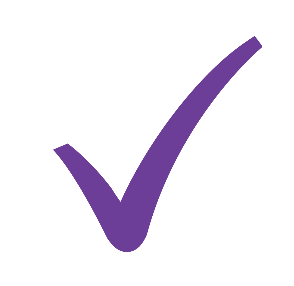 Entrance fees: All admission fees and activity expenses as noted in the itinerary.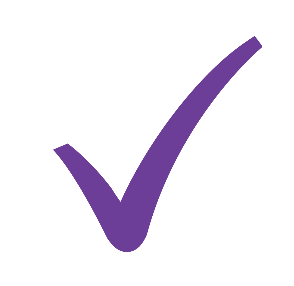 English Speaking guide: Professional guide will accompany you along your trip.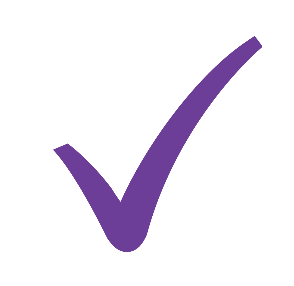 Hotel with breakfast: All accommodations are based on double-occupancy and including breakfast.
Exclusions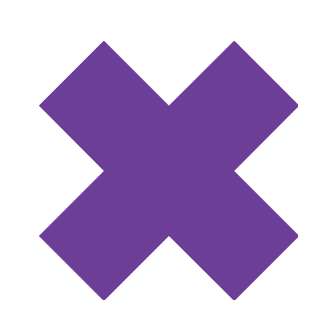 Gratuities: Tips for guides and drivers are not included.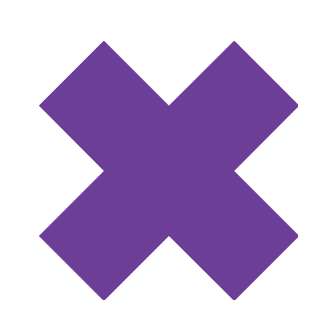 Personal expenses: Meals, travel insurance or activities not mention in the itinerary.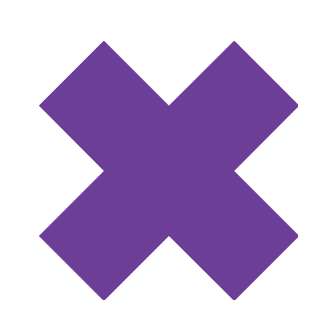 Airplane Transport: International or domestic flights and excess baggage charge.
The private tour could be fully customizable based on your preference. Please feel free to chat with our travel constants, they are here to support you!
1
Day 1: Welcome into Dunhuang
Our 7 day tour itinerary starts with an explosion for the senses. Be prepared to tackle the largest night market of Dunhuang and explore all its interesting facets from food to crafts and enjoy an easy and relaxing night life before heading out for exploration the next day.
Pick up from airport and proceed directly to the Dunhuang-Shazhou Night Market.
Explore the interesting Dunhuang-Shazhou Night Market. It is the largest night market in Dunhuang and is divided into 5 sections: food & snacks, souvenirs, agricultural products, art crafts, and Sanbaotai teahouses. The night market starts late in the afternoon and goes well into the night and will surely be an interesting way to spend the first day.
Transfer to hotel and check in. Free time afterwards.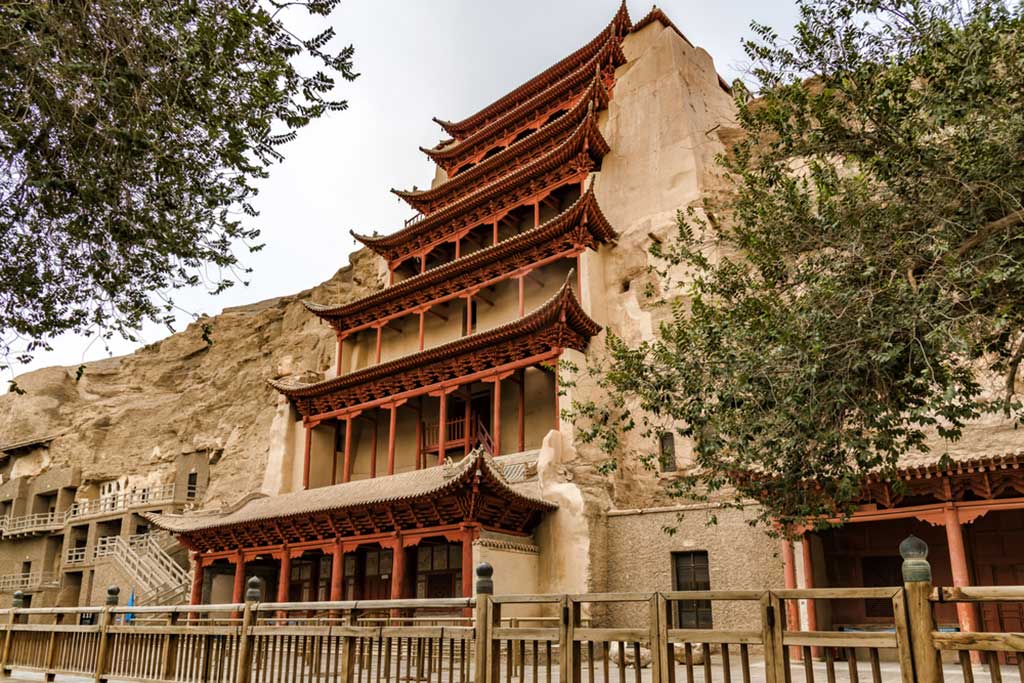 2
Day 2: Stunning geological views
This day covers the first stops in our Silk Road adventure with an exploration into the historic Yumen Pass, one of 2 important gateways on the western frontier during the Han dynasty as well as exploring the Han Dynasty Great Wall noted for its significance and length. An exploration into the rocky landscape of Yardang National Geological Park showcases nature-made beauties as well.
Pick up from hotel and drive to the first stop - Yumen Pass.
Explore the historic Yumen Pass. This is one of the routes that the Silk Road passes through.
Time for some chow. Lunch stop.
After lunch visit the Han Dynasty Great Wall. One of the longest ones in China's history.
Next, proceed to the Yardang National Geological Park for some stunning rock formations and spectacular views.
Drive back to hotel
Hotel arrival and free time after.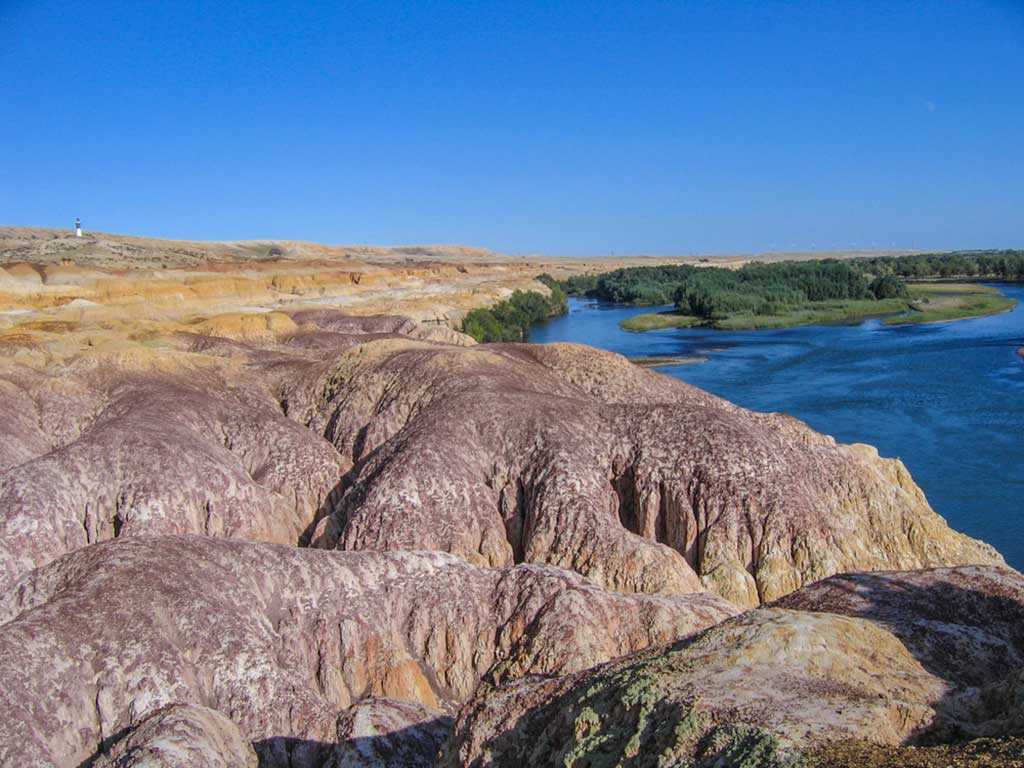 3
Day 3: Deserts and cave explorations
More amazing explorations greet us on the 3rd day. We go through desert sand dunes and wonder at the Crescent Moon Lake and how it has kept alive a tiny town because in the midst of a desert. The 2nd part of this day is a visit to one of China's most famous grotto well known for its amazing and well preserved statues and frescos.
Pick up from hotel and proceed to Desert-Sand Dunes and Crescent Moon Lake.
Explore the beautiful sights of the desert sand dunes and the renowned Crescent Moon Lake which is one of a kind. It's a 2,000 year old lake shaped into a crescent in the midst of the desert sand dunes and is believed to be keeping a tiny town alive amidst the dryness of that area.
Lunch stop.
After lunch, transfer to Buddhism-Mogao Grottos.
Explore the Buddhism-Mogao Grottos. One of the 4 famous and prestigious grotto complexes in China. This is the best preserved among the 4 with its many colorful frescos and statues.
Transfer to hotel and free time for more exploration or rest.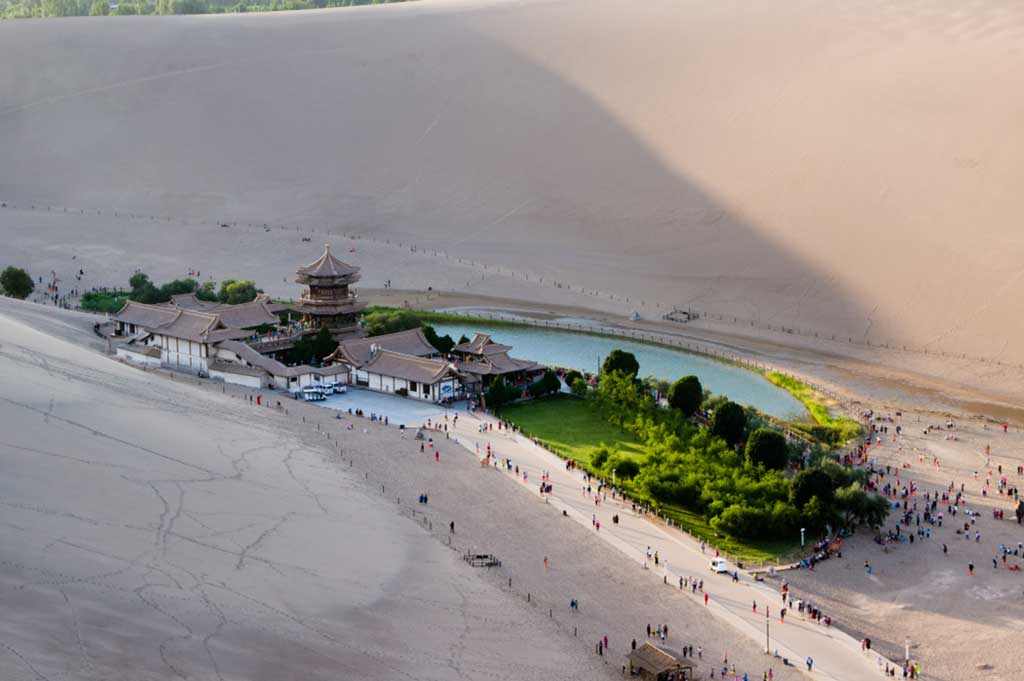 4
Day 4: History of Silk Road
Today's itinerary is exploring the Yangguan Pass, the other pass which was responsible for the defense of the Han dynasty way back and also checking out the beautiful Buddhist caves. The day ends with going back into time and reliving the history of the prestigious Silk Road through the important historical pieces on display in the Dunhuang Museum.
Pick up from hotel and drive to Yangguan Pass.
Discover interesting ruins and wonder at the impressive scenery around Yangguan Pass.
Lunch stop.
After lunch is finished, we proceed to the Western Thousand-Buddha Caves.
Visit the charming and elegant Western Thousand-Buddha Caves which are also home to many splendid frescos and age-old Buddhist statues. It is a quiet oasis in the middle of the desert.
Drive to Dunhuang Museum.
Visit Dunhuang Museum and marvel at the relics and other cultural and historical artifacts collected over time and showcases the richness of cultural exchange when the Silk Road was at its peak of being a major trading route for China and the West.
Transfer back to hotel and free time after.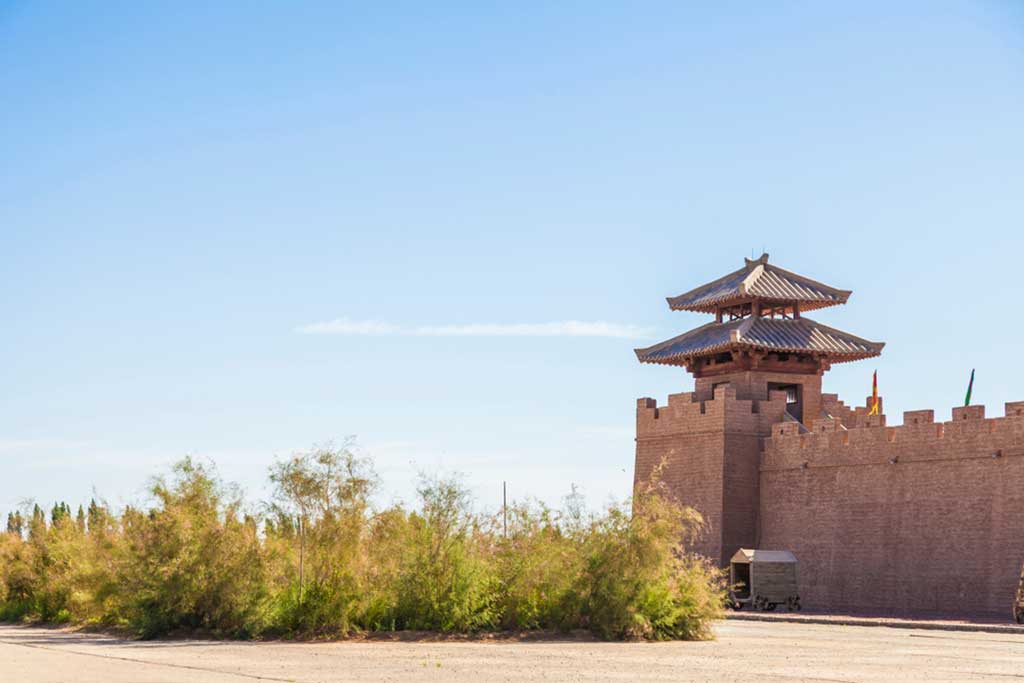 5
Day 5: Beautiful Yulin Cave
We explore the famous and grand Yulin cave also called Wan Fo Xia (The Gorge of Ten Thousand Buddhas) for this day as well as proceed on to the next place in the Silk Road Route which is Jiayuguan.
Check out from hotel and guide will pick you up and we will proceed to Yulin Caves.
Have lunch first before Yulin Cave exploration.
Yulin Cave exploration. Also one of the more beautiful and famous Buddhist cave temples in China. The Yulin Cave houses around 42 surviving grottos which have been cut into the walls.
Drive to Jiayuguan.
Check in to the hotel upon arrival and free time for rest or more discoveries.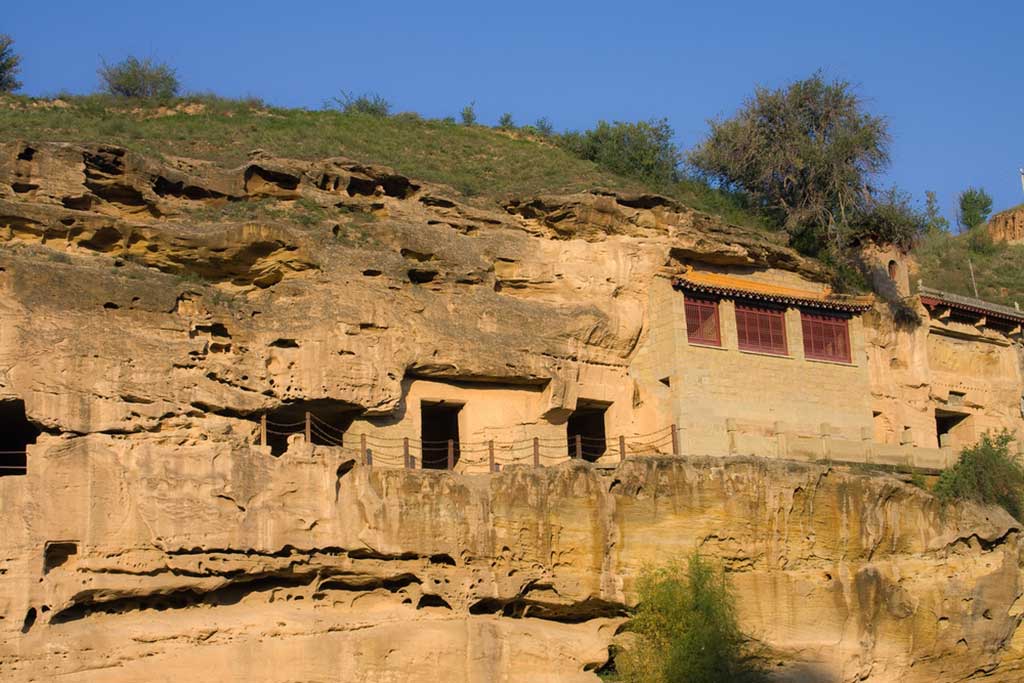 6
Day 6: Underground art gallery
Today is a visit to one of the more important sections of the Great Wall - Jiayuguan Pass and checking out the largest underground art gallery which is a treasure trove of historical art and the last stop in our Silk Road adventure.
Pick up from hotel and drive to Jiayuguan Pass.
Visit and explore Jiayuguan Pass. This is one of the main passes of the Great Wall and there is a temple and museum as well to visit in this section.
Lunch stop. Refreshments.
Once lunch is done, proceed to the Weijin Mural Tomb.
Visit and wonder at the Weijin Mural Tomb which is also known as the world's largest underground art gallery.
Transfer to hotel.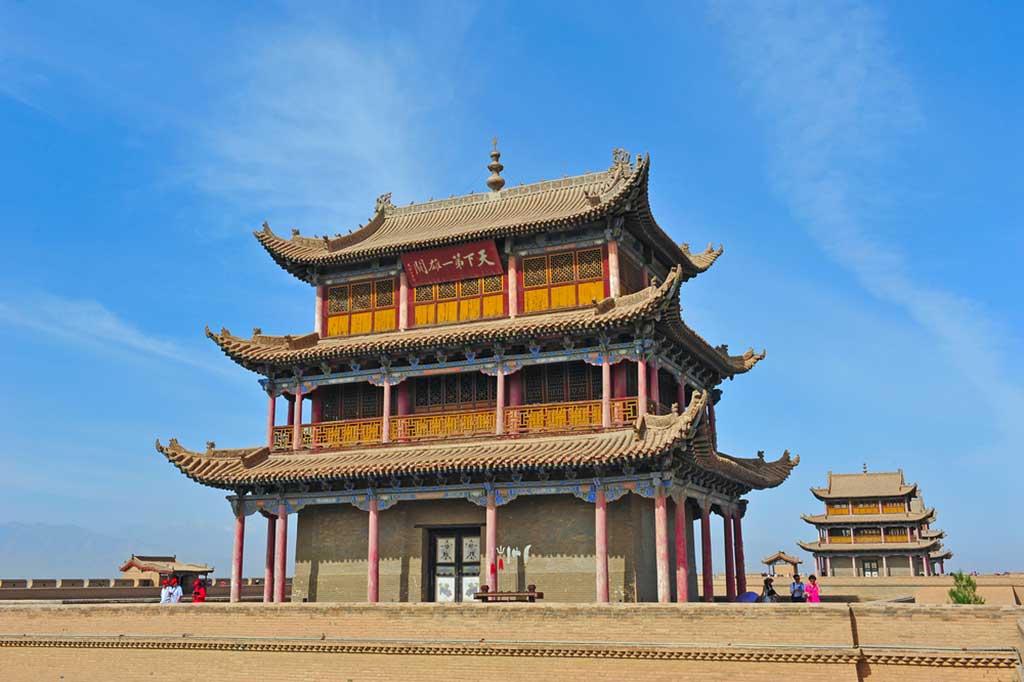 7
Day 7: Silk Road adventure ends
This last day is just all about getting ready and checking out from the hotel. We hope you had a blast going throughout the historical and mysterious Silk Road of China.
Check out from hotel.
Pick up from hotel and drive to airport. Back to your sweet home.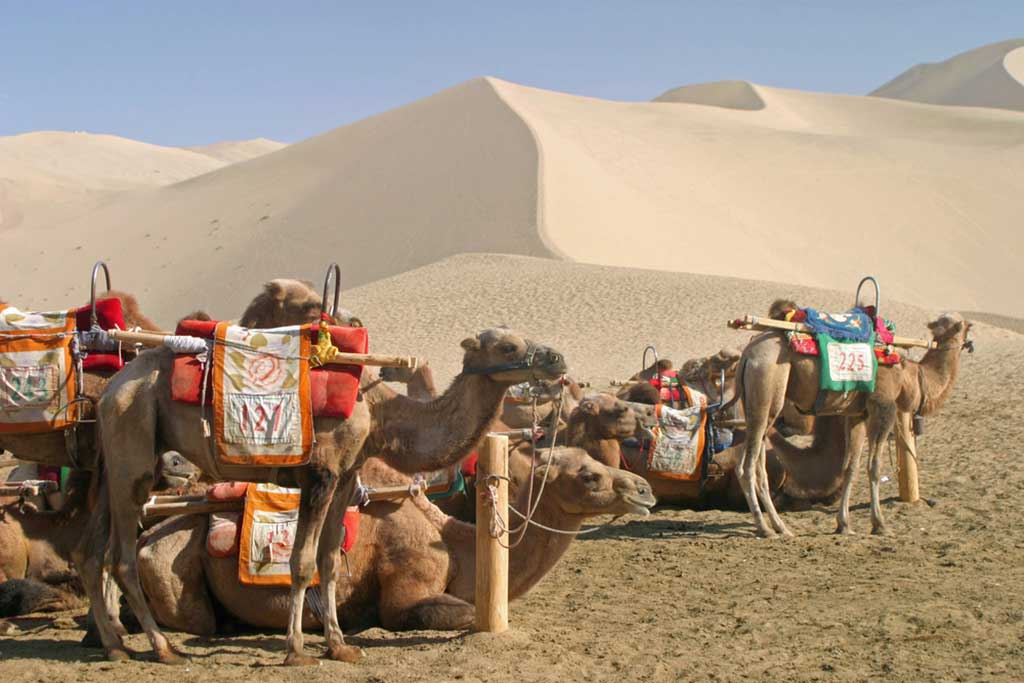 The Silk Road Dunhuang Hotel
The Silk Road Dunhuang Hotel was founded in 1995. Situated against the backdrop of the picturesque Mingsha Sand Dunes in Dunhuang, Gansu Province, the hotel captures the living taste of the Tang Dynasty with its unique architectural design - the large rooftops and winding corridors of the Han and Tang dynasties; the typical enclosed courtyard style design and mud walls of the northwestern part of China; and the replica of the late Tang, Ming and Qing dynasties furniture. All these work together to recapture the flavour of a bygone era with their simplicity and use of natural building materials. It combines modern facilities together with a touch of classical architectural design to provide comfortable accommodation to Silk Road travelers.
5-Star
266 guest rooms with Chinese style
4 major Food and Beverage outlets
Provide camel riding, trekking the sand hills, sand sledding, sand bathing, sauna and steam bath, Karaoke lounge, dance performance, etc
Designated Hotel for MICE in Dunhuang
Traffic Instructions
 20 minutes' drive from the airport
Plaza Holiday Inn Jiayuguan
Situated in the west of Jiayuguan Hero Square, the hotel is convenient for transportation and superior in geographic location, two kilometers away from the West Railway Station, 18 kilometers away from the airport. Provide a luxury executive conference room, gym, and other facilities. It is the best choice you can choose when you are traveling along the silk road.
4-star
114 guest rooms
Western restaurant
Executive Lounge
Traffic Instructions
20 minutes' drive from the airport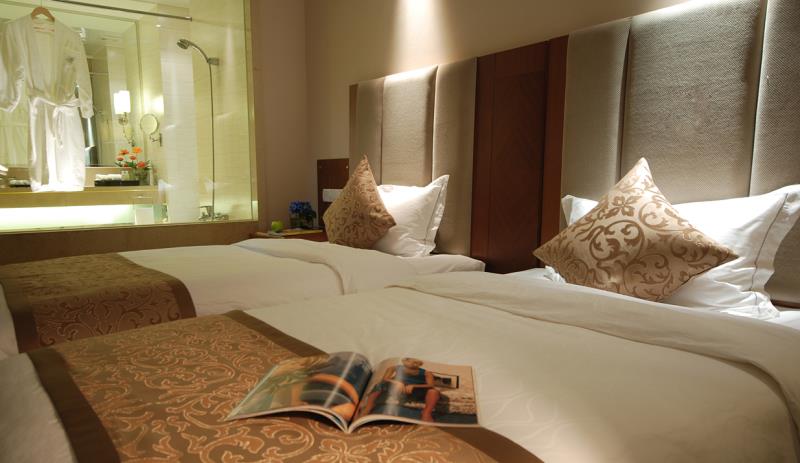 Terms & Conditions
Should you cancel at outside 7 day(s) in advance of the scheduled departure, the cost of tour package is refundable.

Should you cancel between 3 and 6 day(s) in advance of the scheduled departure, there is a 50 percent cancellation fee.

Should you cancel within 2 day(s) of the scheduled departure, there is a 100 percent cancellation fee.

Should you cancel after the trip has started, we are unable to refund any amount for cancelled services due to late arrival, early departure, missed days during the tours and non-participation.
Please Note
Should you wish to book this tour, please send your holiday request to us in the website or contact info@expatsholidays.com for reservations. We also customize itineraries according to your schedule and liking.

The above tour package includes the listed itinerary and excludes flight tickets, train tickets and hotel booking.

We can also book your flights and hotel accommodation.

We can definitely help you find great deals for International and Local Flights and Hotels within and outside China.

Please note that the cancellation and booking policy of flight tickets and hotel bookings are to be sent to you separately.

We offer Visa Services and Assistance according to you needs.

For other travel requirements such as Ski Package, Diving, Weddings - please contact our Hotline:(+86)187-2197-8867.

To take advantage of the best rates and the best travel options, we highly recommend to secure the booking at least 60 days from the first date of travel.