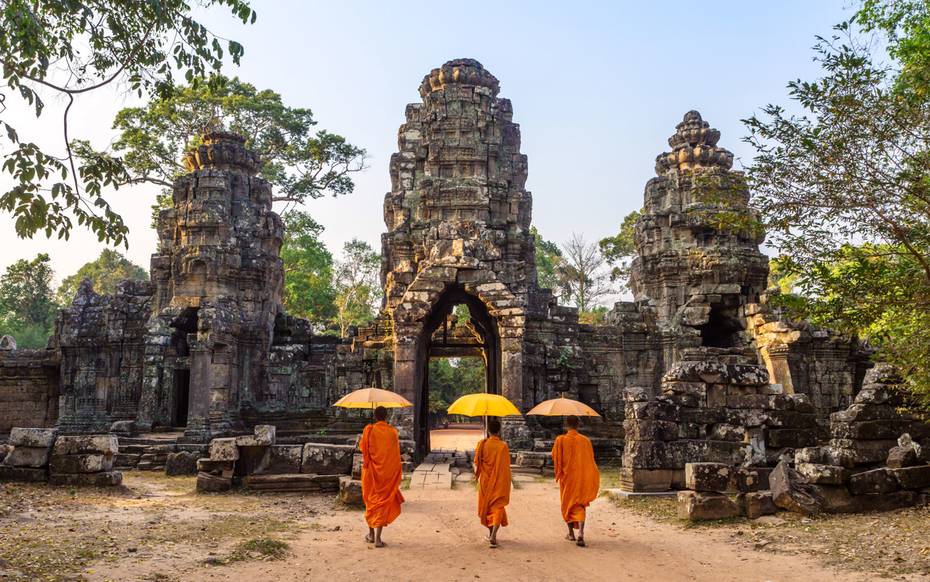 What's the best way to spend your time in Siem Reap, Cambodia?
Visitors to Siem Reap for the first time may find it difficult to get in all the key sights in a limited amount of time to see Angkor Wat. Here are some ideas for seeing Angkor Wat and the surrounding temples. Small Circuit and Grand Circuit are the best routes for covering all the major temples of Angkor with the least fuss. The two can be completed in two days or much longer if you want to see more detail and discover more hidden wonders. It is recommended to do Outer Circuit if you have more than five days to explore more old temples or visit Tonle Sap Lake to see the floating villages.
Small Circuit
Generally, the Small Circuit begins with sunrise at Angkor Wat and continues clockwise. It is easy to tour Angkor Wat and other key temples in the central area of Angkor Archeological Park. A one-day Angkor Pass holder will enjoy this tour since it covers all the must-see temples.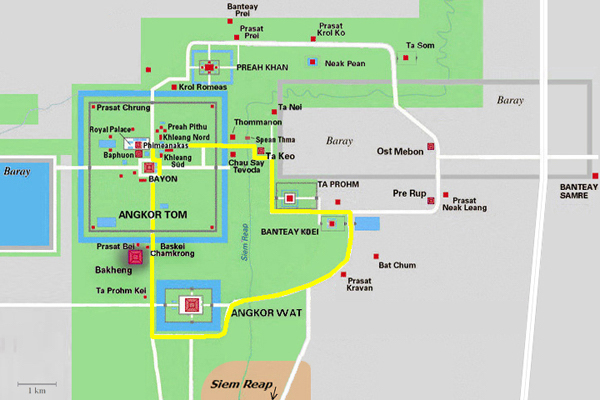 Angkor Wat
The most famous monument in Angkor Archaeological Park is Angkor Wat, which is still used for religious worship today. It is not uncommon to see monks here, often offering blessings for a small donation. It took King Suryavarman II 30 years to build this temple in the first half of the 12th century. Eventually, he wanted the temple to be his mausoleum and dedicated it to Vishnu.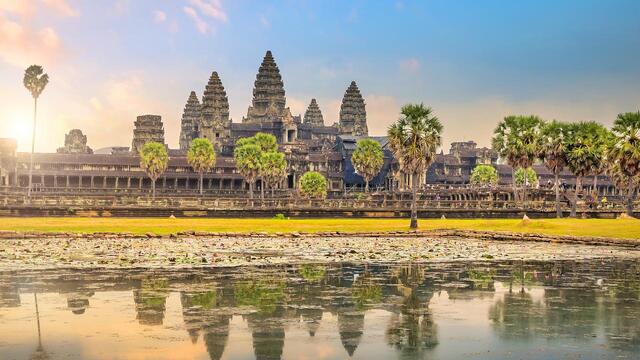 Phnom Bakheng
The original temple mountain of the area, pre-dating Angkor Wat and Angkor Thom. The climb up takes about 20 minutes, and you're rewarded with an amazing view and one of the best temple pyramids in the world. Watching the sunrise and sunset is also excellent here.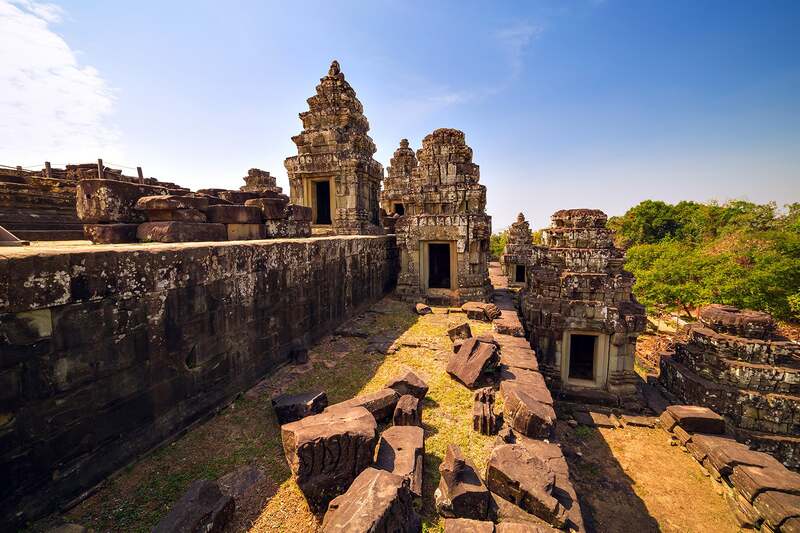 Angkor Thom
There are many highlights to see in this area, including Bayon Temple, Elephant Terrace, Leper King Terrace, Baphoun Temple, Phimeanakas Temple, Royal Palace, Preah Pithu, and more. The area is a great place to explore, and you can eat, drink and relax while you're there.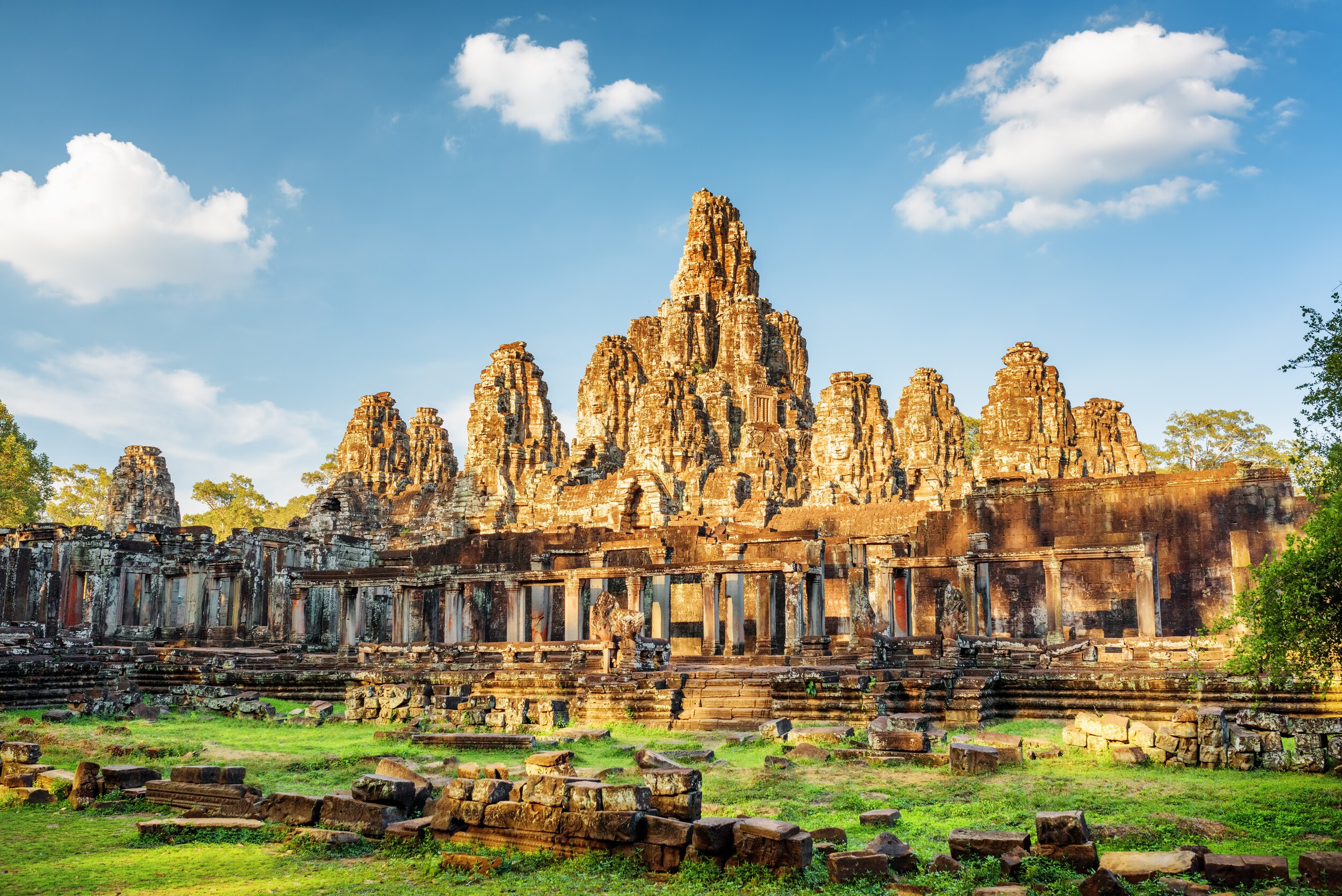 Thommanon and Chau Say Tevoda
Two small temple sites, Thommanon and Chau Say Tevoda, are located opposite each other. The interesting pediments and style are well worth checking out even if you don't spend much time here. Additionally, it's a very relaxed spot that's never overcrowded.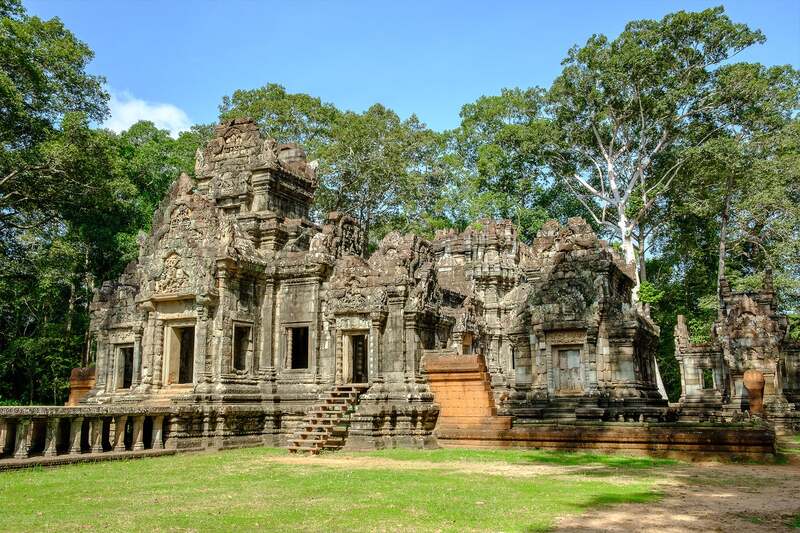 Ta Prohm
A must-see with its classic temple character and beautiful trees, it's one of the most beautiful temples in the world. In awe of Mother Nature, the strangler figs encircle the stone structures in such a spectacular manner.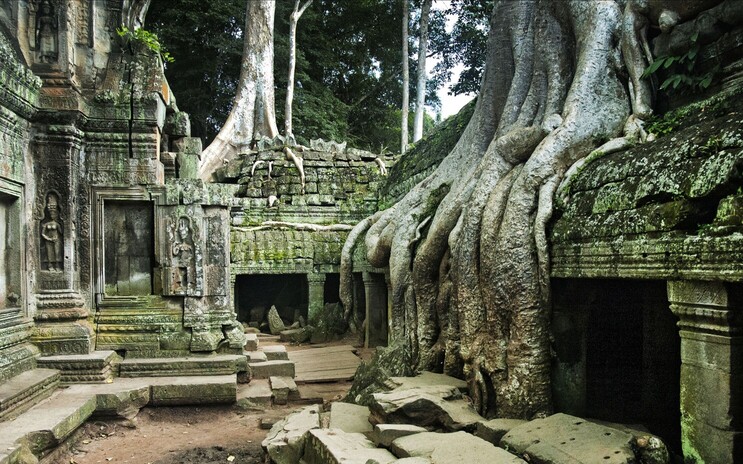 Grand Circuit
 In Angkor Archeological Park, the Grand Circuit route extends the Small Circuit route and covers lesser temples outside the central cluster. Along this route, you'll still find some incredible temples. Even today, you can still see faces carved into rocks overgrown by vines. Although the temples may not be as grand and magnificent, enjoying the quietness of the Cambodian jungle on your own will be an unforgettable experience.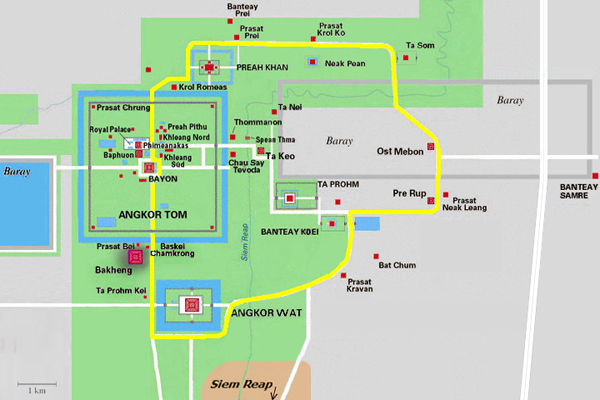 Preah Khan
Located in Angkor Archeological Park, Siem Reap, Preah Khan is an ancient temple originally known as Nagara Jayasri (holy city of victory). It was constructed under the reign of king Jayavarman VII (reign 1181-1218 AD) to honor the memory of his father, who built the nearby Ta Prohm to remember his mother.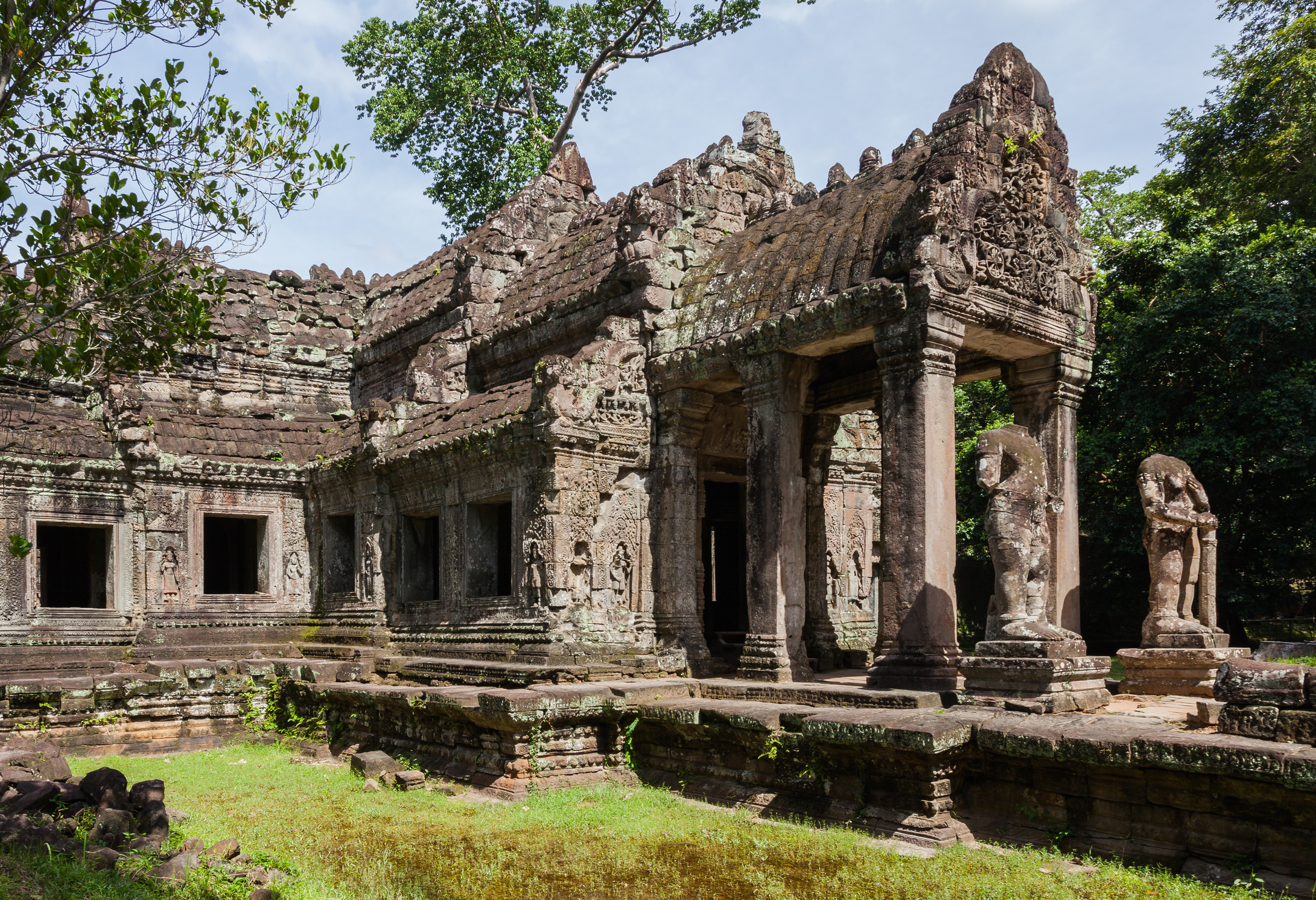 Banteay Prey Temple
It was built during the Jayavarman VII era in the late 12th to early 13th century. A single inner sanctuary is enclosed by an outer wall, an inner moat with causeways on either side, basins, and an inner galleried enclosure with four gopuras and pavilions on each corner.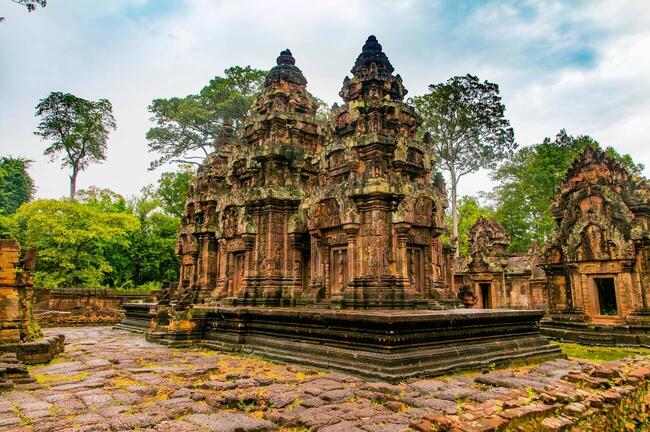 Ta Som Temple
In addition to its beautiful gopura with smiling faces and especially its "jungle charm" of the outer eastern gate, this temple features that special lost temple charm similar to Ta Prohm.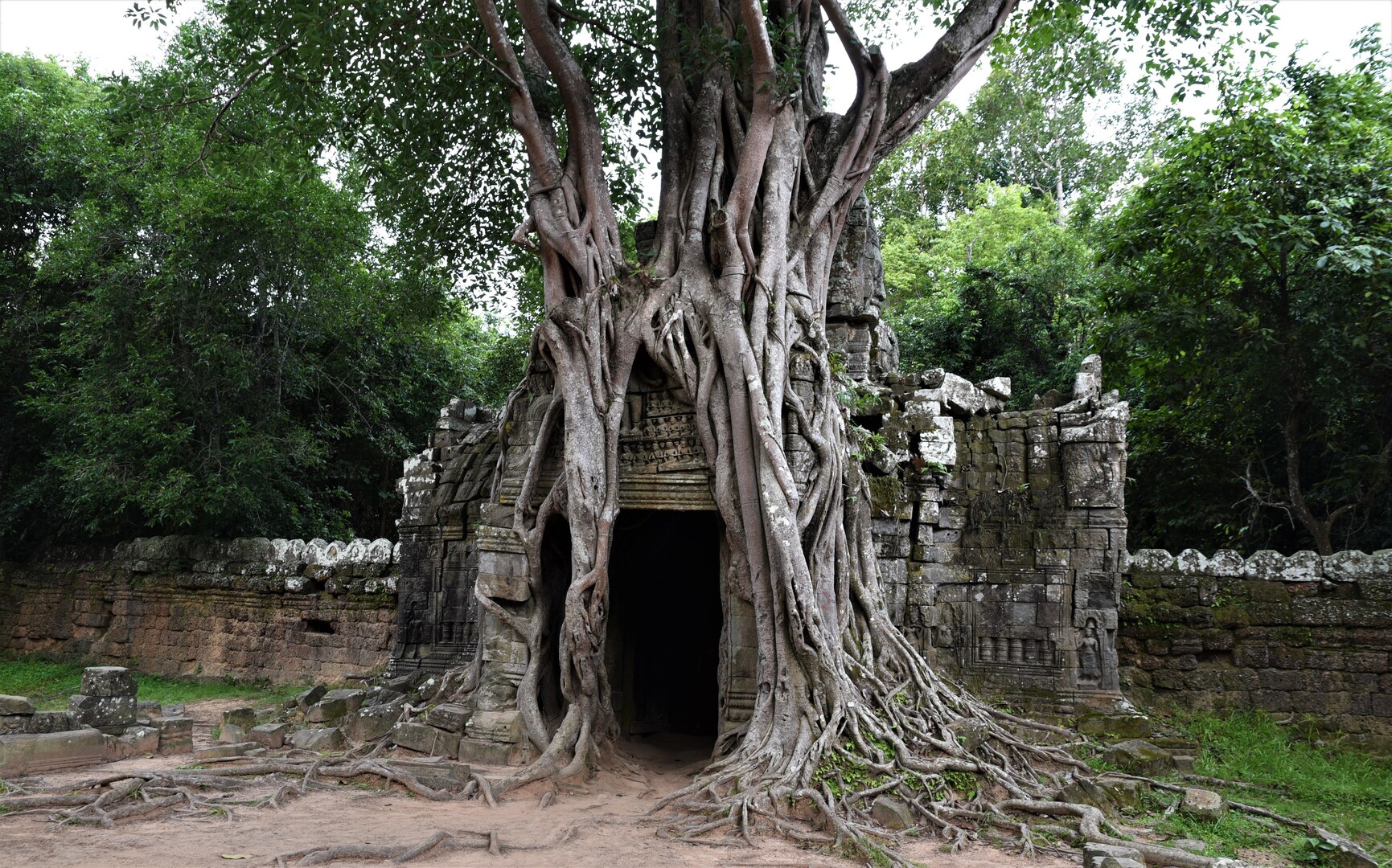 Outer Circuit
Five scenic spots can be found on Angkor Wat's outer circuit. Two of the must-see temples are Banteay Srei and Beng Mealea. Other scenic spots include Rolous Group, Tonle Sap Lake, and Preah Vihear, which can be arranged according to your preferences. As the scenic spots on the outer circuit of Angkor Wat are relatively far away, the itinerary is suggested not to include more than three scenic spots.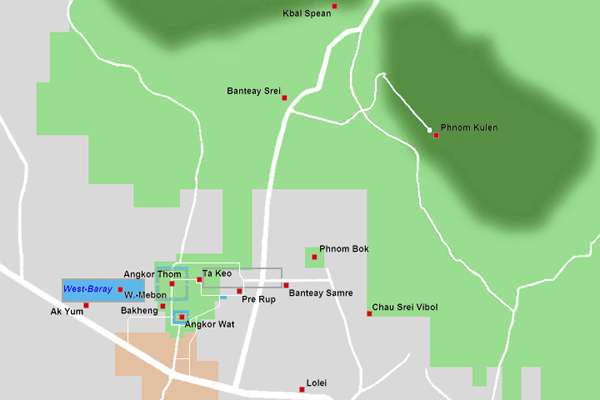 Tonle Sap Lake
Southeast Asia's largest freshwater lake is Tonle Sap. It is a designated UNESCO Biosphere Reserve due to its abundance of nature, including seasonal populations of waterbirds. Tonle Sap is surrounded by rivers and waterways, with a multitude of settlements, termed 'floating villages', where fisherman and their families live while harvesting the lake's waters.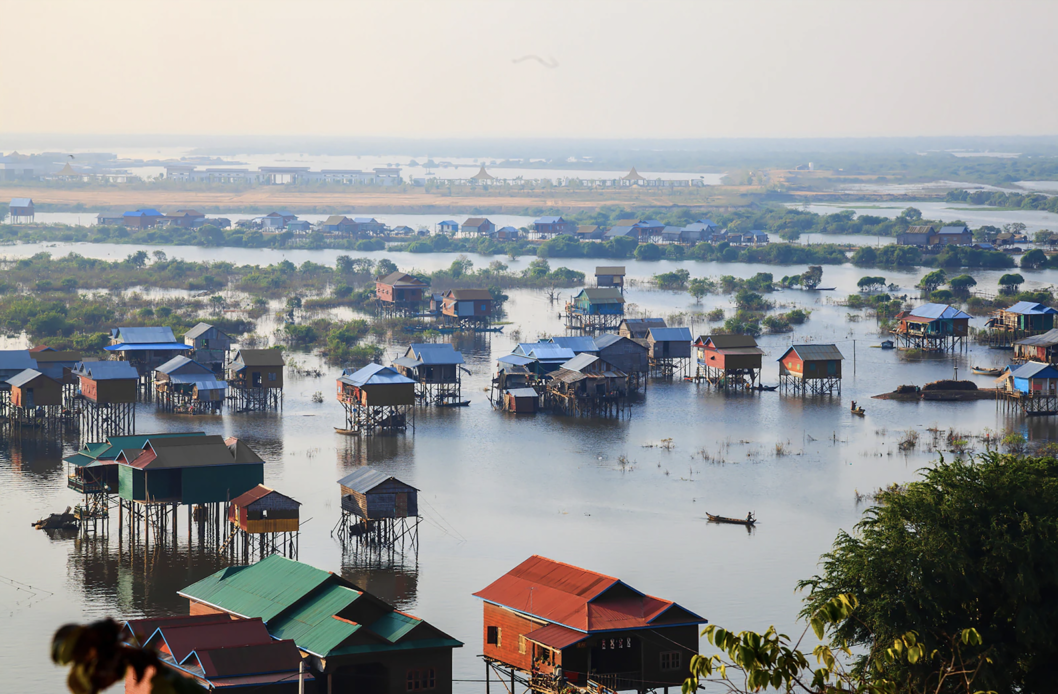 Banteay Srei
There are few temples in Angkor that were commissioned not by kings but by Brahmans, who may have served as tutors to Jayavarman V. Among the most impressive are the lavishly decorated libraries and the three towers, which feature beautiful relief work and male and female divinities.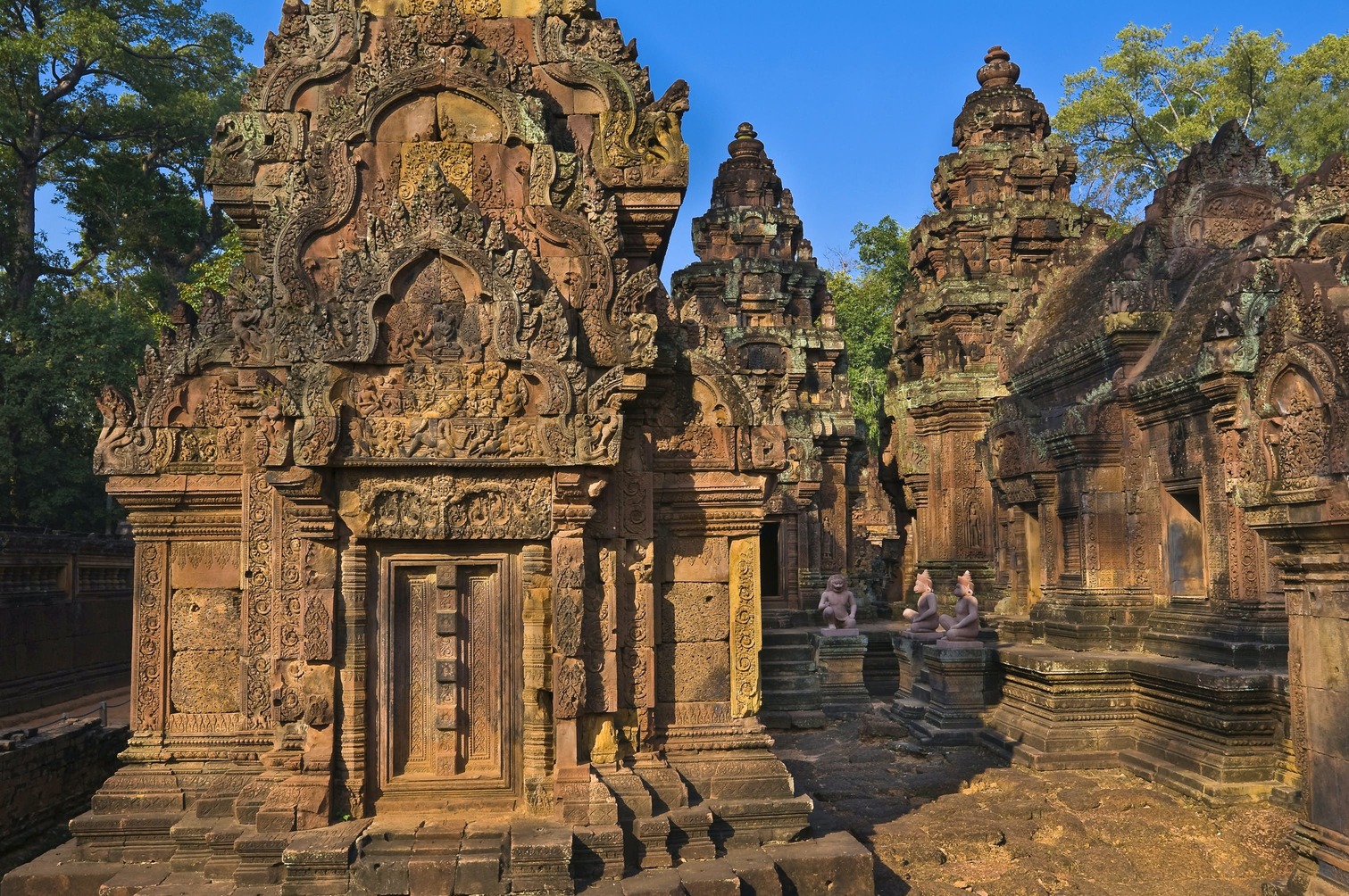 Beng Meale
Recently, some of the dense foliage around the temple has been cut back and cleaned up. From the south, visitors pass over finely chiseled sandstone blocks, through long, dark chambers and under hanging vines. Despite the collapse of the central tower, several impressive carvings remain hidden among the rubble and foliage, including a well-preserved library.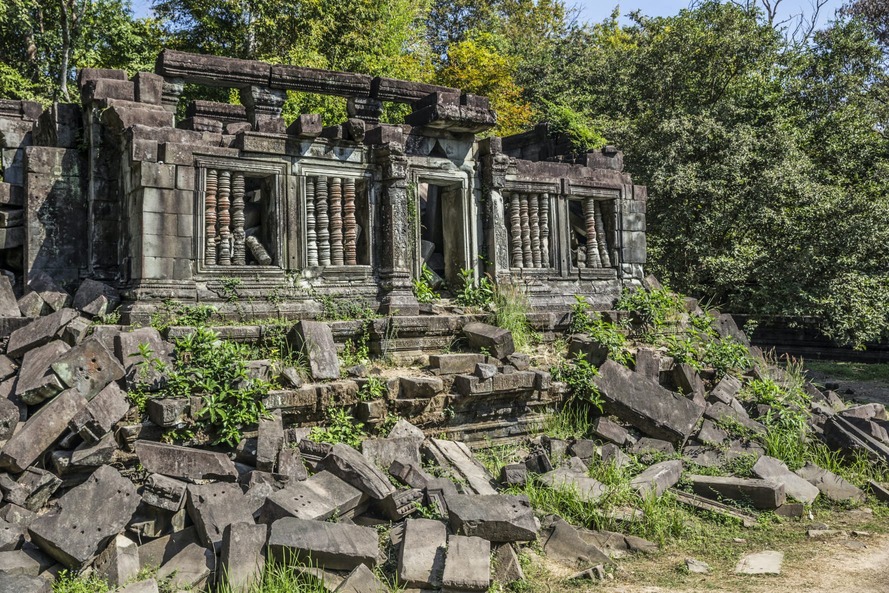 Rolous Group
Angkor Park does not contain the Roluos Group of four Angkor-era monuments. These four temples are the last remains of Hariharalaya, the second capital of the Khmer Empire during the Angkor era.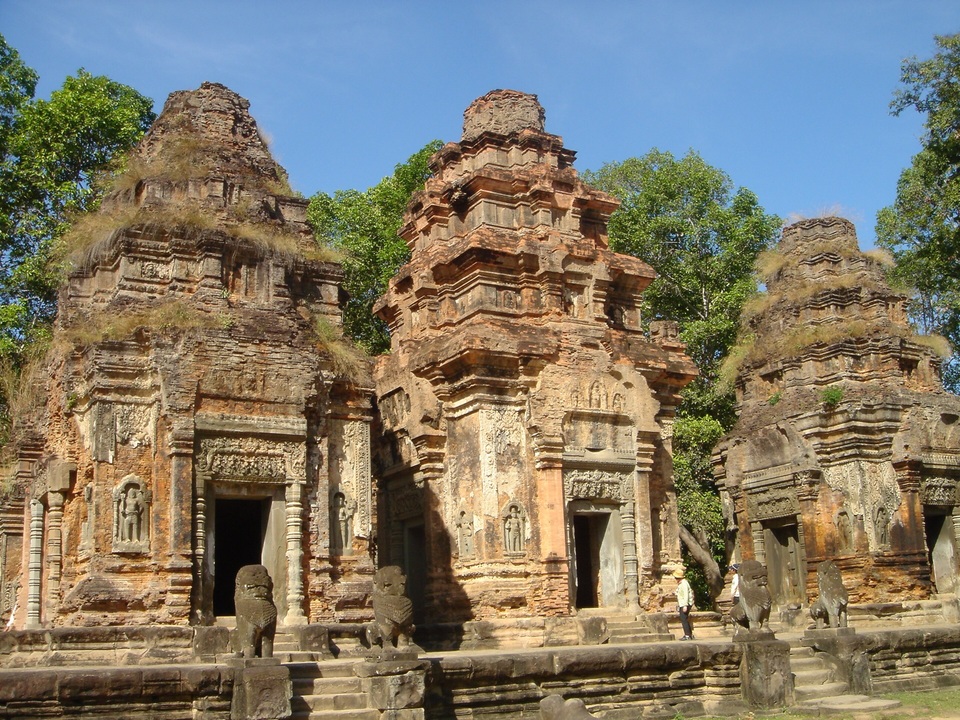 Q&A
Q1: Which season is the best for visiting Siem Reap?
A1: December is the best month to visit Siem Reap, as the tourism industry explodes during this period, especially between Christmas and New Year. February to April is also a good time to visit Siem Reap because the temperatures are more suitable for travel, and the crowds are sparse.
Q2: How long should I spend in Siem Reap?
A2: If you want a more flexible trip, you will need at least five days. Cambodia is home to many monuments. A visit to the small circuit, the big circuit, and the outer circuit is essential. If you spend more than five days in Siem Reap, you can visit other monuments, such as the Rolous Group and Tonle Sap Lake, or take part in local cultural activities.
Q3: Is there a direct flight from China to Siem Reap?
A3: There are now direct flights from Shanghai every Wednesday and Sunday.
Q4: Should I exchange my currency for Cambodian Riels?
A4: No, USD is accepted in Cambodia. It's not necessary to carry local currency unless you're paying for small items on the street.
Q5: Is Siem Reap a safe place to travel?
A5: Traveling to Siem Reap is safe. Petty theft can occur in the Old Market and at Angkor Wat, but violent attacks against tourists are extremely rare. Watch out for pickpockets, especially in crowded areas, and always keep an eye on your belongings.
Q6: Is a visa required?
A6: Yes, you need a visa to enter Cambodia, but you can apply for an e-visa online before you depart. For more information, please visit https://www.evisa.gov.kh/.
Q7: Is it necessary to book the tour in advance?
A7: Booking the tour before your trip is recommended. It might be necessary to rent a car to transfer between attractions in Siem Reap since they are located at a distance from one another. 
If you want to visit Cambodia, please feel free to contact our travel consultants to help you plan a wonderful trip!